Live Review: Secret Garden 2018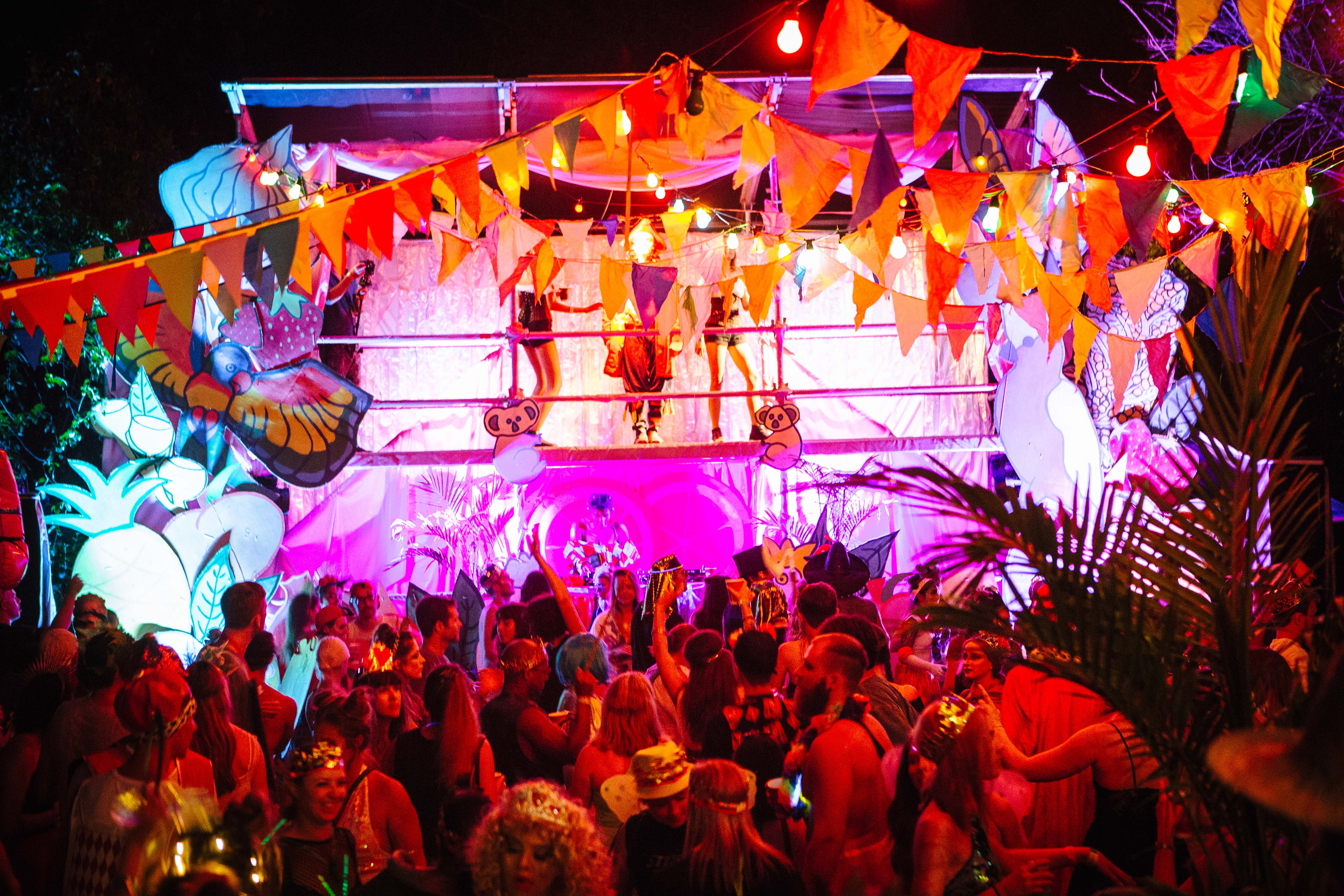 During the last weekend of February every year, the south-west of Sydney is blessed with the eclectic and artistic festival that is Secret Garden—a 48-hour disco with the theme of fancy dress. Secret Garden is not just about its lineup of talented musicians, it's catered to suit anyone with an open and creative spirit. Art installations are wherever you look with the attention to detail so precise, it's overwhelming how they come up with new ideas each year.
This year, the first day began with a 'Year 10 Formal' dress up theme which had participants in dresses and suits to match their clique. A lot of '80s prom dresses were brought out as well as tuxedos with matching top hat. The main stage was assigned as the Gymnasium as the backdrop to the bands were lit up with a basketball hoop and big blue curtains that adorned the 'Secret Garden High School' logo. Surrounding the outskirts of the crowd were tall wooden bleachers decorated in the school colours of red and yellow.
However, no high school formal is complete without the after party, of course. Through the forest behind the entrance of the main stage was 'Bec's House Party'—a room made to look like a teenage girl's bedroom from the 2000s, complete with user required music meaning anyone could plug in their phone and let the beats roll out. A fridge inside the spacious room had notes from "Bec's Mum" asking to keep the house clean while they were on holiday. Oops. Dancing on the tables and the bed, this area was definitely one not to be missed.
A stand out artist on Friday was punk rock band WAAX. The heat reached a sweaty 34 degrees on the farm but this didn't phase lead singer Marie DeVita as she stomped around on stage in black pants and a dark grey top. Letting her hair fall in front of her face during the end of her set, DeVita sang a high energy cover of Courtney Barnett's Pedestrian At Best and with one swift mic drop, she was off the stage.
Saturday morning was a slow one for some people. Waking up with glitter in areas of the body they didn't even know existed. To kick off the lunchtime sessions, new-comer Clarissa Mei eased people into their afternoon with her soulful voice at the Cosmoteque stage which was decked out in geometric architecture as part of the Outer Space area. Her debut single Vulernable had people swaying back and forth getting back into the rhythm of the day.
The heat had risen but everyone was bracing for the storm that was to hit and drown the select few that didn't secure their tent and belongings properly… we were one of them. This didn't dampen anyone's spirits, though—as the sun set, the energy was rising. People's costumes were lighting up and the music grew louder. DZ Deathrays pulled the biggest crowd at the Gymnasium during their 9:30pm time slot as what can only be described as a 20-foot trojan horse was carried into the crowd. People didn't know if it was an art installation that had been hijacked by the festival-goers or if it was a showcase of the festival staff. Either way, it was a hilarious sight.
For people who didn't want to see DZ, there was an eclectic scattering of activities going on in the forest including a completely nude dance party at the In A State Theatre tent. This went for about an hour with everyone letting their bits hang out in a not-enormously-spacious circus tent. If that wasn't your thing, the Let's Sin area was always playing beats for you to dance along to. This stage had a completely female lineup as well as all female dancers. Let's hear it for the girls!
Secret Garden is a festival for everyone. There is always something going on wherever you look. The attention to detail is immaculate and you can see where all the collaborative effort is going. A lot of the festivals visual artists and designers are volunteers as the festival donates most of the profits to charity. It is a happy, communal and interactive festival that allows people to let their mind open and completely forget about their 9 to 5 for 48 colourful hours.