Northeast Party House Throw Hectic Warehouse Party In Video For "Heartbreaker"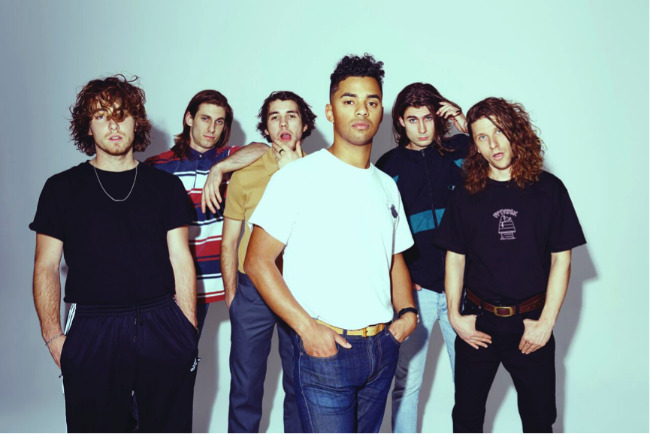 It only makes sense that Northeast Party House would put on one of the loosest warehouse parties ever for their music video for Heartbreaker. Seeing as a warehouse is technically a house, we can only hope the location was in North-East Melbourne?
There's honestly not a lot that needs to be said about the latest loose clip from the Melbourne lads, having gathered all their best mates for a loose night to be caught on film and put out to the masses to our visual delight. The clip has a bit of a visceral Prodigy aspect to it, which only makes the night seem looser.
Heartbreaker is the second single from 'Dare', the second album from Northeast Party House which was met to praise from taste-makers across the country (and our Editor's favourite album of the year so far!). While for many Northeast Party House are known for their terrific synth-tastic sounds, Heartbreaker puts the focus on fuzzy guitars.
As guitarist Mitch Ansell says "I came up with the chorus vocal melody on a tacky synth which I then transferred into a fuzzed-out guitar riff. The rest of the song started to take shape around this. We've always blended dance music and rock music together in the same section. I wanted to shift away from that blend and see if I could make a rock chorus transition into a house middle 8…it kind of works and kind of doesn't but I really dig it!"
If the clip gets you keen for a night with the guys at Northeast Party House, don't fret 'cause they're hitting the road for a slew of dates across the country right up til new year's eve!
Check out the loose clip and future live dates below, or read our recent interview with Mitch Ansell of Northeast Party House HERE
Northeast Party House Live Dates
SAT 12 NOV
Bulimba Festival, Brisbane
FRI 18 NOV
Triple J Unearthed Event, Melbourne
SAT 19 NOV
Copresents RMIT, Melbourne
SAT 24 DEC
Xmas Eve at Mt Macedon Hotel, VIC
WED 28 DEC
Falls Festival, Lorne VIC
THU 29 DEC
Falls Festival, Marion Bay TAS
SAT 31 DEC
Falls Festival, Byron Bay
Get Tickets HERE