NSW Relaxes Lockout Laws For Live Music Venues, Should QLD Do The Same?
The New South Wales (NSW) State Government today announced they'll be "relaxing" lockout laws from January 2017 for "live entertainment venues". The decision comes just months after former High Court judge Ian Callinan recommended a two-year trial of a 2am lockout and 3:30am last drinks in venues with live entertainment, a half-an-hour extension of the original laws.
Callinan said the recommendation would help restore the "vibrancy" of Sydney's nightlife precincts, which have suffered since the introduction of lockout laws back in 2014.
The slight relaxation of Sydney's lockout laws however will only be for live entertainment venues, which the NSW Government defines as "venues that offer genuine live entertainment, live performances, or art and cultural events" in Sydney's CBD and Kings Cross precinct. So those venues such as the Enmore Theatre in Newtown still have to survive another two years under the 'stricter' laws.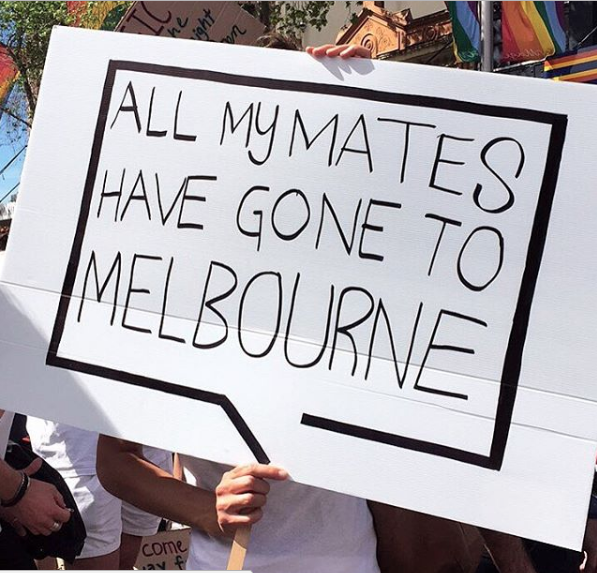 As reported by the Sydney Morning Herald, NSW Premier Mike Baird (#CasinoMike) said "The lockout laws are staying… There's no doubt they have been saving lives", but reviews of the laws will now occur annually.
"We're not returning to those days of violence… [We will] look at the statistics, this is an ongoing conversation… The good news is we're listening," said Baird.
The NSW Premier said the Callinan-backed changes "will further enhance nightlife in the precincts without undermining the essential purpose of the laws, which is to make the CBD and the Cross places where people can enjoy a safe night out".
However, speaking to Music Feeds, Keep Sydney Open's leader Tyson Koh says "Thirty minutes is not enough to help out struggling businesses, to bring back the jobs lost in the night time economy, [and] not enough to restore confidence in our live music scene".
Recent data also suggests that since the implementation of lockout laws in Sydney, rates of alcohol-related violence have actually doubled. Here in Queensland, alcohol-related violence rates have pretty much remained the same since lockout laws were introduced in July.
"…the [forthcoming] 1am lockout could potentially really hurt both live music and general nightlife in Brisbane."
Speaking to The Courier Mail, Royal Brisbane and Women's Hospital emergency specialist David Rosengren said the lockout laws were never going to have a major impact on emergency departments.
"Alcohol and its problem in the community is far bigger than drinking in nightclubs at 3am in the morning. The legislation was never going to have a major impact on the number of people that we see turn up in our emergency departments, the workload, or the patterns of behaviour.
"If anyone was expecting this legislation to have a profound and dramatic reduction in the number of alcohol intoxications and presentations at emergency departments, that would be a naive and ignorant approach to legislation… there's no magic bullet to this problem," said Rosengren.
Patrick Balfe, Booking Agent for Brisbane live music venue The Foundry, says Queensland should follow suit with the NSW lockout laws changes, so there's less confusion for their patrons.
"[There's] general confusion about what [patrons] can and can't do as far as rapid consumption drinks after midnight and the implications of exactly what 3am last drinks and 1am lockout means."
He also says the stricter lockout time of 1am imposed in Queensland from February next year will make is harder for groups just wanting to have a good night out.
"I like to think venues will be able to retain their crowds after 1am and everyone will have a great time, that it won't have any significant impact. However at the end of the day I think it's just going to create a mess on the streets and create further barriers to people wanting to go out in the first place," said Balfe.
"Since the lockout laws [were introduced] I've lost about $150 a week in reduced shifts."
Brett Gibson, Venue Manager of The Triffid, says even though the lockout laws are yet to impact their patronage, they're effecting the time shows start and the morale of their bar staff.
"We have had to put on [live music] a little bit earlier because people naturally want to go into the nightlight precinct earlier. It hasn't affected much yet, but the [forthcoming] 1am lockout could potentially really hurt both live music and general nightlife in Brisbane. We hope people will start to come out earlier, but the reality is we just don't know what's going to happen and people might end up staying home.
"[The lockout laws] have led to less socialising after work, and the big one is less hours for staff to work… which hurts the whole industry. [Some of our staff] have to get a second job at a café just to make ends meet. It means [some staff] now can't learn about the business, which means if they were a potential manager in the future they now can't get enough hours… so they're looking at other industries [to work in]," said Gibson.
University student Jordie Daley, who works at The Flying Cock, says there's now little job security in nightlife hospitality in Brisbane for casual workers since Queensland's lockout laws were introduced.
"Since the lockout laws [were introduced] I've lost about $150 a week in reduced shifts. If The Flying Cock wasn't also open during the days I think I'd be looking at another job. One of my co-workers is also a labourer now as he doesn't get enough shifts to support the same lifestyle he had a year ago."
Local freelance bartender Laurence Bugeja says the lockout laws impacted his ability to get a job, socialise, and serve clients.
"Having to cut people off from shots and other drinks has resulted in myself being abused by customers…young women now seem to get far more intoxicated as they rush to have shots before 12pm."
"…part of the reason we don't have as much late night violence is because there's a really good mix of live music and artists out on the street and other things to do late at night."
Jonathan Sri, Councilor for the Woolloongabba Ward, says policy makers should be looking at relatively peaceful nightlife precincts such as West End's Boundary Street area to curb violence in the CBD and Fortitude Valley.
"I think what is successful about West End, and part of the reason we don't have as much late night violence, is because there is that really good mix of live music and artists out on the street and other things to do late at night.
"I actually don't believe that lockout laws are a particularly nuanced response to alcohol related violence, and I think if were talking about violence on the streets what we should be doing is making sure people have safe and affordable ways to get home. Often it's little things, like making sure the footpaths have enough space and that there's good signage to the nearest public toilets and the nearest taxi ranks, and have good late-night public transport.
I think the bigger conversation is between alcohol-fuelled violence and hyper masculinity, because there are cultural problems there and lockout laws don't fix them," said Councilor Sri.
Even though it seems Brisbane is destined to fall down the same path Sydney has as a result of their lockout laws, only time will tell what the economical and cultural impact will be from Queensland's (soon to be the strictest in Australia) lockout laws.
We contacted Labor MP Grace Grace for a statement, but she was too busy to comment.