DZ Deathrays Drop 'Guillotine' Video Ahead Of National Tour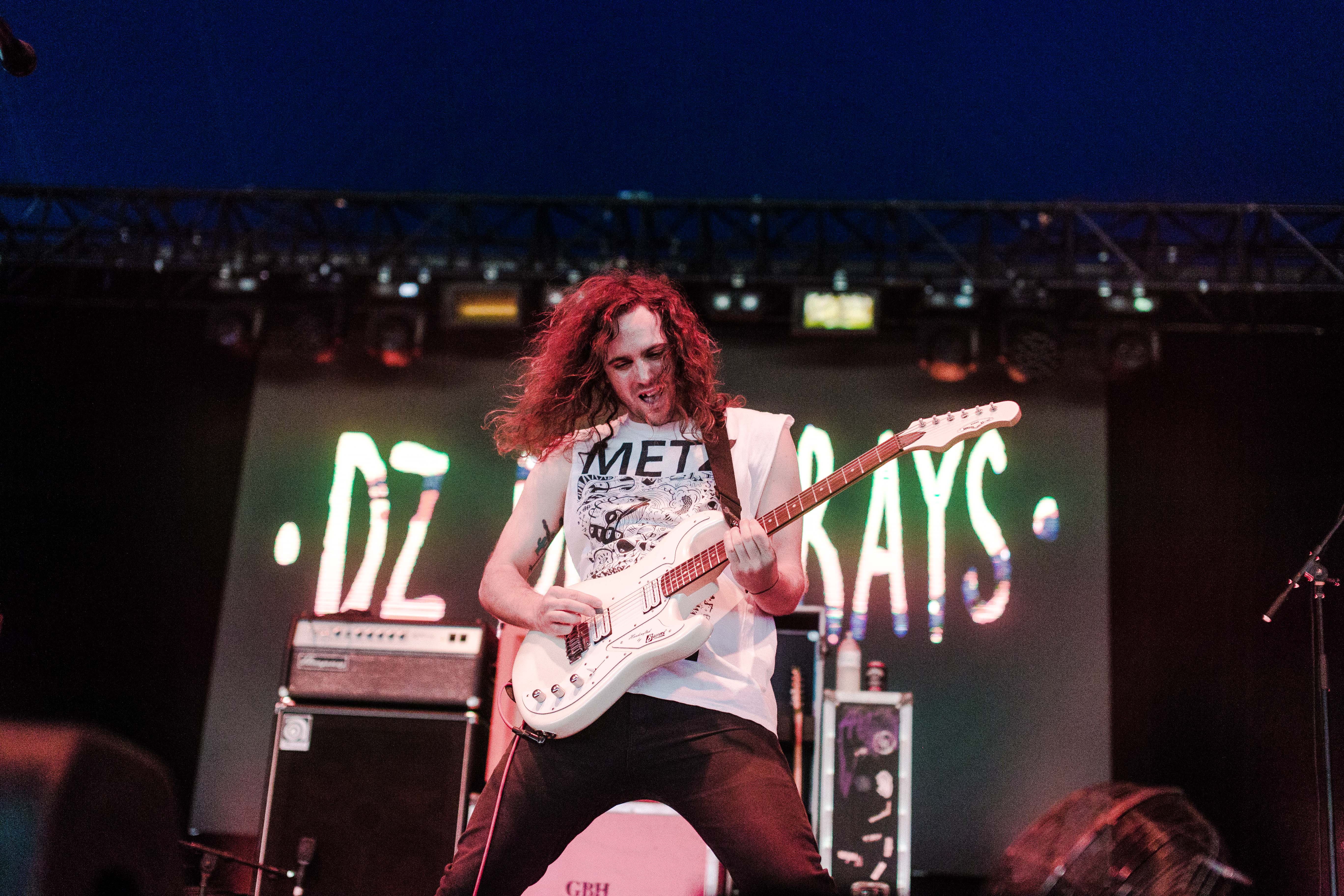 Keeping the fires burning on their huge third album 'Bloody Lovely', DZ Deathrays have dropped their new single and video for Guillotine. It comes just as the group have started their national, almost sold out national tour behind the album.
Guillotine is a frantic and claustrophobic number that's short of breath. Clocking in at just over 2-minutes, the track is a classic DZ affair of Shane Parsons' massive, building guitar and Simon Ridley's consistently pounding drum work. The video, directed and produced by Bill Bleakley and Lucy Knox, sees the duo in a beautifully coloured wasteland tearing up the track. As night falls, football players engage in a mosh—probably not the craziest mosh pit DZ has witnessed in their time. It follows on from DZ's previous amazing film clip for Like People, which featured the OG Red Wiggle!
DZ Deathrays are currently in the midst of their 'Bloody Lovely' national tour. Shows have been added, upgraded and sold out as the days have rolled on. They now have a whopping three consecutive sold out shows at their hometown of Brisbane's The Triffid. Melbourne and Sydney now each have two dates with the first of them being sold out.
Scope the full run of DZ dates below. Some remaining tickets are still available from some shows, but they won't last!
DZ Deathrays Live Dates
THURS 26 APR
Galatos, Auckland
FRU 17 APR
Blue Smoke, Christchurch
SAT 28 APR
San Fran, Wellington
FRI 4 MAY
The Gov, Adelaide– SOLD OUT
SAT 5 MAY
Captiol, Perth– SOLD OUT
WED 9 MAY
Metro Theatre, Sydney
THURS 10 MAY
Cambridge Hotel, Newcastle
FRI 11 MAY
Metro Theatre, Sydney– SOLD OUT
SAT 12 MAY
Hellenic Club, Canberra
THURS 17 MAY
Karova Lounge, Ballarat– SOLD OUT
FRI 18 MAY
170 Russell, Melbourne– SOLD OUT
SAT 19 MAY
Republic Bar, Hobart– SOLD OUT
WED 23 MAY
170 Russell, Melbourne
THURS 24 MAY
The Triffid, Brisbane– SOLD OUT
FRI 25 MAY
The Triffid, Brisbane – SOLD OUT
SAT 26 MAY
The Triffid, Brisbane– SOLD OUT
TICKETS