'Hi This Is Flume' Is The Nexus To Flume's Prolonged Experimentation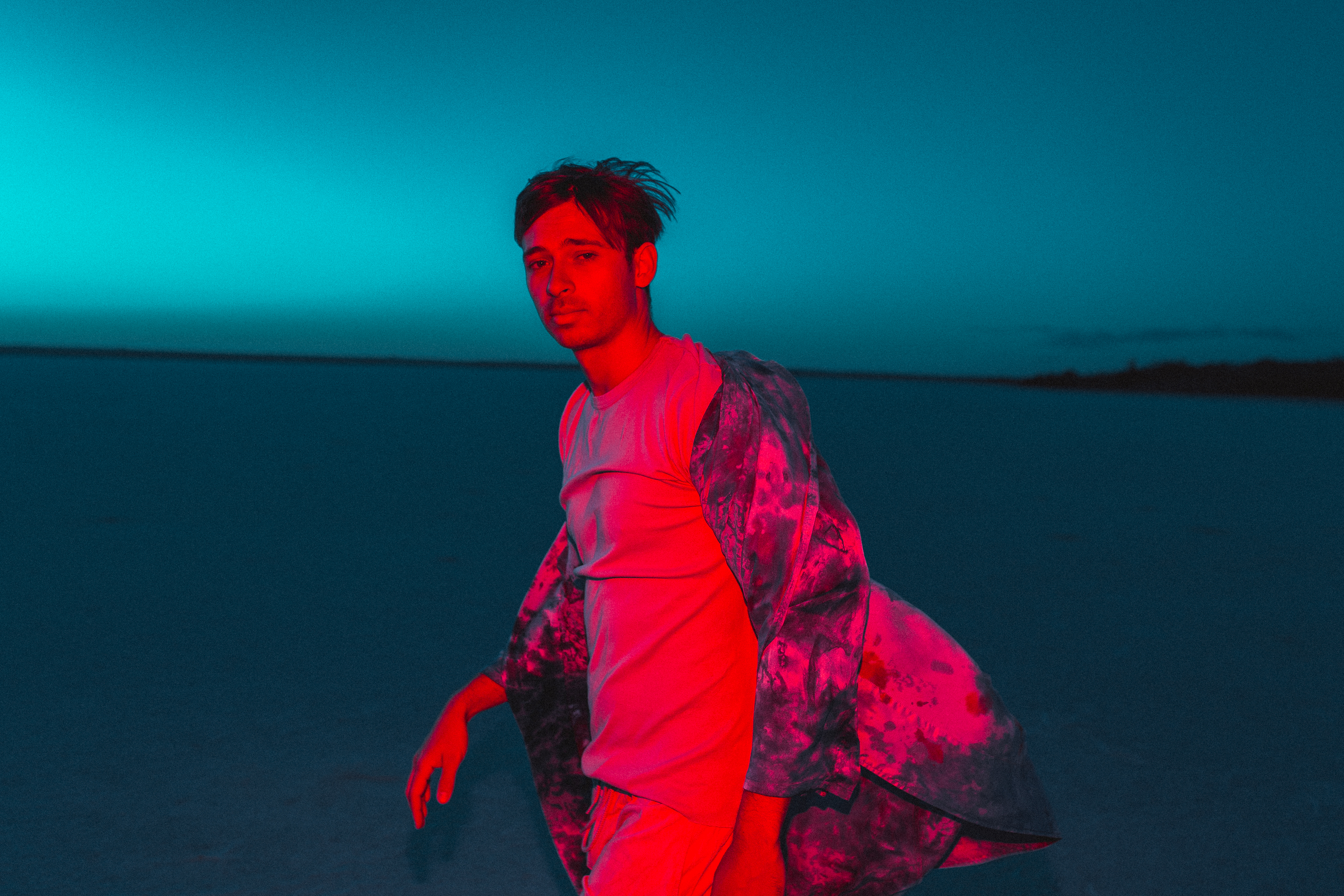 Only being alerted to the sign of new music from Flume one day in advance, today we were bombarded by an entirely new mixtape. Not a single; not a premiere on triple j with the unnerving hint of a larger body of work that may or may not be released later this year. Today, we got the full thing. 'Hi This Is Flume' is the Australian producer's new collage of work that signals something much larger in the grand scheme of things.
Immediately, we're drawn away from his bright, shimmering and high-octane electronica that propelled him into the mainstream. Almost if not all the tracks on 'Hi This Is Flume' aren't constructed to be danced to. Rather, consumed with a good pair of headphones and an open mind—something the vast majority of Flume listeners will not take lightly to.
This is not entirely new territory for Flume. 2016's 'Skin' and its two companion EPs shed more light on his more experimental side. Compared to his self-titled debut, this is a brand new Flume. 'Skin' still held some unapologetic pop moments, like the massive Say It, which featured Tove Lo. Tracks like Wall Fuck and Pika were short moments of escapism for the producer. They were hidden in plain sight amongst the other pop-orientated tracks. There is no bright light to be found on 'Hi This Is Flume'—the producer throws everything he has onto the release while turning his back on his pop star past.
At some points on the mixtape, Flume makes it almost too clear that he's trying to turn his back on the mainstream appeal. Just looking at the track listing, songs like  ╜φ°⌂▌╫§╜φ°⌂▌╫§╜φ°⌂▌╫§╜φ°⌂▌╫§╜φ°⌂▌╫§╜φ°⌂▌╫§╜φ°⌂ ▌╫§╜φ°⌂▌╫§╜φ°⌂▌╫§╜φ°⌂▌╫§╜φ°⌂▌╫§╜φ°⌂▌╫§╜φ°⌂
▌╫§╜φ°⌂▌╫§╜φ°⌂▌╫§╜φ°⌂▌╫§╜φ°⌂▌╫§╜φ°⌂▌draw the eye, but leave much to be desired. Going the way of Four Tet with one of his many monikers, Flume's use of odd characters in a short interlude track is far from what he's ever done before. We're stepping away from 'Skin'. The second track, Ecdysis, means to shed skin. Take that as literally as you want.
RELATED: Danny Barwick takes us through a track-by-track of his incredible new EP HERE.
Flume also tacks onto the growing trend of shorter, more concise album run times. Artists like former Flume collaborator, Vince Staples, as well as Pusha T and Earl Sweatshirt have all released albums that clock in around or under the 30-minute mark. Admittedly, we know what we're getting with it being labelled a mixtape. However the brisk 38-minute runtime works in his favour—compared to the often drawn out and dawdling composition of 'Skin'.
The first six tracks of 'Hi This Is Flume' are merely fluff before the meat of the release begins. While tracks like Dreamtime and Jewel are fine set pieces, they only aim to justify the absolute gold that's about to unfold through the remainder of the mixtape. Flume pairs up with Eprom for an abrasive remix of SOPHIE's Is It Cold In The Water? Being one of the standout tracks from SOPHIE's debut album of last year, 'Oil of Every Pearl's Un-Insides', the new take on the track is both thrilling and a nexus of Flume's thesis is with this mixtape—a proper gateway into his much sought after experimentation of electronic music. The song bridges between SOPHIE's sweetly soaring vocals to Flume and Eprom's ghastly industrial rips.
While an avid attempt, it's the hip-hop features which let down the mixtape. Flume hasn't shielded away from having hip-hop artists feature on his warped electronica, though they've always been a letdown. The aforementioned Vince Staples couldn't even save Flume's bad streak with hip-hop artists on Lose It and Smoke & Retribution from 'Skin'. The trend, unfortunately, continues on 'Hi This Is Flume' with JPEGMAFIA's laughable appearance on How To Build A Relationship. Thankfully, though, the track doesn't overstay its welcome and we're again treated to some more cacophonous industrial clangs in the form of Wormhole.
RELATED: Bcharre has more dark techno you for HERE.
Post-Wormhole, the mixtape is on a high velocity track of pure, unadulterated experimentation. Flume lets loose. Kučka's vocals are completely muddied and bruised throughout Voices, which bleeds into the epilogue, MUD. From there, the mixtape blends into itself perfectly. Vitality is the electronic version of whiplash while Daze 22.00 mixes it up with a range of different electronic styles and Flume's classic vocal embedding seeping in.
Visuals have always been an important companion to Flume's work. This time, however, he steps it up a notch with a complete visualiser directed by Flume's friend and collaborator, Jonathan Zawada. Similarly to Planete's visualiser from last year, the video piece is a direct visual interpretation of the sounds that pairs well to its ethos of madness and unkempt sonic textures.
There's no doubt about it. 'Hi This Is Flume' is the producer's anthem. Although marketed as a mixtape, Flume's scribbling and sprawling production on this new release has set his path from here on out as straight and narrow. We got hints of it—no matter how messy they may have been—on 'Skin', but 'Hi This Is Flume' is the signpost of a welcomed change for this famed Australian artist.