Interview: Jonas Renkse from 'Katatonia'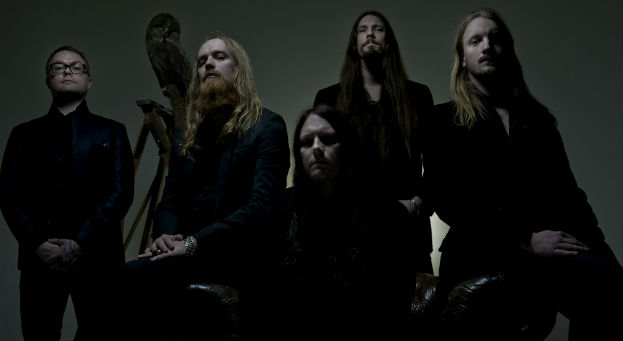 Swedish progressive metal masters of sorrow Katatonia have just accomplished what many aspiring rockers can only dream of achieving, their 10th studio album! Even after 25 years the quintet are using their music to venture unexplored paths of heavy metal's darkest secrets. 'The Fall of Hearts' is an emotional maelstrom of fresh new perspectives and diverse instrumental textures. We caught up with frontman Jonas Renkse to discuss the new album, song inspirations, and touring life.
Congratulations on your 10th studio album! Do you have any celebrations planned for the release date?
We were thinking about arranging some kind of release party but now it looks like we will just go out for dinner or something because a release party is more complicated to put together than what you think from the beginning.
Where did you want to take 'The Fall of Hearts' in terms of artistic direction?
Musically, we wanted to take away any boundaries we might still have. With every album we want to broaden our sound and try new things and this album is definitely not an exception. It's probably the most varied, diverse and dynamic album we've ever done. That's always the main goal and I think we've succeeded quite well on this one.
What was it like co-producing this record? 
It's good, I mean it's something me and (guitarist) Andreas Nystrom have always done because we are the songwriters and we know exactly what type of sound we want to achieve. It's something we always want to to get involve with, probably because we don't trust people enough to put something into the house of someone else completely. It's worked well in the past.
How did the addition of two new band members impact the sound of this album?
As far as (guitarist) Roger Ojersson goes, he came to the band quite late so he didn't really have an influence on the album but (drummer) Daniel Moilanen has doubly shaped this album more than he would realise just by being a very very good drummer. It made us feel kind of limitless when we wrote the songs. We wanted to take things to the next level and he was the perfect companion in that so even though he didn't write any music, his drumming presence helped the band reach further heights.
How has your music grown since the release of your first album?
The release of the first album was such a long time ago but I think we as a band have progressed naturally since then. We haven't taken any huge leaps to become successful or to try something we could never really achieve. The foundation of what we wanted to do with our music from when we started the band is still the same today – we want to make some dark, atmospheric rock metal music. Of course the sound has changed over the years – it's inevitable, but I think you can still hear it's the same band with the same kind of ideas.
What is it the core component of your music that you think fans are immediately drawn to?
I think it might be the fact that we're a metal band but we have an urge to explore different musical areas and incorporate them into our music, which makes it sound kind of different from the usual metal bands. When people listen to Katatonia or expect something from us they know they will get something a little bit different from the standard form of metal music.
Do you have a favourite song on the record?
I do but it changes all the time. The album is still fresh to me. I really like the first song Takeover. I think it's a very nice blueprint of what the whole album sounds like because it's very dynamic and kind of progressive. I also really like the song Residual because I think it's more on the epic side so it's something different from the first song but I love all the songs, of course.
Where is the strangest place you've ever gotten an idea for a song?
Oh! That's an interesting question. Sometimes I get ideas just by reading a certain line in a book. It has to be something beautiful or descriptive of how I feel and relate to. Just a line in a book can be made into inspiration to write a whole song. I can't say anything really specific but it's along those lines. I only need maybe a word to get started.
What are some musical influences that have specifically impacted the band?
It's a lot of stuff through the years because we've been around for such a long time. When we started we were very inspired by the British band Paradise Lost but after that we just moved on. Even a band like The Cure has been very important. Nowadays we don't really go to certain bands to get inspiration but music in general. Anything we like is a trigger to do our own interpretation. If we listen to a jazz song that can be a go for doing something like that but in the vain of Katatonia so it's been different through the years.
What is the most embarrassing song you have on your iPod?
I'm not really embarrassed but I have audio albums of Tintin. I used to listen to them when I was a kid and now I have them on my iPod so I can listen to them when I'm flying somewhere. It's not really embarrassing but it's not death metal.
Do you have any particular vocal warm-ups before a show?
Not really, I mean I do warm-up but it's not very technical. Before an hour before every show we always put on some music that everybody in the band likes. We have maybe a beer or a glass of wine and I just try to sing along to those songs that we play just to get my voice warmed up. I practice to sing as much as possible before going on stage.
What can fans expect from a Katatonia show?
We're not a band that has big shows with pyros and stuff, it's more about the emotional energy and venue so a very emotional, powerful show. That's what I hope for at least.
When do you hope to come back to Australia?
I can't wait. We're actually looking into possibilities right now so before the end of the year or early next year would be my guess. I think everybody in the band is dying to get back to Australia. It's such a nice place to be on tour.
What is essentially the heart of Katatonia?
The heart of Katatonia is emotion because it's what we've based our music on since the beginning. We've never really been about showing off how capable we are playing our instruments. It always comes down to emotion. We want to create a certain feeling or atmosphere in our music.
What does the next few years hold for Katatonia? 
The next few years will be a lot about touring for this album since it's like four years since we've released the previous one. We haven't toured for some time now so I think people are hopefully waiting for us to come around again. For this album I hope we can go to places we haven't been before.
'The Fall of Hearts' is set for release Friday 20th of May.