Live Review: Flight Facilities @ The Triffid – 09.05.2018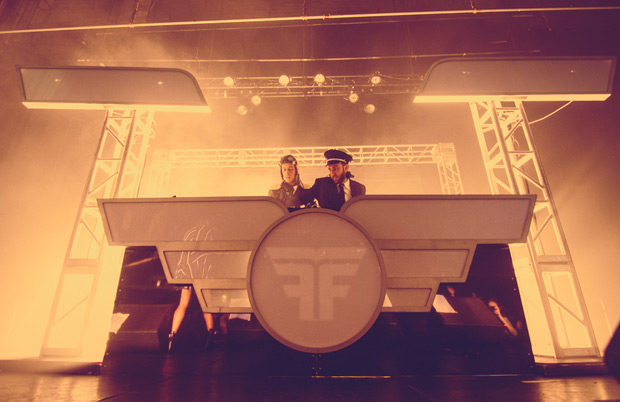 Touring for the first time in years, Flight Facilities are currently on a run of intimate venues as a part of their 'Return Flight' tour to perform their infectious classics and fresh booming tracks for their true fans. Following the release of Arty Boy, Stranded and Need You, the FF crew have been thrust back into the spotlight, and it's a true delight to see these boys back flying high. A funny coincidence that they chose to play in an old airport hangar of all places.
To prepare the show for liftoff, the duo needed to do nothing more than to step behind their equipment, the crowd screamed before a sound was even made. The show got off to a bumping, groovy start but when the bold and brilliant Stranded came on, that was when the show began to really elevate. Touring singers Ric Rufio and Graace were introduced, and provided incredible vocals the entire night, but the exultant, stylish Sunshine allowed Rufio to let his soul-funk style shine on his rendition of Reggie Watts' parts of the track.
The lighting of the show was perfectly curated, with the mix of blues, greens and purples, to red and yellows and strobing whites, it all contributed to the disco party vibe of the night. This party continued into the recognisable melody of Stand Still, backed by some new heavier beats, before the duo presented us with the jangly, "I can't get this song out of my head"-catchy Arty Boy. Where Rufio shined on a funkier track, Graace blossomed during the electro-pop banger, with James on the live guitar to round out the solidarity of this track live.
The duo's most recent single Need You let the crowd's vocal chords flourish, as well as providing everyone with a hell of a boogie. Well known tranquil anthem Clair De Lune signified that the set was coming to an end, beautifully weaved with the heavily nostalgic Pure Imagination from Willy Wonka. They departed the stage with the finale that went back to their disco roots, Foreign Language.
But of course, this was not the end, they returned to the cabin to provide an incredible encore of Two Bodies, with a hopping beat and elegant vocals, and the pivotal, forever beautiful Crave You. The chorus resonated loudly throughout The Triffid and smiles filled the room as fans relished in the song they all love dearly.
Much like their recent absence, Hugo and James spent the majority of night mysteriously shrouded in smoke and kept just out of sight, but you always knew they were there. The multi-instrumentalists fuelled the music the entire night, but never wished to be the main attraction, they just wanted to play and be heard. I highly recommend this airline to any future passenger, and I do hope we get the chance to fly with them again soon.