Live Review: Splendour In The Grass 2016 – Day 3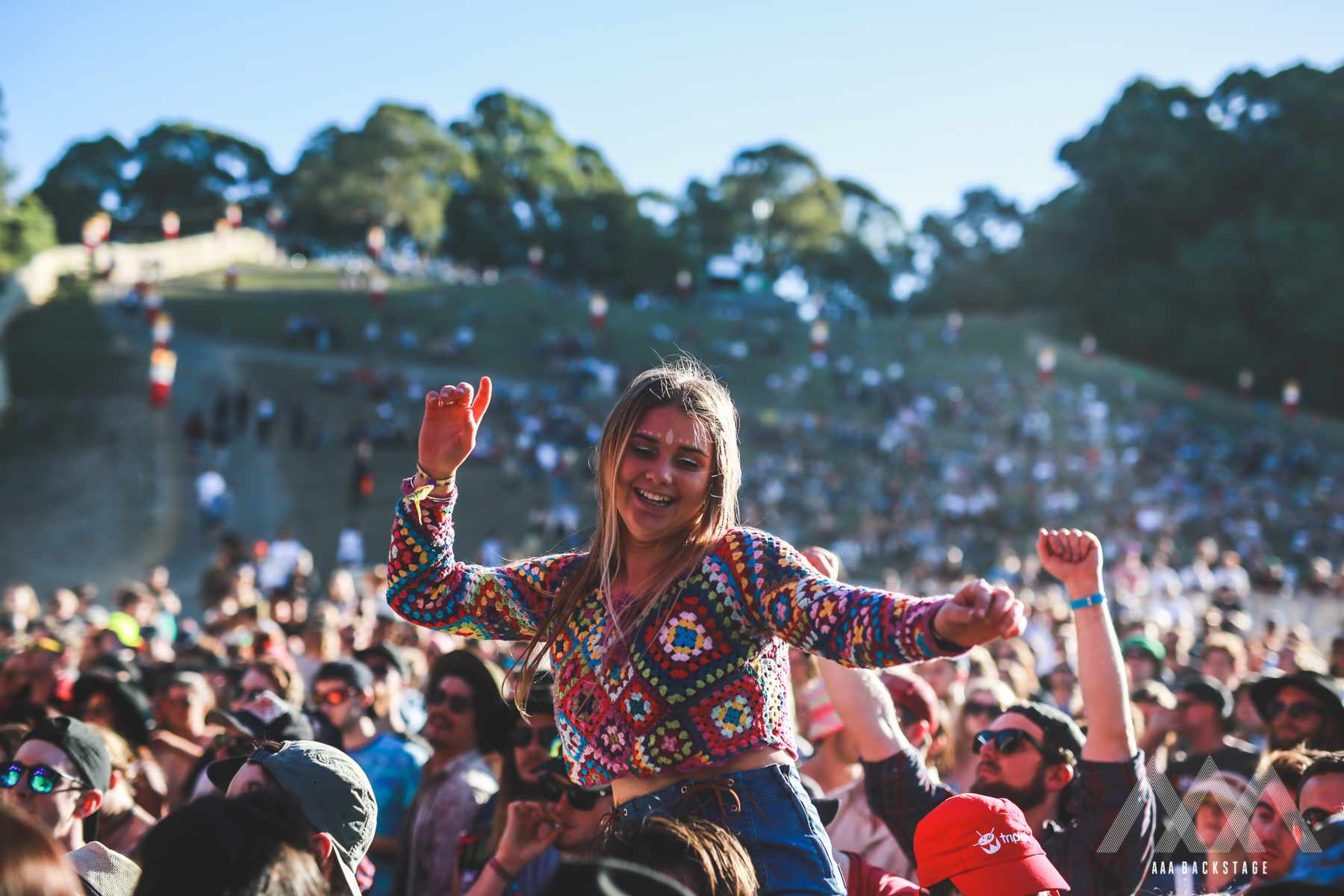 The final sunrise over the SITG2016 campgrounds for many was an unwelcome wakeup call. There were plenty of campers who slept through most of the morning, while the fashionistas they were sharing their tents or pop-up marquees with rose early to tediously apply their glitter and organise their various festival bling and accessories.
Those (many) nursing hangovers gathered like zombies around portable stovetops, which worked to thankfully mask the now pretty ugly smell of the campsite with the waft of bacon. After much needed nourishment and the implicit ritual of blasting Sticky Fingers, Flume, or a wide variety of hip-hop over car sound systems, most campers were ready to tackle the final day head on.
We started the day backstage at the Amphitheater to catch Green Buzzard, one of Sydney's best rising rock bands. Their upbeat new-wave wall-of-sound style kept the decent midday crowd moving, but their nerves slightly got the better of them early on. Definitely a band to keep an eye on, just have a bit more fun on stage fellas!
After downing a few bevvies we claimed our spot in the Amphitheater mosh for Melbourne modern new-wave heroes City Calm Down. A solid stream of punters flowed into the amphitheater throughout their epic, spellbinding set that evoked plenty of moody dancing, especially from a man in a large cockroach costume.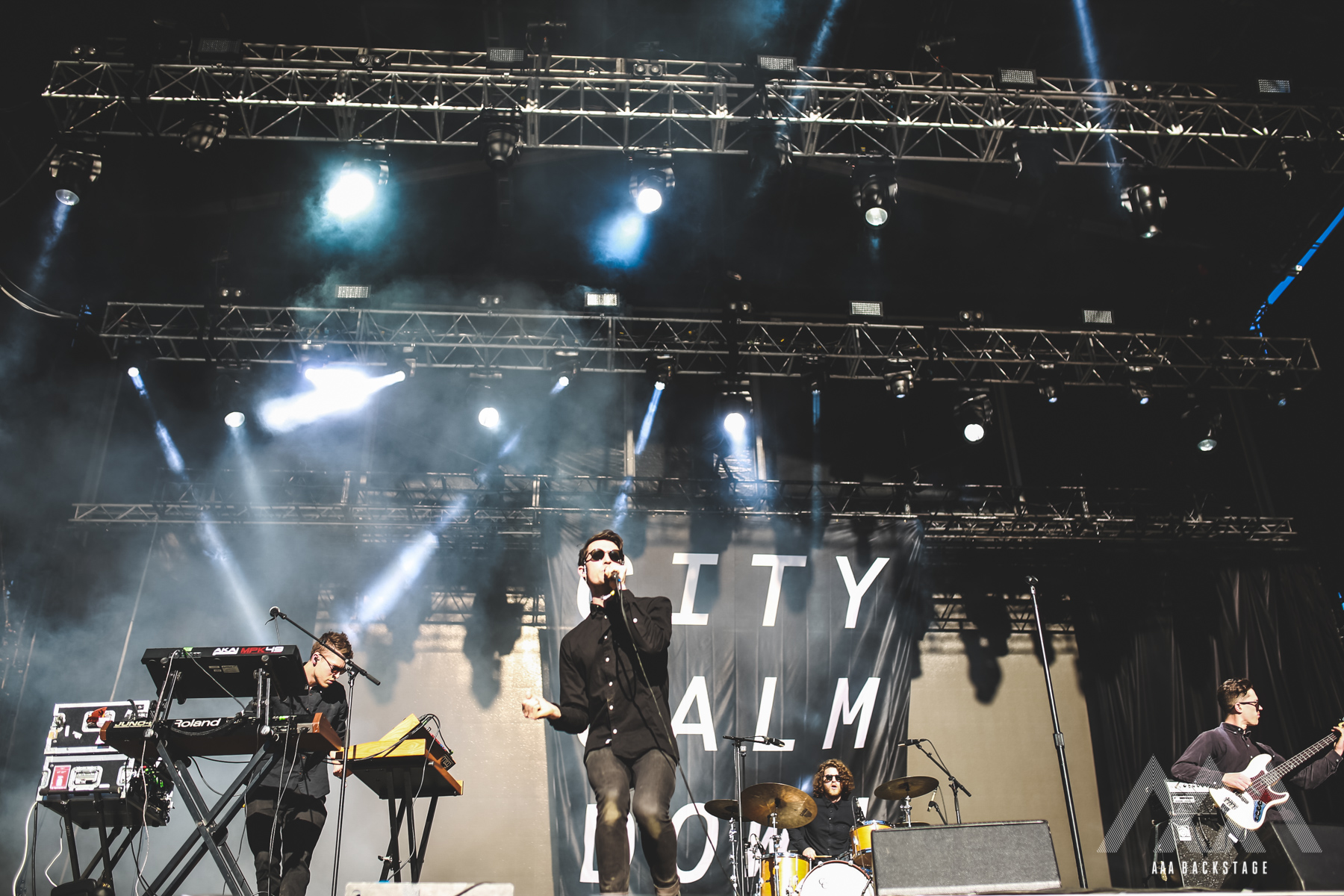 Frontman Jack Bourke somehow made their festival set feel more like an intimate club show through his constant movement and singing to every pocket of the crowd. Additionally, the live trumpeter and saxophonist added extra pep to their at times very gloomy new-wave soundscapes. They closed their set with a tribute to the late David Bowie with a brilliant cover of Let's Dance, one of the highlights of Day Three.
After being offered a lukewarm tin of tuna by a bearded guy covered in glitter in the mosh we thought it was time to head back up the hill and rest our feet. Pop-duo Tegan and Sara were next up on the Amphitheatre and their simple upbeat melodies and lovely harmonies caused plenty of the fairer gender to race towards the stage. However, their somewhat lacklustre stage presence early on made us rush to catch Jagwar Ma at the Mix Up Stage.
During our dash across the festival site we realised Day Three seemed to be unofficially 70's themed, with plenty of ladies and their beaus sporting sophisticated hippie attire and extremely flared pants. We also spotted a women dressed as a very disheveled looking butterfly…
When we reached the Mix Up Stage the crowd was already grooving hard to a decent DJ set from Twinsy. Classic party tracks Shake Your Tail Feather and A-Punk proved you don't need the music to be live at Splendour for a crowd to get crazy! Once Jagwar Ma jumped onstage the grooving ironically halted as the trio eased into their set with a smoke machine and overdriven guitar drenched opener.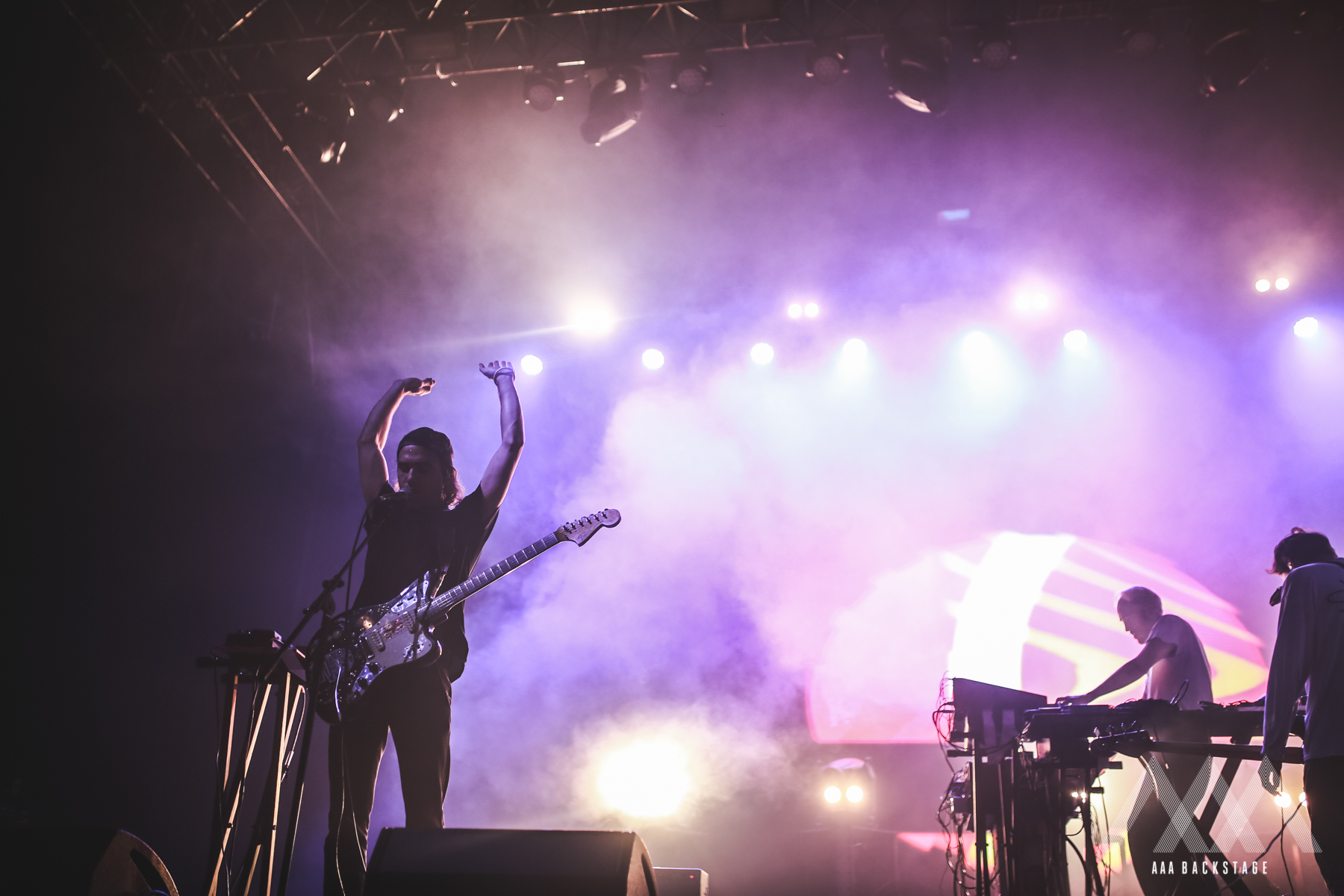 The Sydney outfit gradually won over the crowd with their signature flowing grooves and variety of metallic, tribal, and horn synthesiser sounds. Fan favourite The Throw and their new single O B 1 were warmly greeted, while Come Save Me showcased the band's amazing live production and improvisation skills with an epic dance-jam outro. Fans will also be pleased to know frontman Gabriel Winterfield's voice is sounding stronger and more confident than ever, so their upcoming sophomore album should be even better than their first.
We skipped out on Jagwar Ma a tad early in order to grab a feed (an "Outback Beef Burrito" hit the mark) and catch the start of Courtney Barnett's Amphitheatre set. Our rushed dinner and power walking was worth it as one of Australia's greatest recent musical exports delivered one SITG2016's best performances. Backed by her drummer, bassist, and a forever changing and entertaining animated backdrop, Barnett brilliantly balanced being one of Australia's best lyricists and performing like a bonafide rockstar.
The Amphitheater was surprisingly not packed considering her amazing international accolades, and it become obvious as her set continued that many punters were there because they knew of her rather than actually being fans of her music. But tracks like opener Dead Fox, An Illustration of Loneliness (Sleepless In NY), Depreston, and closing on Nobody Really Cares If You Don't Go to the Party were thankfully familiar tunes to most.
Elevator Operator and Avant Gardener were fun sing-a-longs, but it was Barnett's crunchy tube-driven guitar tone that was refreshingly different to previous acts, and her captivating stage presence well and truly proved she's more than just that monotone chick with quirky lyrics.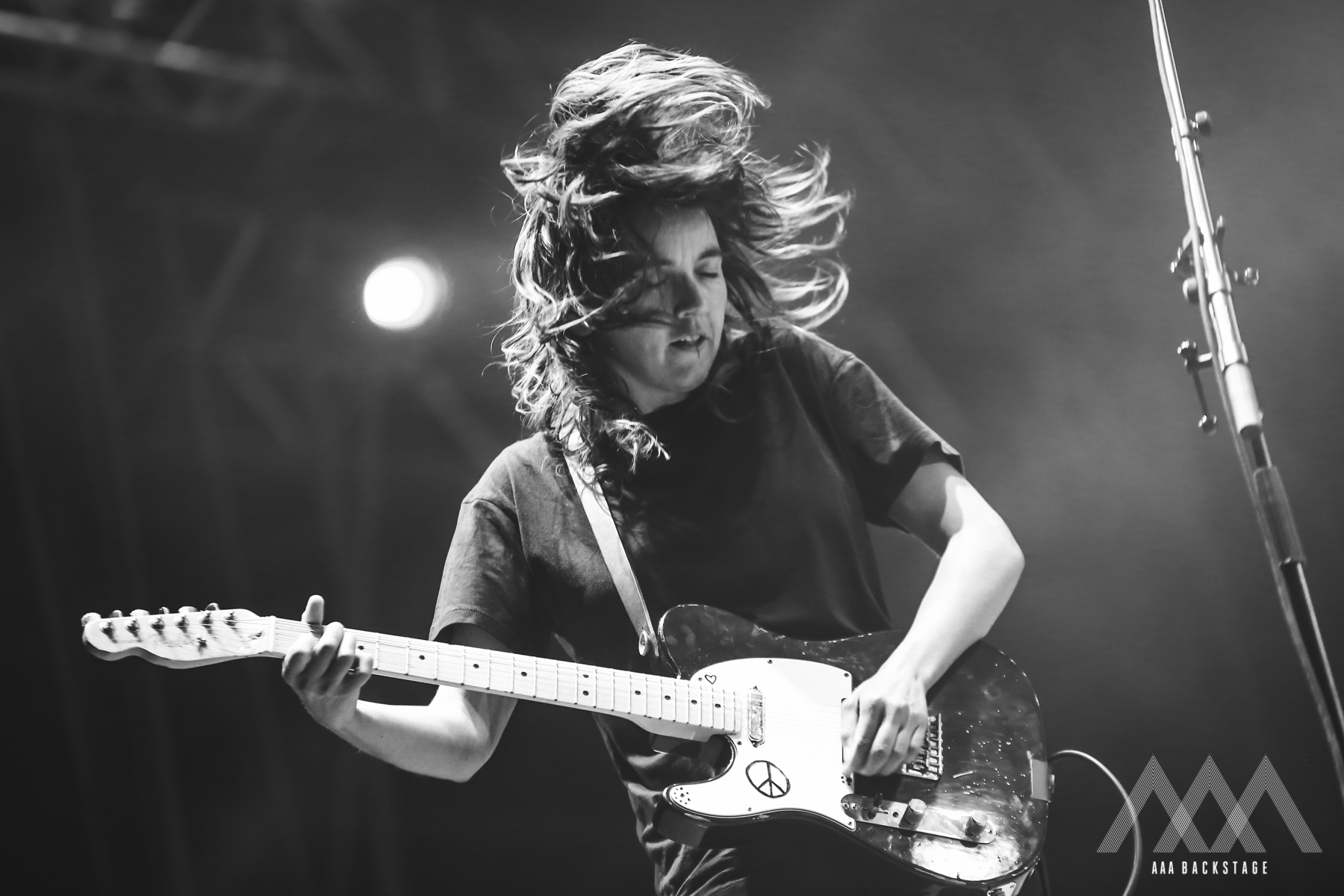 After another few refreshing Fat Yak bevvies we circumnavigated a stupidly closed-off path up to the jam-packed Amphitheater to catch Boy & Bear. We arrived just in time to watch a few fearless punters climb trees and railings as the quintet delivered crowd favourties Feeding Line and Southern Sun. Unfortunately it wasn't long till we left their lovely folk-rock tunes to follow the streaming crowd back down the hill to the GW McLennan Tent for The Preatures.
It seemed that everyone who wasn't in the Amphitheater or dancing/in a different reality in the Tipi Forest was at The Preatures' set. With our view partially obstructed by a gumboot being held up on a stick, we watched the Sydney rockers delivery a super fun, classic festival set full of their hits. Ordinary, It Gets Better, Somebody's Talking, Boys In Town by The Divinyls, and of course Is This How You Feel? all got a run, and easily won over the massive adoring crowd.
Apart from their cover they also surprised us with a beautiful duet between frontwoman Isabella Manfredi and lead guitarist Jack Moffitt, cute choreographed full-band stage moves, and a killer rock breakdown in Rock and Roll Rave. In fact, the only downer of the set was being sporadically pushed by a women with LED balloons and paint covering her face, and wearing an even more interesting choice of clothes…
We yet again followed the flow of the crowd back up the hectically steep hill to the Amphitheatre to catch the last few songs of James Blake's set. We were met with a wall of minimalistic production, whispered vocal samples, and Blake's signature unorthodox soft crooning. Stuck between two young girls apparently experiencing MDMA for the first time, we were captivated by what was happening onstage.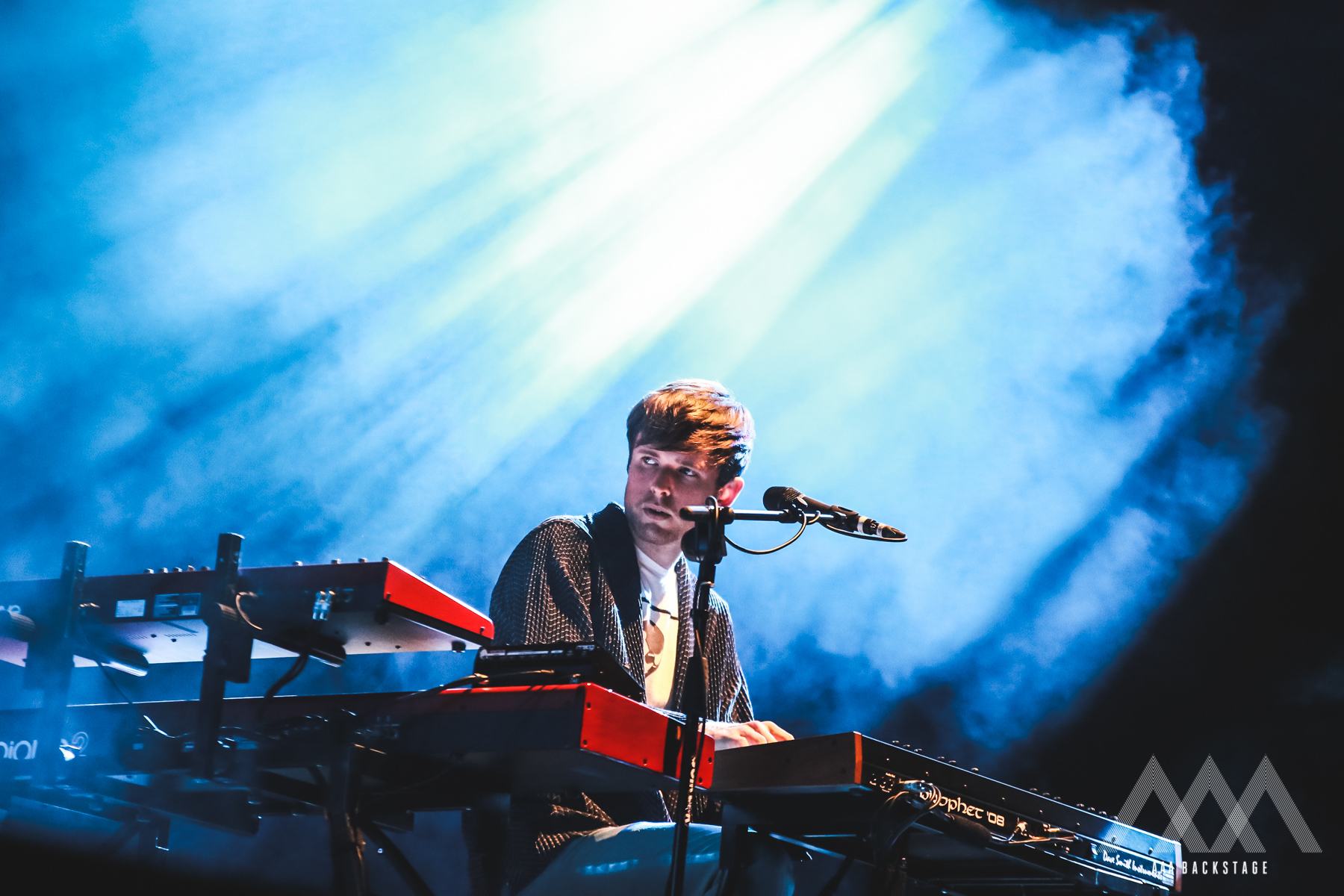 The amazing light show perfectly conveyed the crazy ebb and flow of Blake's downtempo beats and soulful soundscapes. The Amphitheatre even fell silent during arguably Blake's biggest hit to date Retrograde, which he thanked the crowd for later in one of the most lovely displays of humbleness by any act over the festival's three days.
With no time to lose we briskly walked across the now freezing Splendour grounds, high fiving several super happy punters on the way, to the Mix Up Stage to catch prolific Icelandic outfit Sigur Ros. Their stage set up was visually stunning and conveyed both mystery and intimacy, as keeping in line with their music.
The trio began the set behind three stations in the centre of a circle guarded by tall wooden sticks, a plethora of lights, and a LED screen, before moving to the front of the stage to a duplicate set up. It made not seem that impressive, but live it had the effect of the trio going from playing at the audience to almost feeling within touching distance.
Their signature guitar work, using a violin bow on a distorted electric guitar, created an incredible ambient and ethereal sound. This mixed with booming percussion, heavenly echoing vocals, and truly spectacular visuals transported us to another, more serene world…possibly somewhere in the Icelandic wilderness?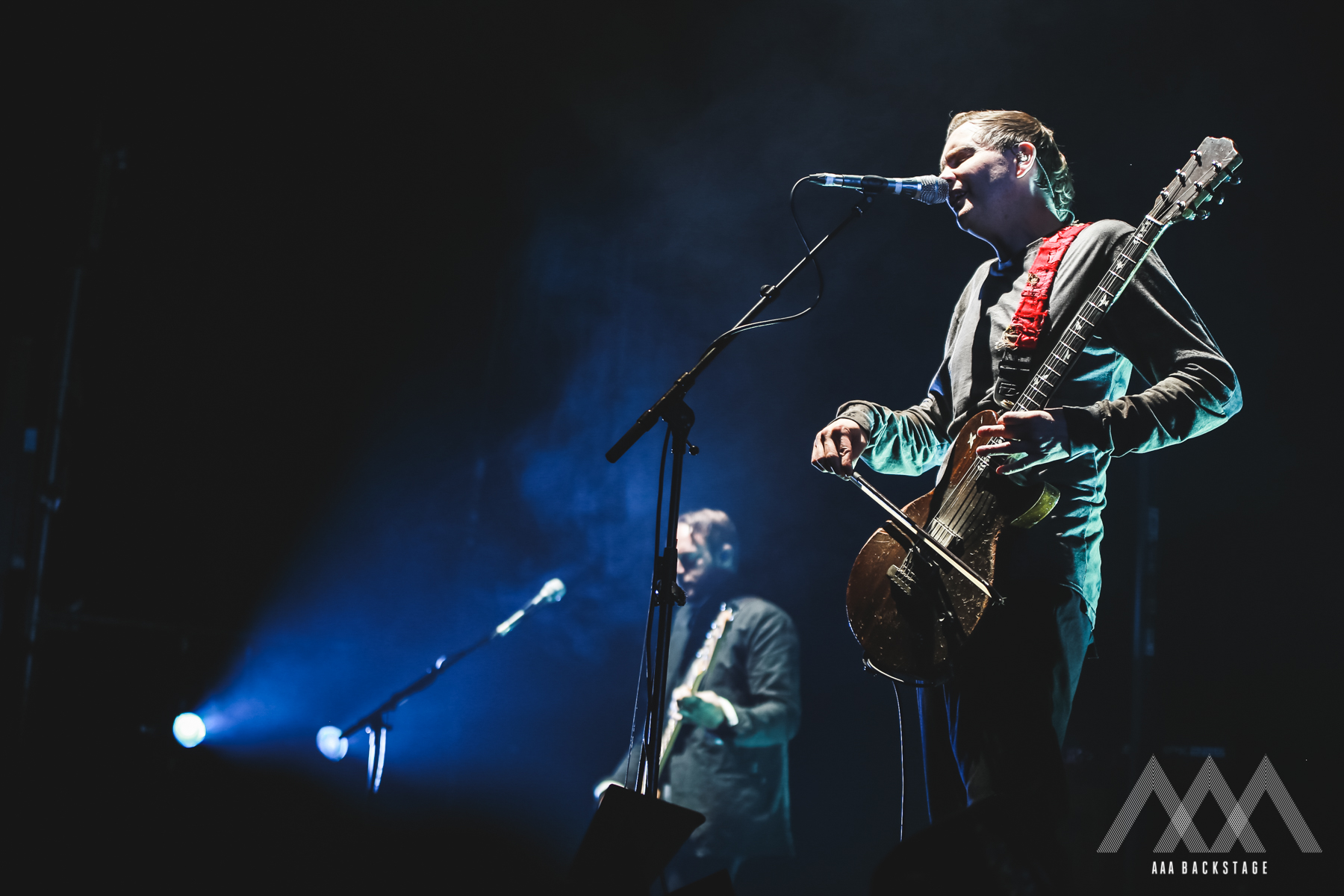 We finished our final night at SITG2016 with Flume's absolutely full Amphitheatre set. From our spot on the hill the crowd looked like a sea of flailing limbs, and to be honest it was hard not to dance to Flume's bangers. On Top got everyone dancing early on, and a large inflatable (Finding) Nemo did the rounds halfway up the hill while ironically an inflatable shark bounced atop of the mosh pit.
Not resting on his laurels as headliner, Flume brought Remi, Kučka, Baro, Vera Blue, Jess Kent, and Ngaiire onstage to provide live vocals for his big tracks on new album 'Skin', a nice touch no matter which way you look at it. While some of his less mainstream tracks such as Wall Fuck confused many of the part-time Flume fans, the gloriously heavy strobes and cascading LED prisms ensured there was always something interesting happening onstage, even if the music sometimes took a backseat.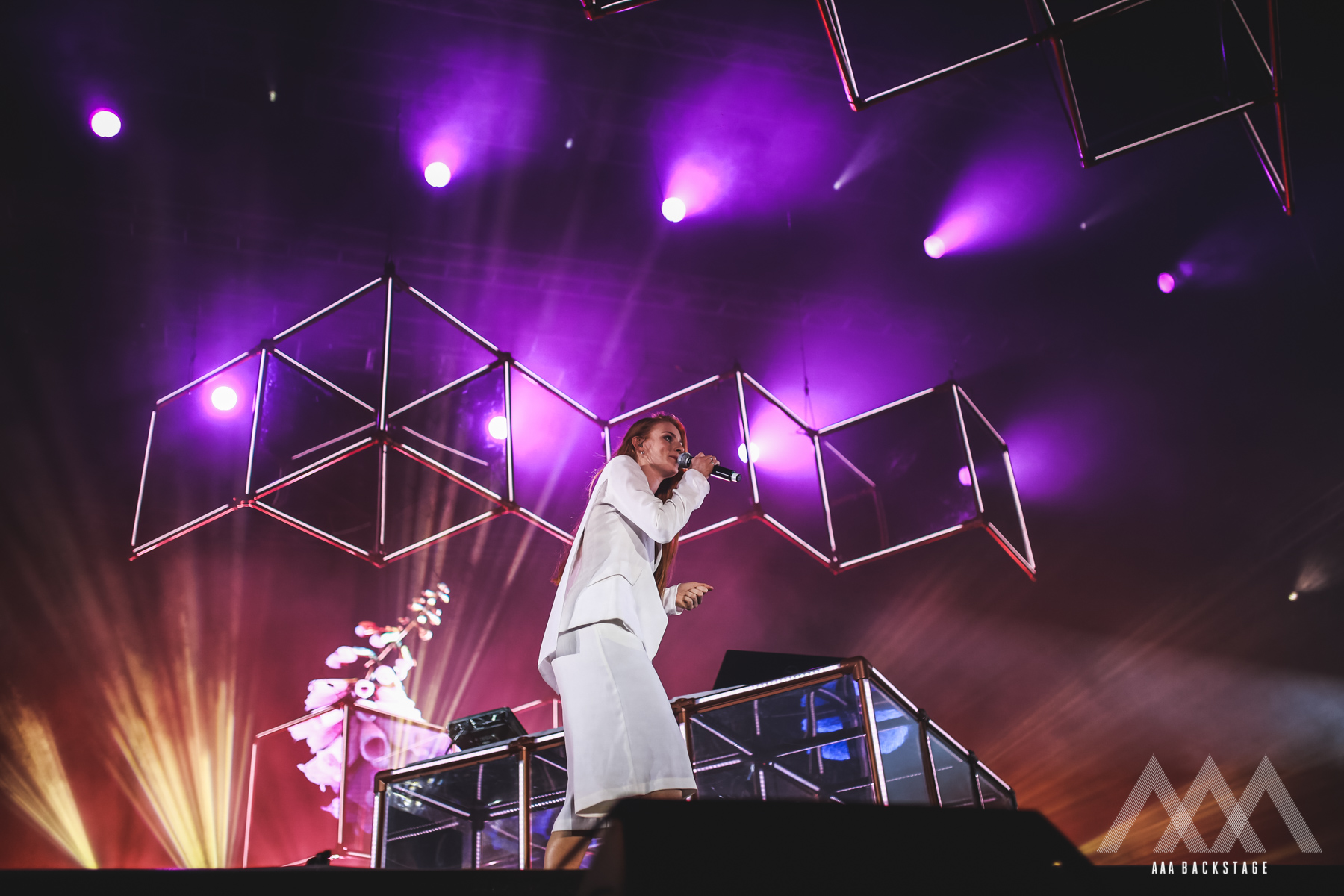 Overall, Day Three was just as jam-packed full of quality performances and unfortunate clashes as the other two days. What Day Three also shared with the previous days was a poor sound mix and overall lack of volume across the three main stages.
Not one Amphitheatre set was loud enough on any day of SITG2016, as even during Flume's deepest and loudest drops you could still clearly hear punters conversing. Similarly, over at the Mix Up Stage it was always hard to hear live instruments, such as bass guitar, keyboards, and vocals, against the always-cranked backing production.
Let's hope Splendour addresses these issues in time for next year's festival, because at the end of the day many punters spend plenty and travel far to hear the best Australian and international artists and bands. We'll happily accept a giant inflatable poop as one of the major "art installations" and wait all day to leave the campgrounds as long as we can clearly hear what's happening onstage…
Check out our HUGE Day Three Photo Gallery HERE and our (hilarious) gallery of People Stuck Exiting SITG2016
If you're liking what you're reading add AAA Backstage on Snapchat [aaa-backstage] and follow us on Instagram [@aaabackstage]