BRISBABES Going Out In Style In 'The Finale' Showcase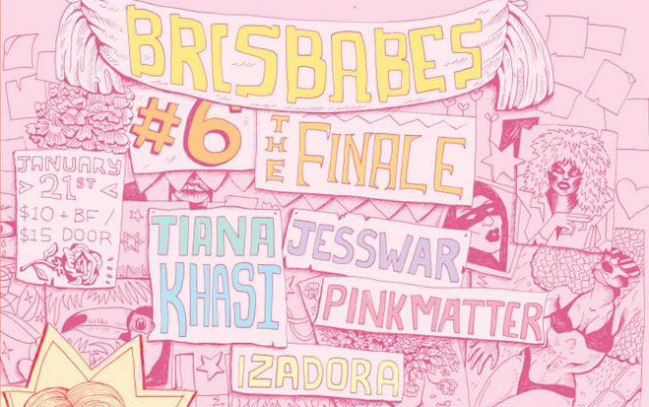 Nothing can last forever, and it seems everything that's pretty awesome eventually must come to an end. The Sunshine State's capital is full of amazing female musical talent, and for more than a year Brisbabes have been putting on quarterly showcases to highlight just how good music is from 'round here.
But the showcase series is coming to an end (for now… so there's still light at the end of the tunnel), and is set to end with a bang with 'Brisbabes #6 – The Finale'.
"I founded this gig because I was sick of people saying there were just no female acts around when they were booking lineups. Each lineup has been stacked with incredible talent in a variety of genres, so I think I've debunked that myth. I'm sad to be wrapping it up for now, but who knows what will happen in the future!" said Founder and promoter Emma Jones.
'The Finale' will feature the soul-pop sounds of Pink Matter, the amazing vocals of Izadora, local hip-hop queen Jesswar, and the charming voice of Tiana Khasi.
So make sure you head to The Foundry on the 21st of January to properly send off (again, just for now?) Brisbane's best indie celebration of our local killer female musos!
You can find the ticket and Facebook event page links below, and check out photos from Brisbabes' 1st B'day Party HERE.
BRISBABES #6 – THE FINALE
SAT 21 JAN
The Foundry, Brisbane
featuring…
Tiana Khasi
Jesswar
Izadora
Pink Matter
Get Tickets HERE
Facebook Event HERE