Dead Of Winter Drop Epic 2018 Lineup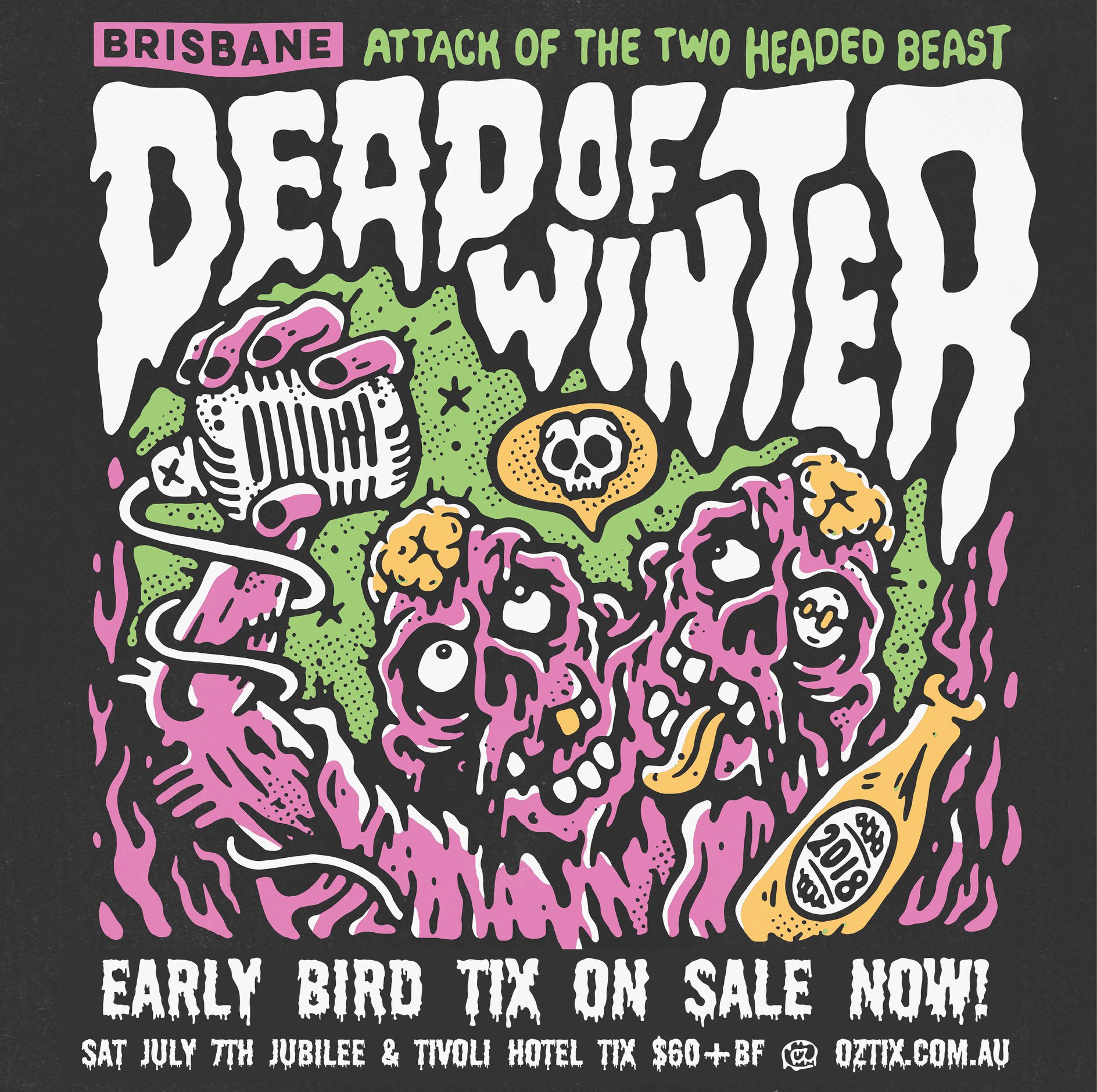 Dead of Winter, overnight, dropped their lineup for 2018 and, hold your hats, raise those horns, because it's something mammoth. Now in its eight year, Dead of Winter has been on a steady incline through the years—2018 being the apex to that equation. Frenzal Rhomb, Polaris and Ocean Grove lead the bill!
Taking over The Jubilee Hotel and The Tivoli on Saturday 7 July, Dead of Winter has expanded over two venues from the totally sold out 2017 event. Also lining the bill is Radio Moscow, from America, Lagerstein, Desecrator, Osaka Punch, Being Jane Lane, She Cries Wolf and many, many more. The local Brisbane scene is well represented with multiple 4ZZZ Hot 100 winning act, Flangipanis. The first lineup announcement comes to a staggering 31 metal, punk and hardcore acts. And can you believe it, there's a stacked second announcement still to come!
If Dead of Winter is going to be a just a sliver of goodness like last year's event, we're in for one hell of an evening! About the 2017 event, we said: "Engaging décor and atmosphere aside, Dead of Winter presents over fifty acts across five stages, resulting in constant sensory absorption. It is impossible to catch every band, despite running back and forth between stages. So much talent is on offer that one person's recollection of the festival may differ wildly from the next.  With that in mind, here's the Dead of Winter experience, stage-by-stage, from the perspective of one dedicated music lover."
Tickets are currently on sale HERE. Early birds have been snapped up but general admission are on digital shelves right now and won't last long. Find the full lineup below!
Dead Of Winter 2018 Lineup Announcement
Frenzal Rhomb
Polaris
Ocean Grove
Radio Moscow (USA)
Clowns
Lagerstein
Desecrator
Osaka Punch
Black Rheno
Lo!
Pagan
Flangipanis
Dad Religion
Blowhard
Zeolite
She Cries Wolf
The Black Swamp
The Dead Love
Goon on the Rocks
Le Suits
Sensaii
Smoking Martha
Being Jane Lane
Decryptus
Hammers
Massic
The Heart and Dagger Sideshow
The Gutter Birds
The Cutaways
Dirty Liars
Evil Eye
TICKETS