Nocturnal Tapes Revealed As GD FRNDS' Secret Headliner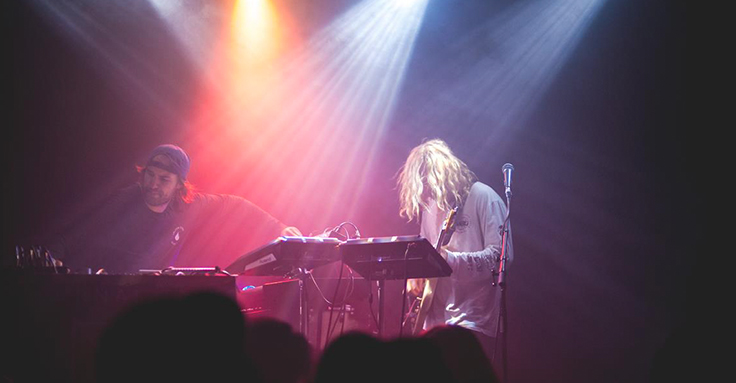 After weeks of speculation and rumours, one of the year's finest new acts to grace stages around the country, Nocturnal Tapes, have been unveiled as the secret headliner of GD FRNDS' upcoming showcase event on the Gold Coast.
Taking place at Gold Coast's finest music establishments, Miami Shark Bar, GD FRNDS' are pleased to welcome the acclaimed Yamba duo to headline the evenings proceedings. Rounding out their biggest year to date thanks to their debut EP, 'Visions IV', Nocturnal Tapes have been breaking records and gaining new fans with a national tour with synth mastermind, Luke Million. Nocturnal Tapes are the real deal—this is not to be missed.
The group's latest single, All I Need, along with Wake Up are a dreamy melting pot of dance, electronica and psychedlica. Glimmering with walls of synth, subtle, yet apt, percussion, and the mesmerising vocals of Harry Suttor, the eclectic group break new grounds in dynamics and structure—ending up with meticulously composed pieces of indie-rock.
At their recent Sydney headline performance, AAA Backstage described Nocturnal Tapes to have, "an enviable stage presence, Nocturnal Tapes and their music seems to demand the attention of the crowd; to be honest it's hard not to get swept up in their unique melding of electric guitar, brooding vocals and synths."
Also on the lineup, warming up the crowd, will be Melbourne's favourite dream-pop son, Slowcoaching. His latest crooner, Fernweh, recently premiered by AAA Backstage, is the first taste of Slowcoaching's breezy debut EP due next year—this will also be his first QLD shows!
It wouldn't be a GD FRNDS showcase without a little Gold Coast talent, and it's coming in strides. Høt Coffee make music that is distinctly their own. A heavy force of funk, electronic and, at often times, hip hop, this duo is set for massive stardom. DiskoDisco will be bringing the synthwave vibes earlier—remember to bring your letterman jacket and shades—and new act, Machine Club, will be performing for the very first time.
GD FRNDS' sixth showcase event hits Miami Shark Bar on the Gold Coast on Saturday 16 December. Tickets are available now HERE and on the door at limited quantities. Get in quick!
GD FRNDS Showcase Lineup
SAT 16 DEC
Miami Shark Bar, Gold Coast
Nocturnal Tapes
Slowcoaching
Høt Coffee
DiskoDisco
Machine Club
TICKETS