Who Is GD FRNDS' Secret Headliner?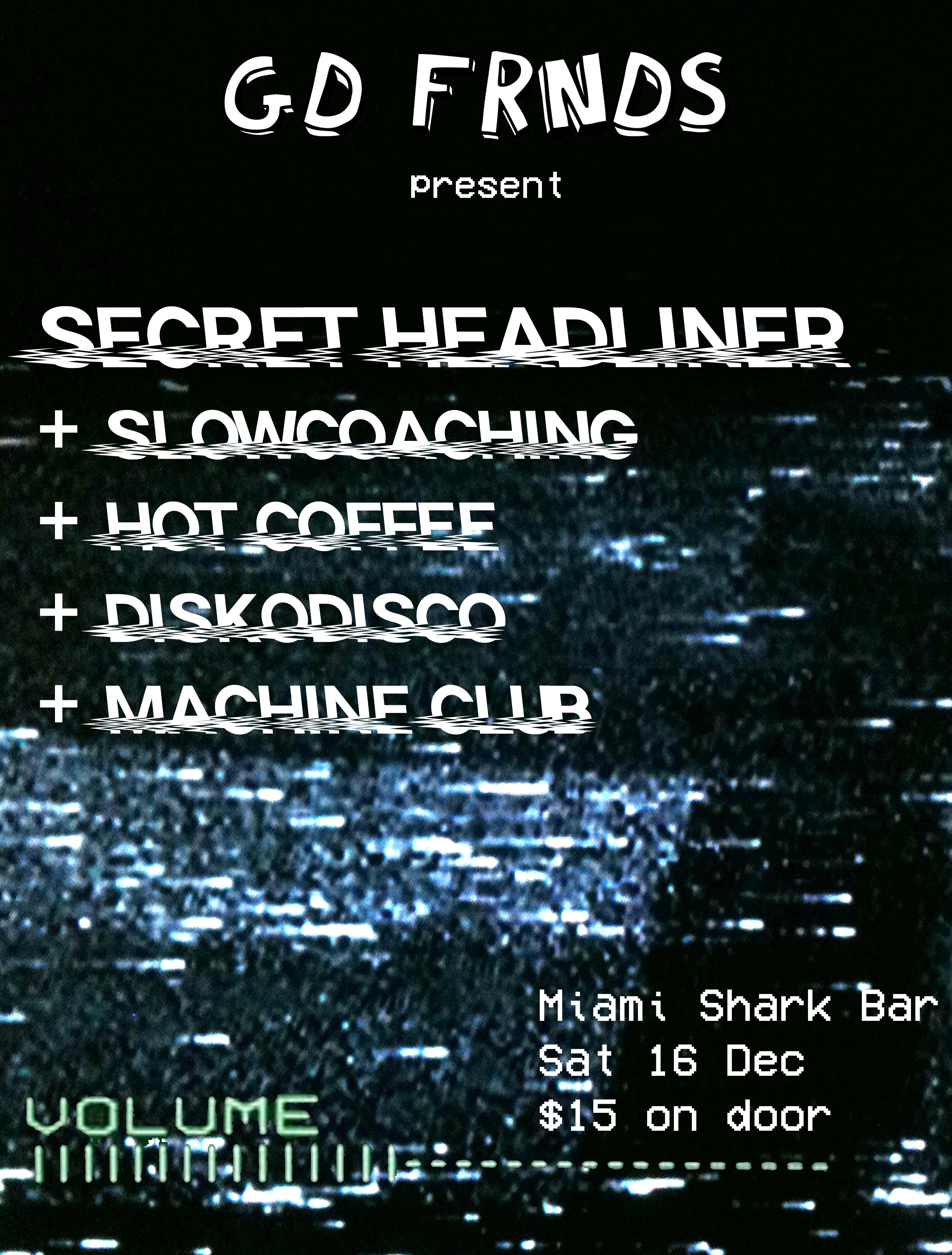 As mysterious and alluding the promotional material has been for this event, GD FRNDS are doing it for all the right reasons. The Gold Coast-based PR agency and management house have locked in the date for their sixth showcase event, and the last for the year, on Saturday 16 December at Miami Shark Bar, Gold Coast. Having invaded Brisbane over BIGSOUND—in collaboration with AAA Backstage—the team are bringing five acts in for one night of mayhem.
You may have also noticed something missing on the poster bill. The top spot is filled with the words, "SECRET HEADLINER". So, who is it? For the mega fans, the clues are all there. Dig deep enough, listen closely enough, and the allusive act will reveal themselves. For those who've yet to figure it out, GD FRNDS will be dropping hints as to who will be closing out the night in December before the official unveiling. We can speak with confidence that you'll be fanging to see this act.
Also joining the bill will be Melbourne's finest dream-pop sensation, Slowcoaching. Releasing a new track later this week, the solo artist—also known as Dean Valentino—is still riding on the high success of his string of singles such as Night Fiction, Training Wheels and, more recently, Pillars of Salt. This will be Slowcoaching's first trip up north to the breezy shores of Queensland with a Brisbane show a few days before the showcase event.
Høt Coffee make music that is distinctly their own. A heavy force of funk, electronic and, at often times, hip hop, this duo is set for massive stardom. Currently in the process of releasing one track every week for four weeks, the Gold Coast pair are in the midst of something new, unborn and massive. They're about to support Nocturnal Tapes in their hometown's haven of Elsewhere as well as CAKES this weekend at the same venue.
Newcomers to the scene, DiskoDisco and Machine Club, are both exploring new territory in their own right. The former is Australia's answer to this synthwave movement you've been seeing everywhere in pop culture. DiskoDisco wears his sunglasses inside because how neon bright his production future is. The latter, Machine Club, has his debut single out before the end of the year and offers audiences a post-punk, heavy-disco kind of vibe. Cry, dance and punch to this new act's music.
Other contenders who've joined the GD FRNDS fun have been Waxhead, Borneo—on multiple occasions—Yes Sir Noceur, Idiio and more. The aforementioned secret headliner for the upcoming showcase event is to be the biggest and buzziest act to grace our stages.
GD FRNDS' sixth showcase event hits Miami Shark Bar on the Gold Coast on Saturday 16 December. Tickets are available now HERE and on the door at limited quantities. Get in quick!
GD FRNDS Showcase Lineup
Secret Headliner
Slowcoaching
Høt Coffee
DiskoDisco
Machine Club
TICKETS
GD FRNDS Showcase Announcement

We're pleased to announce the sixth GD FRNDS showcase with:++ SECRET HEADLINER ++++ Slowcoaching ++++ Høt Coffee ++++ Diskodisco ++++ Machine Club ++Tickets: http://bit.ly/2yotEpiEvent: http://bit.ly/2igyGR7

Posted by GD FRNDS on Sunday, 15 October 2017