They're Right Back At It Again! A Day To Remember Announce Aussie Tour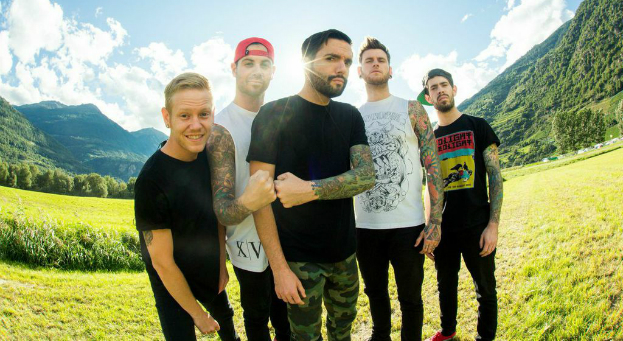 Floridian hardcore heavyweights A Day To Remember have finally announced an all-ages headline tour of Australia as part of their 'Bad Vibes' world tour, supported by fellow American heavy hitters Of Mice And Men. Moshers, we hope those elbows are ready to be thrown!
A Day To Remember's upcoming album 'Bad Vibrations' follows their epic 2013 release 'Common Courtesy', and will be their sixth studio album since their formation in 2003. It's set to combine their iconic pop-hardcore style in a more intense fashion whilst still maintaining the catchiness that consistently draws them new fans.
The first two singles from the album, the in-yo-face Paranoia and title-track Bad Vibrations, have gained them plenty of hype for its release in August. Compared to their past releases, it seems they've revisited the pop foundations in 'What Separates Me From You' and 'Common Courtesy' fuse with the penetrating heaviness of 'For Those Who Have Heart' and 'Homesick'.
Joining them on this run of our great nation is Of Mice And Men, who'll be promoting their upcoming fourth studio album 'Cold World' led by their brutal new single Pain. Since blowing up in 2011 with 'The Flood', they've garnered themselves a large fan-girl following via Tumblr. Of Mice And Men use melodic metalcore elements to accompany frontman Austin Carlile's dreamy vocals and harsh screams.
This will be A Day To Remember's second time down under in two years, following their massive Big Ass Tour alongside home-grown heavy boys The Amity Affliction. Their live performance is something that needs to be seen and heard to be believed, with vocalist Jeremy McKinnon heralded as one of the best live performers in the contemporary heavy scene.
A Day To Remember's sixth studio album 'Bad Vibrations' is set to be released on Friday, 19th of August. Tickets for the 'Bad Vibes' Australian tour go on sale Tuesday, 12th of July.
Check out their video for title track Bad Vibrations and the 'Bad Vibes' tour dates below!
A Day To Remember 'Bad Vibes' 2016 Australian Tour
SAT 10 DEC
Red Hill Auditorium, Perth (All Ages)
TUE 13 DEC
AEC Theatre, Adelaide (All Ages)
WED 14 DEC
Festival Hall, Melbourne (All Ages)
FRI 16 DEC
Hordern Pavillion, Sydney (All Ages)
SUN 18 DEC
Riverstage, Brisbane (All Ages)
Get Tickets HERE

Tickets go on sale Tuesday, 12th of July