Album Review: Com Truise 'Iteration'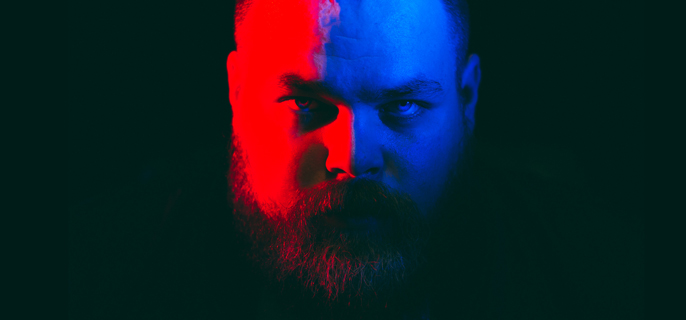 Synthwave fans rejoice! Your king has returned. Seth Haley, aka Com Truise, is back with a huge bang with his brand new record, 'Iteration'–once again taking us on a modern day journey through synth soundtrack. This latest release is similar in style to previous releases, 'Galactic Melt', 'Wave 1' and 'Silicon Tare', but mixes it up with more glitchy glam.
Having recently moved from his native homelands of the USA's east coast to California, Haley explains this record, "Basically I'm scoring this film in my head, but that film I'm scoring is also somehow my life."
Opening up the record, we're thrown straight into the jam with …Of Your Fake Dimension, the familiar high end key arpeggiation reminds me of that classic science documentary soundtrack, perhaps that of the opening credits to the classic '80s technology show 'Beyond 2000' accompanied this time by huge broken drums.
Moving through tracks Ephemeron and Dryswch, you get a feeling you're on a journey through an early age 3D video game–low bass steps with robotic style tempos. The nostalgia is rich when you feel the low pass pop in-and-out through the dreamy wave of Synth delivery.
The first sign of the record we heard was previously released single, Isotasy. Introducing Isotasy is the classic filtered-out computer voice. If you close your eyes, you're taken on a mysterious dream through a Blade Runner style villain vs. hero neon streak of bright highs and diced up lows. The sub bass melts in the background while the high melody travels filtered into your brain.
The second single, Memory, gets you moving as though the hero is triumphant with a classic mini Moog style bass line entry and reverberated Juno-esque synth lines. That familiar computer voice returns with subtle touches throughout. This tune would not be out of place amongst sand, sunsets and palm trees.
Overall, 'Iteration' gives you a sense of narrative much a tuned to a video game or action film soundtrack–with warmer and darker moments touching throughout all 45 minutes or so of listening. Like all previous releases from Com Truise, 'Iteration' is a very interesting take on the uprise of modern synthwave and although we're amongst a huge wave of artists popping up, Truise stands out above. This record is not undeserved of a grammy.
'Iteration' is out now worldwide via Ghostly International.