First Beige Craft The Jam Of A Lifetime On 'Vivid'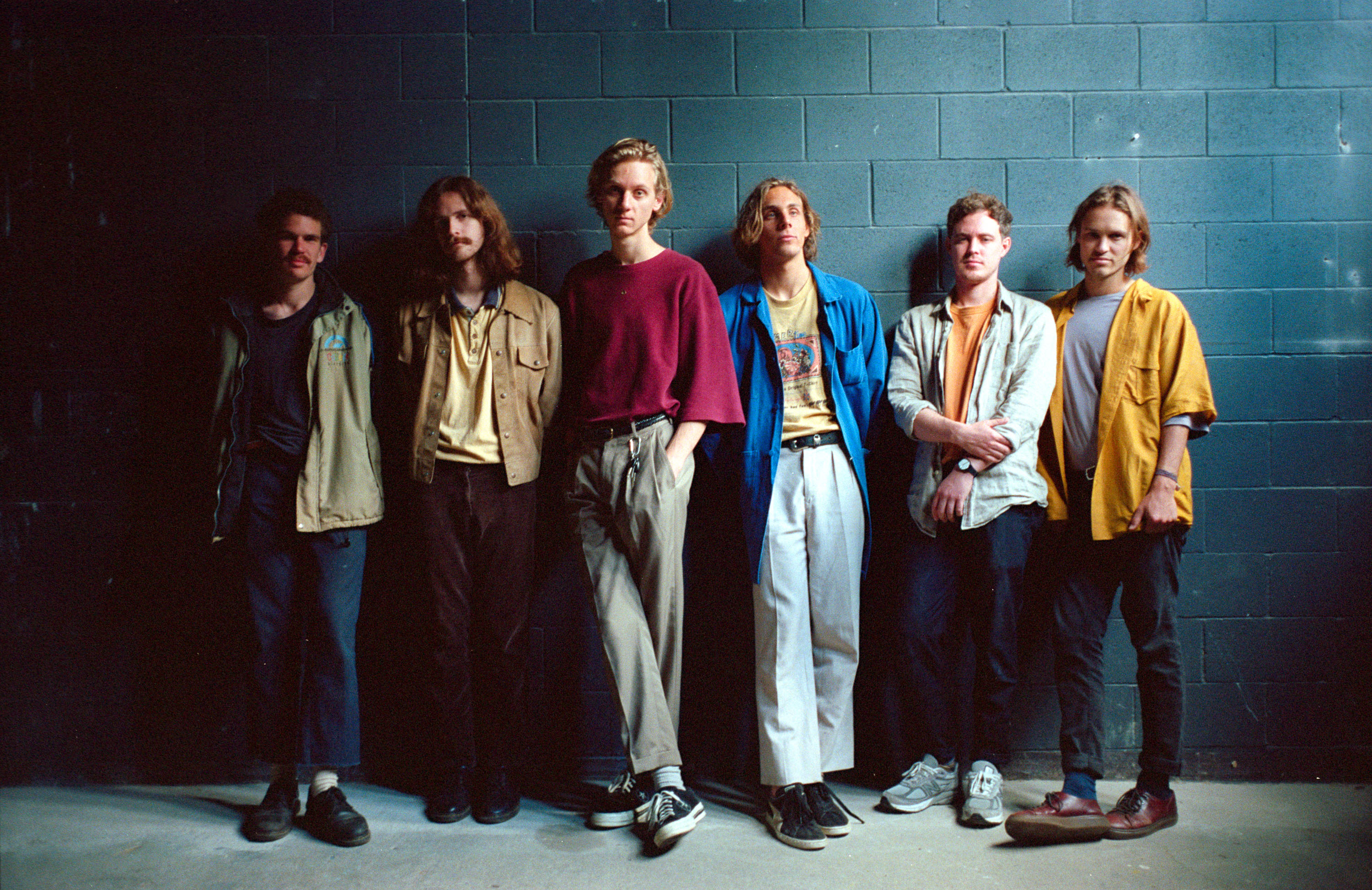 Enter the warped and perplexing musical world of First Beige. The Brisbane six-piece enlist an entirely new dimension to their tastebud-pleasing, high-octane indie-dance. Vivid is a wildly anthemic track that propels the band forward.
For those unaware of First Beige's sheer extremity of awesome, think Total Giovanni with a whole lot more jazz flute and cuffed jeans. Around this time last year, we cottoned onto First Beige with their classy collaboration with fellow Brisbane group, These Guy. Sole Reality stretched both group's dynamics into new and unexplored territories.
Vivid, however, is yacht rock, psychedelic pop and '80s groove all in equal measure. Hard to believe it was written and recorded in a home studio. First Beige's ability to dictate an earworm of a song with as much rhythmic power flowing through is a feat on its own. The moving parts, somehow, work in unison and complement each other into a daringly funkadelic moment.
Still not convinced on the band's ability to morph genres in an instant? Lead vocalist David Versace speaks about his diverse sprawl of influences.
"I have recently been listening to a lot of rare 70s disco grooves, and a lot of old Brazilian Samba music and I wanted to find a way to combine the two genres in a unique and fresh way. A big part of these genres is the groove section—bass and drums—and I think they have been the catalyst in keeping the whole thing unique and interesting," explains Versace.
Paired with the single is a B-side that is completely on par with the prestigious flair of Vivid. Images focuses more on the movement of the group's platonic ability to craft an absolute jam. Minimal on vocals, Images plays heavily with the synth, piano and jangly guitar. Percussion—much like on Vivid—is a big component to Images, which sets the dancing tone.
Legend has it First Beige put on an amazing, shapeshifting live show—see their month-long residency at Brisbane's The Foundry where they transformed their songs into a new and exciting genre every week. Luckily, the group will be on tour throughout October and November including stops at Jungle Love Festival, Against The Grain and Hey Sunshine.
Check out the gig guide below and stream Vivid.
First Beige Live Dates
SAT 13 OCT
Lennox Groove @ Lennox Head Hotel, Lennox Head
SAT 20 OCT
Hey Sunshine @ Billinudgel Hotel, Billinudgel
FRI 26 OCT
The Foundry, Brisbane
THURS 1 NOV
Evenlyn Hotel, Melbourne
FRI 2 NOV
Yah Yah's, Melbourne
SAT 3 NOV
Against The Grain Festival, Brisbane
FRI 9 NOV
No-Fri Friday, Newcastle
SAT 10 NOV
Botany View Hotel, Sydney
SUN 11 NOV
North Gong Hotel, Wollongong
THURS 29 NOV
Jungle Love Festival, Sunshine Coast