Interview: Nick 13 from Tiger Army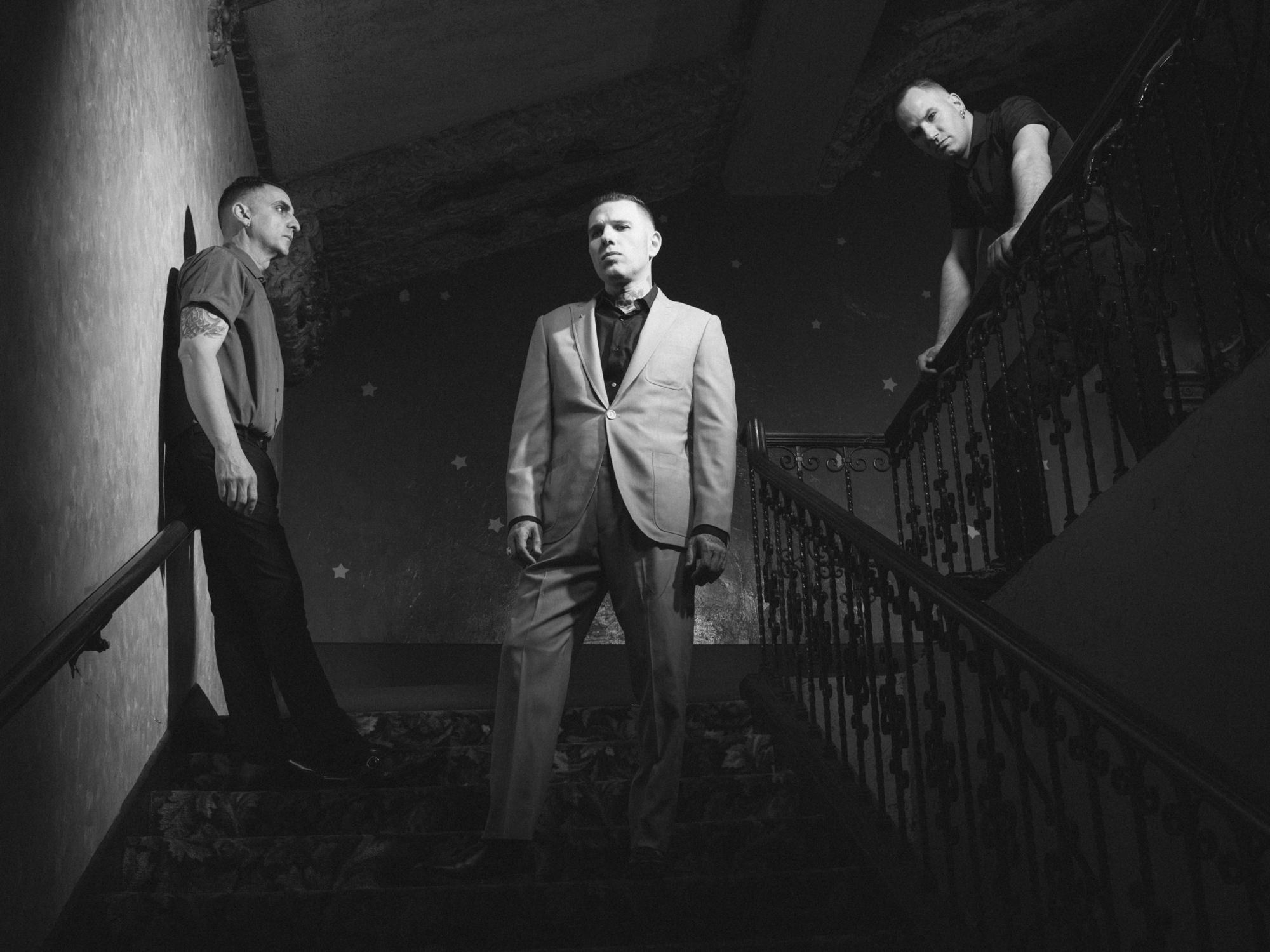 For over 20 years legendary Californian psychobilly trio Tiger Army have made it their mission to reclaim old school rock & roll back from the hands of the glittered theatrics in contemporary rock music. With an impending tour to our shores we caught up with tattooed frontman Nick 13 who discussed show spoilers, daredevil fans and the iconic road trip that inspired their latest album 'V…_'.
Hi Nick, how's your day been so far? 
It's been hectic! I was at a thing called the Namm Show in Southern California. It's sort of like a music trade show with guitar companies and things like that. It happens once a year and there's thousands of people, but now I'm out of that so…(laughs) 
Are you excited for your upcoming visit to Australia?
Yes, very much! We haven't been to Australia since 2008. It's one of our favourite places to tour anywhere in the world so we're excited about getting the chance to come back.
Are you bracing yourself for the scorching hot weather over here at the moment?  
(Laughs) Well that will be a nice change. We were in Europe late November-early December and it actually hasn't been that nice in Los Angeles. It's been raining quite a bit so the hot weather will be nice.
What can fans expect from these shows? 
In terms of our setlist we always play a mix of all our records. I'm really happy with the current line up, we've got about a hundred shows under our belt. We were on the road all last year so I feel like we've reached a new level of musical tightness, while at the same time with any Tiger Army show we always bring as much energy and intensity as we can. It's hard to explain if you haven't seen us. There are different aspects to the show; we might play fast, older songs that have more of a punk, psychobilly energy and then a song that's more moodier and more of a ballad. We try to take people through a whole range of styles in the time we're on stage.
Do you have any rituals or warms you do before each show? 
It depends. I like to be alone in the time before the set and mentally prepare, do some vocal warm-ups and whatnot for my voice. Nothing terribly interesting.
What has been one of the craziest fan antics at a Tiger Army show? 
Oh lets see…there was a show we played about ten years ago in Southern California and it was quite a large venue that had a very high balcony and a guy jumped off of it. It was tall enough that you would think someone would break their leg or ankle but he somehow managed to crash into equipment, not break his leg, come straight down off of this 15-20 foot jump and go straight into the pit. He had a few goes in the pit before he wound up getting arrested, I believe.
Tiger Army's latest album 'V…_' came after a 9-year studio hiatus. What made decide it was finally time get back to recording? 
It's funny, the time doesn't seem that long to me. It feels like it was about half that long, which is still a while but not nine years (laughs). I did make a solo record between the two Tiger Army records but there was four years even between that. Part of it was I was searching for the inspiration of what the next musical step would be. I like the sound to evolve a bit with each record and there will always be certain styles or eras that wind up influencing and inspiring the writing. Once I figured out in my head what the sound would be, it came together quite quickly. But it did take a while for me to get to that point.
At the end of last year you released a documentary of your Americana road trip, which inspired 'V…_'. What made you decide to go to the American Southwest for inspiration? 
It's funny, we've toured the states in California on the west coast many, many times so there's something about states like Arizona and New Mexico that feels very exciting. Something about the landscape and the area is different and that I've always found inspiring.
There was a trip I took with a friend at the South By Southwest Music Festival in Texas, and we wound up stopping at a small town in Arizona that was something straight out of the 1920s. I just thought it was so cool. He's a musician as well and we started talking about how we always see the same cities from touring but there are places you never go. I had a plan to explore those places I've never seen even though I've been touring the country so many years.
The desert is just a great place to create. You get in your car, put on a CD, have a guitar on the back seat and just drive. If something pops in your head you can just pull over, play for a bit, maybe record on your phone, and there's no one around so that's what I wound up doing.
The journey was such an important part of how the record came to be and it's a long story, even a bit difficult to explain so I think the documentary was a good way to show it because comes across visually. If you watch it on YouTube or on our Facebook page and you see some of these places, you can see everything. I wanted to show people what these places look like. They inspired me so it was cool it all came together and we were able to do that.
How would you describe 'V…_' in comparison to previous albums?
It's the fifth album and I've definitely evolved in certain ways; I think as a player, as a songwriter, as a singer and from the earlier stuff although I do love the records. This album is about taking the original Tiger Army sound, which is influenced by punk and psychobilly and going backwards to where the styles first came from – early rock & roll. This includes British rock & roll, like the records Joe Meek made in the early 60s and The Shadows. Also early 60s rock & roll as opposed to 50s stuff. It was the period when you had people like Roy Orbison, Del Shannon, and things started developing in the way of guitar amplifiers, reverbs and effects. The music in that time was quite technologically driven. So the album is sort of a combination of the past and the future, I'd say.
Apart from Tiger Army, are there any other projects you're currently working on?  
Not really at the moment, I mean we've essentially spent all of 2016 on the road and it looks like a lot of 2017 is going to be the same. There are certain things I'm working on related to Tiger Army that I can't go into yet but mostly we're going to be on the road right now.
Fair enough. So I'm guessing another solo album isn't on the cards any time soon? 
Not soon but you never know. I do have quite a few songs written for a solo record and it's something I want to do at some point but right now Tiger Army's the focus. Things are getting so busy, certainly with the first half of this year. It will be a while until I have time to even think about how or when I might get it done.
What would you say is essentially the heart of Tiger Army's music? 
I would say rock & roll because almost everything we're influenced by goes back to it in some way. 1970s punk is an influence on this record, specifically out of New York City and all of those bands were influenced by early rock & roll, whether it's The Ramones, early Misfits or Suicide. A lot of that music can be heard as sort of an amped up, more aggressive version of rock & roll. Psychobilly is the same thing. It goes back to those original roots so I would say that's pretty much what's at the heart of this record and every Tiger Army record.
Do you have a message for your Aussie fans?
We're very much looking forward to getting back. We're sorry it's taken a while but we're really looking forward to seeing everybody this February!
Tiger Army 2017 Tour Dates
FRI 17 FEB
Prince Bandroom, Melbourne
SAT 18 FEB
Metro Theatre, Sydney
SUN 19 FEB
Max Watts, Brisbane
Get Tickets HERE