Live Review: Green Day w/ The Interrupters @ Brisbane Entertainment Centre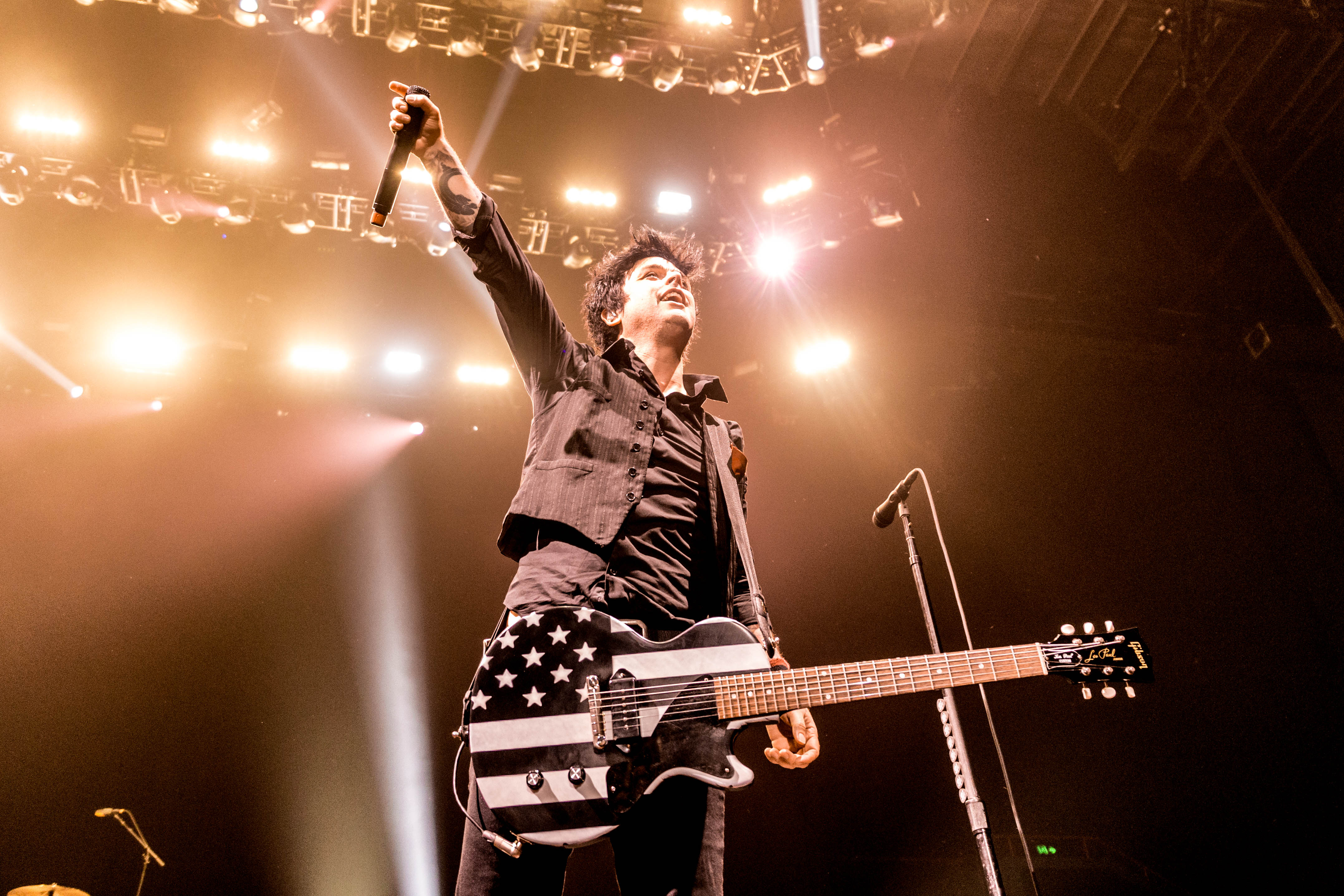 After years of nail-biting anticipation, Green Day made their glorious return to the Brisbane Entertainment Centre last Monday night for a colossal two-and-a-half hour show that brought the house down. The legendary punk rockers may have been on tour for their latest album 'Revolution Radio', but the night was also a tribute to their thirty-year back-catalogue of iconic hits.
Fans who were fortunate enough to beat the gargantuan crowd snaking its way from the parking lot were treated to Los Angeles ska punk rebels The Interrupters. Led by the powerful, husky pipes of frontwoman Aimee Allen, the quartet revved up the crowd with a series of eclectic punchy tunes impossible not to mosh along to.
The crowd exploded into deafening applause as the black-clad Green Day finally strolled on stage and soaked up the energy in the room before smashing into Know Your Enemy from 2009's '21st Century Breakdown'.
"This is a rock n' roll show not a f#*king tea party," frontman Billie Joe Armstrong roared amidst a frenzy of lasers and fireworks, as fans bounced along to the song's rallying hook.
Next up was the gun pummelling aggression of Bang Bang and tour title track Revolution Radio, which literally went up in flames as each chorus was punctuated by pyrotechnics, with a defining boom of fireworks at the end.
Armstrong certainly wasn't shy on his stance in current political matters, declaring "no" to racism, sexism and homophobia. "And no Donald Trump!" he screamed as the audience screamed back in approval.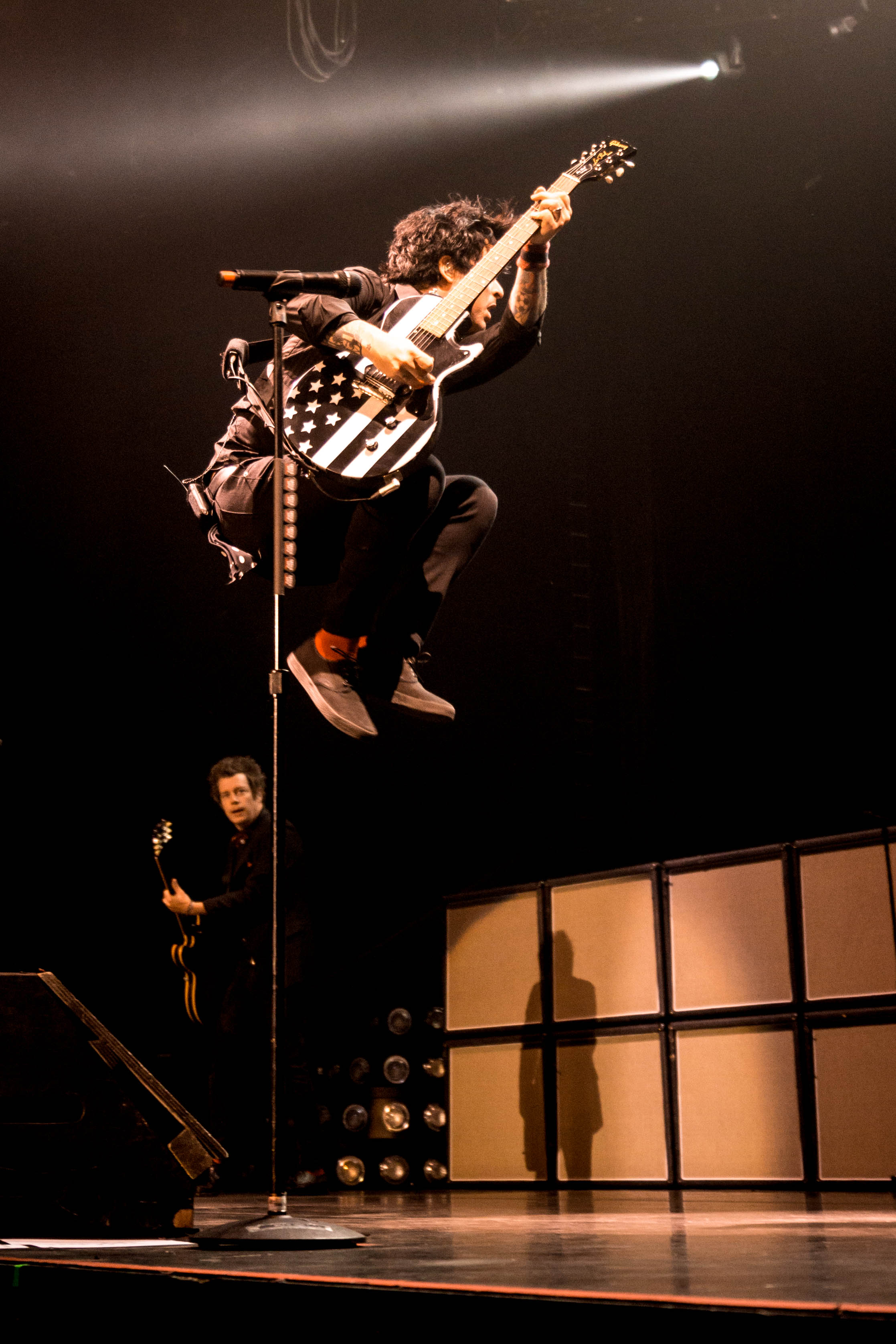 As soon as the first few chords of Boulevard Of Broken Dreams were strummed, the audience began singing at the top of their lungs while phone lights illuminated the arena like thousands of glittering stars. The track itself was a dynamic roller coaster ranging from an acoustic melancholy verse, to a monstrously warped guitar solo.
Old school fans were appeased when bassist Mike Dirnt launched into the familiar walking bassline of 1994 hit Longview. Pretending to forget the lyrics, Armstrong asked for a volunteer to take over. Though the drunk, happy bloke chosen had pitch problems to rival Kim Kardashian, his confidence and crowd-surfing exit earned him big points with the audience.
Armstrong was locked and loaded with a t-shirt gun in Hitchin' A Ride, before committing himself to a blistering guitar solo amidst flamethrowers and strobes chaotic enough to cause a seizure. Then, the tempo in Minority consistently see-sawed as fans sang along at the top of their lungs. The hits continued in droves as the Grammy-award winners pumped out gems such as Holiday, When I Come Around, Basket Case, and She.
The dreams of a 13-year boy came true during Operation Ivy cover Knowledge when Armstrong asked for another volunteer, this time to play the three-chord riff. The boy went from shy to pure rock star within minutes, and was told to keep the guitar for his efforts.
Flamboyant, sax-driven number King For A Day resembled a mini Mardi Gras party as the six-piece ensemble sported everything from a police cap, Egyptian headwear, to a mask and sunglasses. Armstrong, kazoo in hand, went head to head with talented sax player Jason Freese and lost to Freese's crazy finger work. He then traded places with blue-haired drummer Tre Cool whose shrieking vocals were a cross between Janis Joplin and James Brown.
The 'Nimrod' number transitioned to a medley featuring The Isley Brothers' Shout, Monty Python's Always Look On The Bright Side of Life, The Easybeats' Good Times, The Rolling Stones' (I Can't Get No) Satisfaction and The Beatles' Hey Jude. Although the fusion fell a little flat, the crowd enjoyed the sing-a-long.
Armstrong seemed so emotionally invested in 'closing' number Forever Now that he slumped down after the last note, thanking the audience and blowing kisses as the lads left the stage.
The trio came back for the obligatory encore with newfound vigour for beastly anthem American Idiot, where Armstong bellowed a heartfelt "F#ck you Donald Trump!" This was followed by rock opera saga Jesus Of Surburbia, the crowd throwing their fists up in reverence before the lads once again departed.
The Green Day frontman returned as a solitary figure for an acoustic second encore of Ordinary World and timeless classic Good Riddance (Time Of Your Life), during which confetti rained down on the raptured crowd.
As the night came to an end, fans were left to revel in the nostalgia brilliance, blazing performance and timeless punk institution that is Green Day.
Check out our gallery of the gig HERE!