"We're trying to pursue some perfect, imperfect thing." Two People Peel Back The Curtain On Their Transfixing Album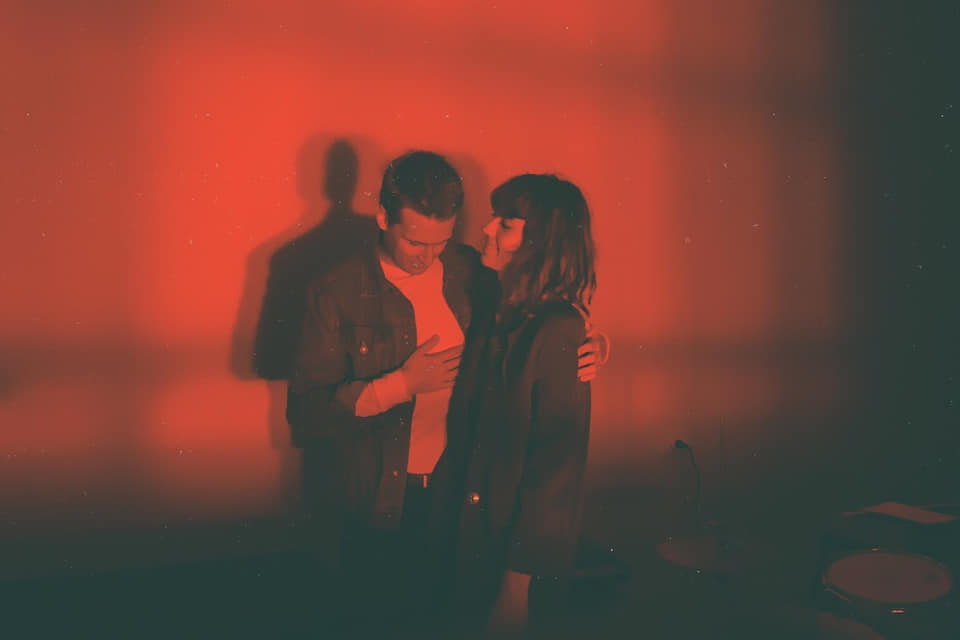 Two People's goal is simple, yet challenging. The Melbourne duo—comprised of Phoebe Lou and Joey Clough—aim to craft electronic music with a human touch. In many ways than one, they have achieved that on their debut album, 'First Body'.
Scattered with alluring and captivating moments that bend the way electronic music is made, 'First Body' is a stunning effort that's been years in the making. Forming from the ashes of the dearly departed Snakadaktal, the duo have been making music even before the days of their former band's breakout. No matter how skeletal those sounds were back then, the formation of Two People is the true culmination of Phoebe and Joey's friendship and musical kinship.
Everything about the project is in their control and that's just how they like it. From the album artwork and the visual portrayal of them both right down to every sonic you hear on the album, Two People have formed everything themselves. The goal was to create their own living, breathing and magical world. While the process was long and intensive, they've learnt a lot and now know how to better their workflows coming into the next project.
"There's definitely things we've learnt making this record that we'd probably want to change or improve," confirmed Joey. "I still think we'd like to be pretty heavily involved in most parts of the project."
"For us as artists, it's really important to feel like we're in complete control of what we're putting out there," affirms Phoebe. "It's weirdly important how much the consistency and the visuals matter to the sounds we're making."
As the old saying goes, you have your whole life to make your first album. And it would seem like Two People could make their debut record for the rest of their lives. At heart, these artists are perfectionists. If the choice was theirs, they would be working on 'First Body' maybe until the end of time. Though, as Joey admits, "We're trying to pursue some perfect, imperfect thing."
RELATED: Watch our interview with Two People at last year's BIGSOUND HERE.
Now, it's time Two People let this guard down they've been keeping private for so very long. The intimacy on 'First Body' is palatable, which is credit to the album's recording conditions specifically built by the duo. Recorded in a makeshift studio in Fitzroy, the space was a close-quarters environment that developed in tandem with the album. In a manner of speaking, the album's sonic direction wouldn't have been conceived without the temporary home they built for themselves.
Since the birth of Two People, we've heard five tracks from the duo and all make appearances on 'First Body'. Previous singles I'm Tied, To You, Something To Talk About and In The Garden now have a larger, more lively context to feed off. While incredible tracks in their own right, their placement on the album amongst the fascinating kingdom they've constructed now makes complete sense. I'm Tied, To Youopens the album, allowing us first entry into their vivid world. The track as it we hear today, however, is completely different to what was originally sketched.
"[I'm Tied, To You] started off like a traditional verse-chorus song. When we took it into the studio we did a lot of experimenting and it ended up becoming longer and longer with these ambient and cinematic sounds," detailed Joey.
If We Have Time, alongside Faded, are two of the band's first released tracks, dropped way back in 2016. While both appear on the record, the former closes 'First Body' and has received the rework treatment. It's a surprisingly personal and stark moment to finish what is an incredible wave of electronic bliss. Stripping the hook-laden guitar line from the original version, what we're left with is a clinical and cinematic track that only features the potent vocals from Phoebe, a piano, some wavy synth lines in the background and very light percussion.
"We felt like we were in a place where the record was going in a good direction. It was almost formed but we felt as though something was missing," explained Phoebe. "We wanted a strip on there that was a little more stripped back and raw. The idea of reworking another track tied in really nicely for us because we thought it would be a cool way to expose the fact that we do rework our own work through the recording process. This felt like it went against the traditional reworking process."
One of the album's highlights is Look At Each Other—a methodical and lucid track that bends to the band's own dream-like momentum. The collection of building synths is stirring against the thoughtful guitar chords. Minimal in delivery, it was actually one of the earliest tracks the band brought to the table.
"It was one of the more experimental tracks, throughout the entire songwriting and recording process. We work in quite an improvisional environment and ended up keeping one of the vocal takes that was improvised while demoing the track," explained Phoebe.
The emotion on 'First Body' is real and palatable. For the first time in a long time, Phoebe and Joey have a musical product out into the world that is now as much ours as there's.