Album Review: Parkway Drive 'Reverence'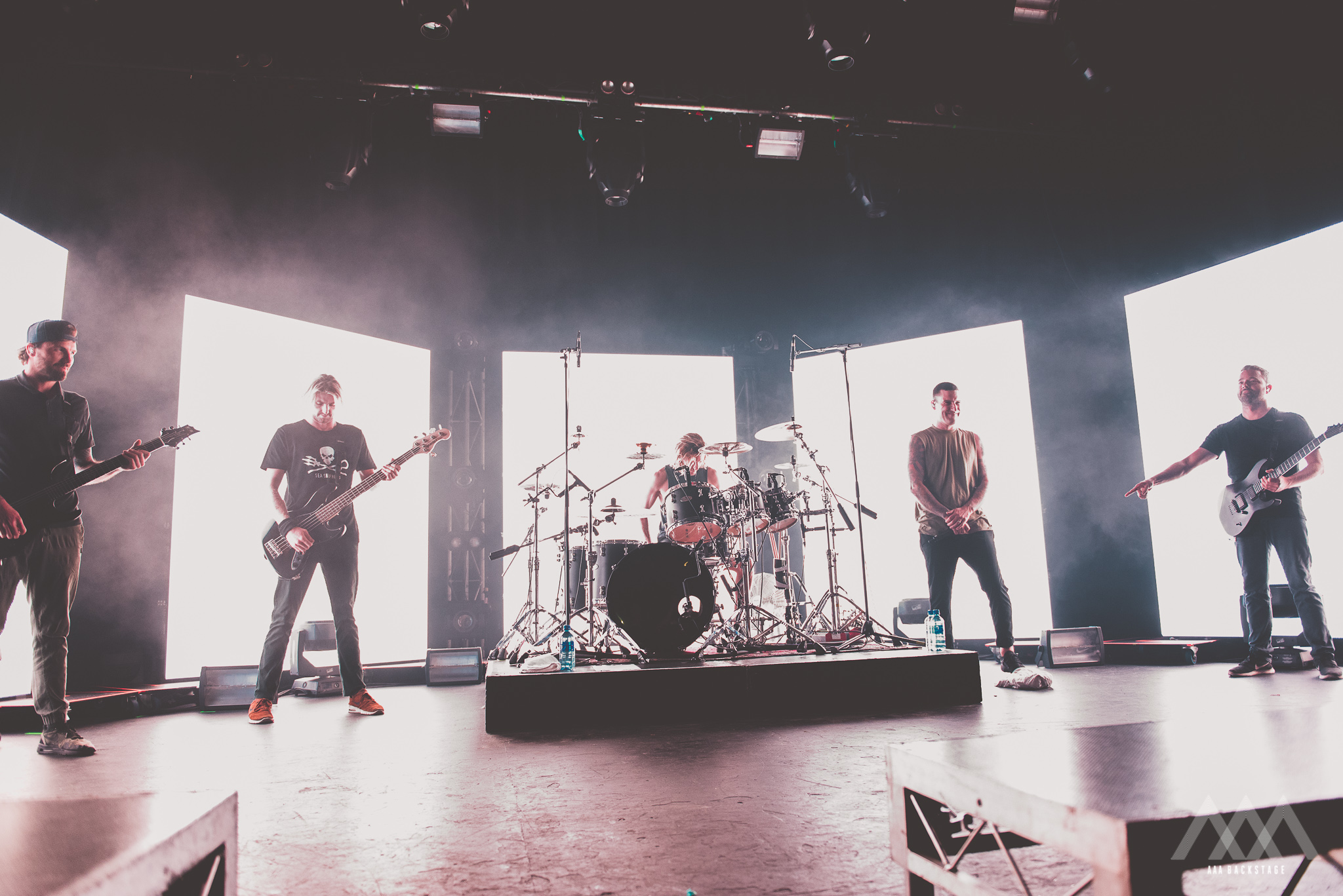 In 2015, Parkway Drive released their fifth studio album 'IRE' in what some considered a rather bold move away from their traditional heavier style. While 'IRE' eventually won crowds over with its infectious choruses and catchy instrumentals there no doubt that the album was quite a curve ball to die-hard fans. Now, if 'IRE' pushed the boundaries of what we're used to from Parkway Drive, then 'Reverence' absolutely obliterates those boundaries altogether!
Before listening to a single track, our eyes were immediately caught by the incredibly striking, dark album artwork featuring flailing bodies, beasts and mythical creatures. Frontman Winston McCall likened the imagery of this piece, titled 'The Fall of the Damned', to the emotions and experiences of the band in recent years. As we made our way through the 'Reverence' it became clear that the artwork provides an incredibly appropriate precursor context of the album, which becomes darker and more emotional the deeper you delve.
Wishing Wells and Prey, two of the three previously released tracks, get straight to the point and come out swinging with high-energy aggression. Channelling the pain and anger caused by the loss of loved ones—namely Architects guitarist and dear friend Tom Searle—and attempting to find the appropriate 'place to place the blame'. At this point, 'Reverence' features a somewhat similar sound to 'IRE' with Parkway's newfound approach of less thrash and more groove. Absolute Power could easily be described as this album's version of Crushed, however this is where things get interesting. Cemetery Bloom is unlike anything the quintet has ever done. A strong spoken word intro coupled with building synths and gothic chants culminate in one of the most beautiful, dark and chilling moments on the 'Reverence'. Really crank the volume and immerse yourself!
If the Parkway purists haven't been entirely put off by now, normality soon returns with The Void and I Hope You Rot. The former being the first track released from 'Reverence' with its pounding drums and huge chorus. I Hope You Rot has a killer intro with all the double-kicks and pinched harmonics older Parkway fans could want. Admittedly the chorus is pretty cheesey and even sounds a tad Dani Filth-ish but luckily the latter half of this track saves it with some classic heavy guitar work.
Before listening to Shadow Boxing brace yourself… here come the cleans! Here is where many die-hard fans will genuinely turn 'Reverence' off, however McCall's clean vocals are actually pretty decent. Obviously, this approach shatters what we all know and love about Parkway Drive yet this isn't necessarily a negative. 'Reverence' is dark, emotional and incredibly personal. The change in sound does not seem as a means to mark a transition from metalcore—into the mainstream, as some may claim—but more so to accurately convey the message and emotion in the songs. In some cases it may be better to strip the music back and bit in order to convey its true meaning and we think that was a good choice in this case. It's hard to imagine what impact these events must have had on the band to drive them to this point but the honesty on this album is commendable.
Parkway cleverly sandwich their riskier tracks between some of the heavier offerings on 'Reverence'. In Blood and Chronos ramp up the energy and aggression once again featuring an interesting electronica intro, incredibly catchy guitar harmonies and a nice extended outro to wrap 'Reverence' up before the most haunting track on the album hits you real deep. The Colour of Leaving allows the lyrics to take the lead telling of pain, guilt, helplessness and suffering. You can hear the pain in McCall's voice as the sound of someone being buried and an emotive strings section accompany him. The loss of life is never an easy prospect to come to terms with, however Parkway Drive have captured that emotion and turned it into a very fitting ender to the beautifully dark 'Reverence'.
Overall, 'Reverence' is pretty out there. You really have to remove all expectations to enjoy this album and keep in mind why Parkway chose this approach. As much as we'd love ten songs with ten breakdowns and absolute mayhem, we've been given a very sobering, honest album with no breakdowns, clean vocals and synths, and that is just fine with us. While fans might not be snapping their necks as much with this album there is no doubt that 'Reverence' will still provide an insane live set and quite frankly this could be a major turning point for Parkway Drive.