"Changa" Your Plans: PNAU Is Coming To YOU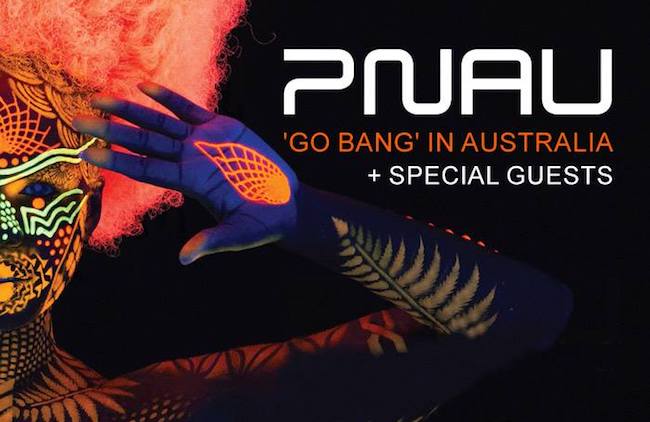 It may be Melbourne Cup day today, but the real nation-stopping news has dropped early! Aussie electro-dance outfit, and veterans of your "Crink, Crank, Crunk" playlist, PNAU are heading out on the road to bring their upcoming album "Changa" to your eyes and ears!
That's right, don't call us Bojack, cause we're not horsing around here. With the non-stop avalanche of dance tunes that PNAU have been unleashing on us in the past 12 months, we knew something spicy would be coming up soon, and now our speculation and prayers have been answered in the best kind of way: with a rapid fire tour over the New Year period.
This era of PNAU all started when the huge crossover hit Chameleon dropped late last year, killing it on the charts, and since then, we've been treated to follow up singles Into The Sky and most recently, Go Bang. Both of these singles have been from different ends of the dance music world, but they've had us moving our booties like festival season came early!
Aside from their releases, the PNAU boys (Nicky Littlemore, Peter Mayes and Sam Littlemore) have been joined by the US singer Shakira Marshall on a string of live performances this year, including headline spots at the Listen Out and Groovin' The Moo festivals that toured the nation.
If you're a complete PNAU fresher, here's a quick history: 1999. Dance Music. Strawberries. Elton John. ARIAs. Now.
If you're a complete PNAU fresher, and would like a more detailed history, the band came together in 1999, and over the course of their five-album career, they've worked with some of the music world's biggest names, including collaborating on and remixing a whole Elton John album, dropping two of the biggest Australian electronic albums in "Sambanova" and 2007's self titled release. Nicky Littlemore has also been pumping his creativity into your ears through his side project Empire of the Sun since 2007.
The "Go Bang" tour will be hitting (mostly) capital cities all over the country after Christmas this year, with dates ranging from Adelaide to Tassie, with two notable exceptions; Brisbane and Perth will have to hold their horses to get a go watching the show! But if you're close by any of the others, PNOW is the time to get yourself to one of these crazy and psychedelic live shows!
Check out PNAU's latest single Go Bang and keep your playlists ready for when "Changa" hits on Fri 10 November! Scope out the details on the tour below!
PNAU "Go Bang" Tour Dates
THU 28 DEC
The New HQ Complex, Adelaide
FRI 29 DEC
Beyond The Valley Festival, Lardner Park, VIC
SUN 31 DEC
Luna Park Big Top, Sydney
MON 01 JAN
NYD @ The Goods Shed, Hobart
THU 04 JAN
University Gardens, Wollongong
Get Tickets HERE