King Parrot Spearhead Thrash, Blast & Grind Festival FULL Lineup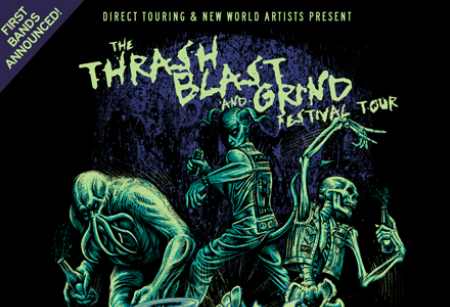 It's shaping up to be a scorching summer for metalheads with the debut of Thrash, Blast and Grind Festival! The news couldn't have come at a better time as metal fans all over Australia try to fill the void that losing Soundwave has left in their hearts. The heavy festival will kick off in February and the debut tour is shaping up to be wild with headliners King Parrot and Revocation announced alongside some equally brutal accomplices.
Forming in Melbourne in 2010, King Parrot are a heavy mix of thrash metal and grindcore. Three albums and a sh*tload of touring have made these guys Aussie metal royalty, and they're known for their tongue-in-cheek personas and insane onstage energy.
King Parrot vocalist Matt "Youngy" Young says, "We've wanted to put on a great value tour with awesome local and international bands for sometime now. Thrash, Blast and Grind Fest has given us this opportunity… a true touring fest by the bands for the fans."
Revocation will be heading to our shores all the way from Boston. The quartet know how to strike the perfect balance between technicality and aggression in their music. With six full-length albums, there should be no shortage of material from these guys!
Revocation bassist Brett Bamberger says, "It's been too long since we had the opportunity to shred Down Under… we're so excited to be returning, this time alongside King Parrot!"
Joining King Parrot and Revocation will be Tassie legends Psycroptic, who for the past 16 years have been delivering death metal full of tempo shifts and melodic riffs. In a scene dense with talented upcoming bands, Psycroptic boast a loyal fanbase who've followed them since the early 2000's.
Rounding out the lineup is the provocatively name slam-grind band Whoretopsy and Sydney sludge-doom punkers Black Rheno. The festival is also going to open the stage to a local act in each city to open the day. Check out the festival dates and ticket info below!
Thrash, Blast and Grind Festival, Australia 2017
FRI 10 FEB
The Triffid, Brisbane
SAT FEB 11
Manning Bar, Sydney
TUE FEB 14
The Cambridge, Newscastle
WED FEB 15
The Basement, Canberra
FRI FEB 17
Max Watts, Melbourne
SAT FEB 18
Amplifier, Perth
SUN FEB 19
Fowlers, Adelaide
Get Tickets HERE
Lineup:
King Parrot
Psycroptic
Revocation
Whoretopsy
Black Rheno
+ Local Acts TBA