Live Review: Client Liaison @ Eatons Hill Hotel – 01.09.2017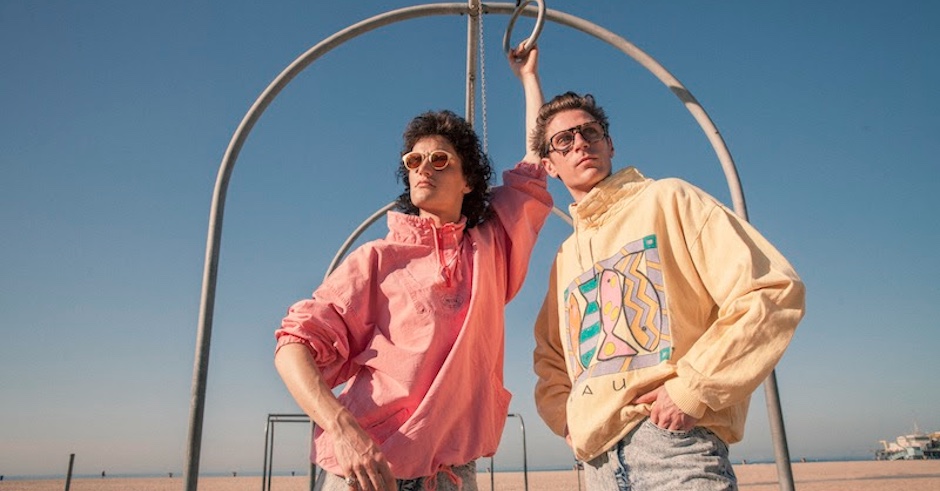 Despite keeping tabs on the ever-fabulous Client Liaison during their 'Diplomatic Immunity' debut album cycle, I've never been fortunate enough to witness them live. Much to my envy, I've endured tales from my colleagues and friends, describing the downright grooviness of a Client Liaison show. Now it was my turn.
Walking into an already packed Eatons Hill Hotel Grand Ballroom, I knew I wasn't going to be disappointed. It quickly became clear that the Melbourne duo's trademark 1990s Australian corporate style was more than just the music and fashion. Their entire production was an immersive experience; Harvey Miller's DJ deck resembled something of an outdated office reception desk, with a relic of '90s technology placed upon it and two larger-than-life water cooler towers alongside.
"Their entire production was an immersive experience."
The opening pulsating electronic beats immediately took the crowd back in time, but were quickly recognised as the opening track of the band's self-titled second EP, 'End of The Earth'. Flowing right into the next song with timeless hit Pink Floyd's Another Brick in the Wall, the crowd instinctually chanted every word, and Client Liaison had undoubtedly opened with a bang(er).
As the night progressed through the catchy riffs and electrifying rhythm of the band's most recent tracks, we saw glimmers of the iconic Australian cultural references the band have become synonymous with – frontman Monte Morgan even playing the didgeridoo during Where Do We Belong. Their backdrops were almost like watching an hour-long Client Liaison music video, with vision of typical Australiana scenery, animals and bygone eras in Parliament among tacky green-screen footage.
Morgan and Miller made quite the spectacle of their costuming, shimmying from tassel-clad get-ups to sparkling robes throughout their set. Plus, it wouldn't be a Client Liaison show without a cameo from some giant-sized Foster cans sailing across the stage. The beer cans kicked off possibly my favourite dance number of the night, when the two guitarists joined in for a groove to Stardust's hit Music Sounds Better with You. Much to my disappoint, there was no Tina Arena in sight for A Foreign Affair, but I was comforted with smoke machines, sparkling flames and vibrant confetti cannons to see their set off.
"I've never seen an encore so well-rehearsed or rigorously choreographed."
But alas, the party had to come to an end, but not before an encore was demanded. Like most bands, Client Liaison certainly didn't shy away from one more song, however, I've never seen an encore so well-rehearsed or rigorously choreographed than what came next. First teasing the fans with snippet previews of future Client Liaison tunes, the duo and band then reappeared, this time clad in geometric caftans (as if we'd expect anything less), and broke into crowd favourites Canberra Won't Be Calling Tonight and Off White Limousine.
As the crowd piled out of Eatons Hill (aptly past an off-white limousine), it occurred to me that Client Liaison put on more than just a gig. It's a spectacularly well-oiled showpiece. For electronic music, this duo steer so far clear of the all-too-familiar bass drops and meaningless lyrics that blast from radios today. Their '80s infused, or rather soaked, vibe undoubtedly draws people in, but, more than that, is a relief to simply have something a little different to dance to.
THU 7 SEP
Enmore Theatre, Sydney
FRI 8 SEP
Unibar, Wooloongong
SAT 9 SEP
UC Refectory, Canberra