Live Review: Crystal Castles @ The Forum – 01.06.2017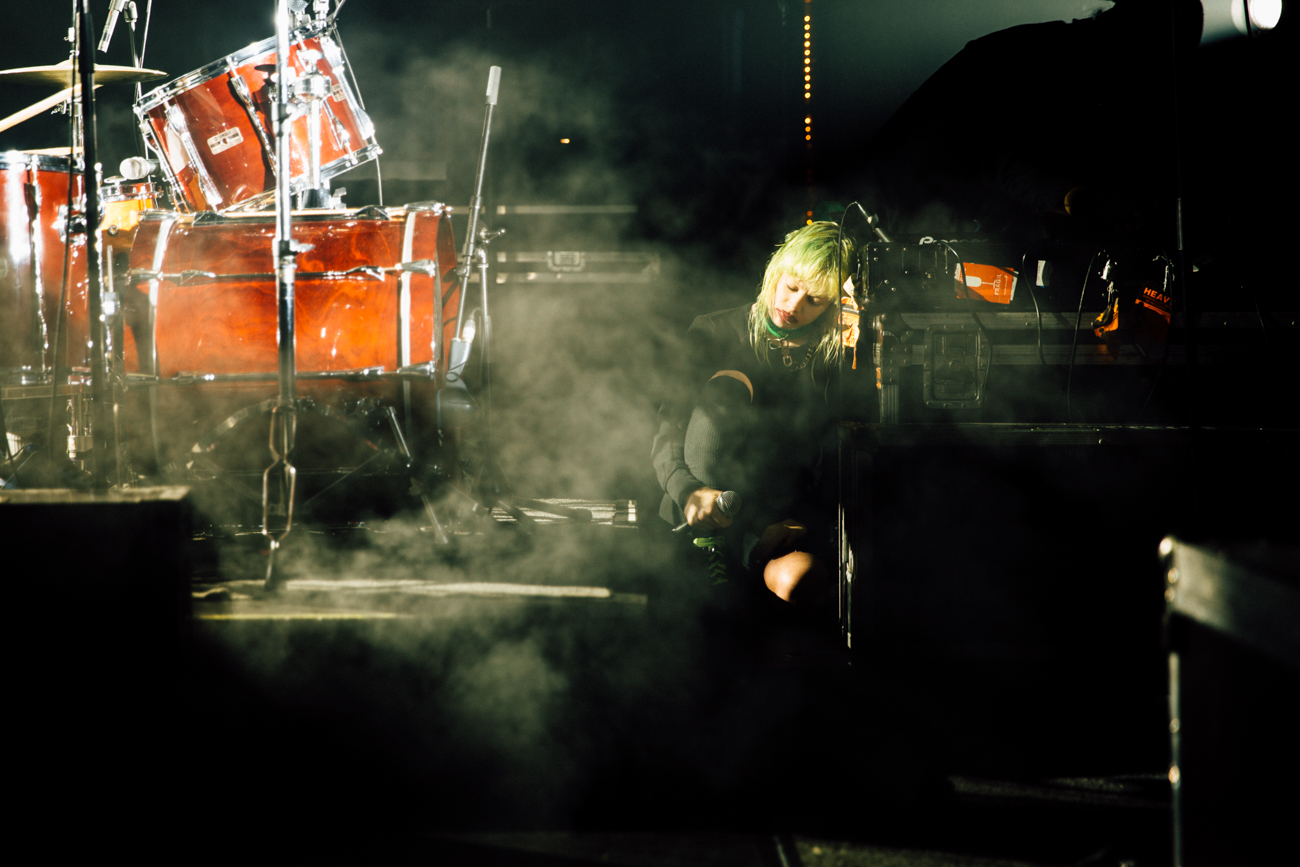 What do you expect when the lights dim and the silhouettes emerge at a Crystal Castles show? If it's non-stop ear-splitting noise-pop led by a feverish waif-like lead singer, then you would have been a satisfied patron at the band's Melbourne show at The Forum.
Much has been written about Alice Glass' departure from Crystal Castles after Glass left the band in 2014 via social media for "personal" and "professional" reasons. Nobody expected Crystal Castles to continue—especially not Glass—but by 2016 producer, founding member Ethan Kath was back with a new album ('Amnesty'), a new singer (Edith Frances) and a new album filled with familiar-sounding songs (bass-heavy synthpop with politically charged undertones).
The face of Crystal Castles was undoubtedly Alice Glass and her notoriously hysterical performances, which begged the question: what was Crystal Castles and what had it become after her departure? Everybody seemed to be more obsessed with what Crystal Castles wasn't; although their shows were still upbeat, they couldn't quite match Glass' mania-induced spectacle. A year later and the same issue still shadows Crystal Castles, but there are plenty of good things happening on stage and plenty of good new tunes to justify the band's continuation, so long as we adjust our expectations as to how to define the entity 'Crystal Castles'.
But the question remains–does Edith Frances hold up in the live arena? There's no denying Crystal Castles are a different band without Glass, but there's nothing wrong with that; in fact, change is usually a good thing for any band with a few albums under their belt. And if the band's Melbourne show was anything to go by, Frances is more than up for the job; despite her small stature, Frances dominated the stage as she prowled over amps, doused herself in bottles of water and stalked through the audience pit. Her voice was also on point, striking a nice balance between animalistic yelps redolent of Glass, and a more chaste high-soprano sound. She captures what's great about Crystal Castles' aesthetic; a contrast between frenzied zeal and nonchalance, screeching vocals and monotone, all set against a convergence of blinding light and total darkness.
Accompanying Frances was Ethan Kath, who hovered stage-right for most of the set and hid behind his controllers, apart from shorter DJ sections. While this dynamic has always worked for Crystal Castles—Glass bopping around on stage, while Kath shadows her from behind—it would have been good to see more interaction between Frances and Kath to help build up the overall stage presence of Crystal Castles 2.0.
Apart from Frances and Kath there is a third member in the Crystal Castles stage show: their impeccable light show. The band pulled out all of the usual tricks—blinding strobes, mysterious silhouettes, a wall of fluorescent light—all of which felt a little excessive in the half-packed Forum and would have been more effective in a smaller venue.
Although Frances pulled out all the stops to deliver a riotous performance, the set-list itself was somewhat lacking and clocked in at just over an hour. For a band with multiple albums (even if only one of those features Frances) and with tickets at the hundred-dollar-mark, it was disappointing to see such a brief set, with only one song ('Concrete') reserved for their encore.
The main set was a mixture of songs from the band's entire discography, with the band starting with a short introductory section that included a number of older songs (including the popular Baptism) as if they were preparing the audience for the 'new' Crystal Castles sans Glass. After a change in lighting and a brief pause, the band delved into a number of excellent new tracks from 'Amnesty', which were sandwiched in-between a few older hits, such as Crimewave and Untrust Us. Finally, they ended the main set with the song that catapulted Crystal Castles into the mainstream (and tellingly does not even feature Glass) with Not in Love, originally sung by The Cure's Robert Smith.
While it was great to hear some Crystal Castles classics, there was a definite shift in mood that made them stand out. Frances' demeanour seemed to dip and the songs themselves just didn't gel as well with the new ones. Additionally, it seems as if a few adjustments had been to accommodate Frances, whose vocal range isn't as extensive as Glass'. Older songs seemed to blend more seamlessly with those from 'Amnesty' when they were largely instrumental, such as Telepath and Wrath of God, but this also meant Frances had little to do on stage. Although its understandable that some of the band's older songs will need to be featured in their set, it would be ideal if they could gradually phase them out over the next few years, fill in the gaps by showcasing more of Kath's DJ skills, and maybe reserve a couple of fan favourites for encores.
It begs the question, that perhaps the problem with Crystal Castles new line-up isn't so much the lack of Glass' magnetic stage presence, but how the music and production has changed to accommodate her absence. 'Amnesty' saw the band amp up the distortion and the tempo three-fold, so much to the point that any of the lyrics (particularly in a live setting) are completely lost in the noise, which is a shame given its politically charged message (songs such as Femen refer to the feminist Ukrainian group of the same name), which would have lent Frances' hyperactive stage presence the depth it needed.
While first and foremost, Crystal Castles are here to put on good show and play some good tunes (both of which they excelled at), their performance would have carried more weight with more emphasis on their overall message–perhaps via some stage banter (which could also help to establish a stronger connection with the crowd), within the show's otherwise impressive visuals, or even (god-forbid) scaling back the distortion. But, if you came to a Crystal Castles gig expecting mind-numbing noise, blinding strobe-lights and non-stop frenzy, then you wouldn't have been disappointed in the slightest and most of this will be moot points.
See our full live gallery from Crystal Castles' Brisbane show HERE.
See our full live review from Crystal Castles' Brisbane show HERE.