Party Central Q & A: Old Fashion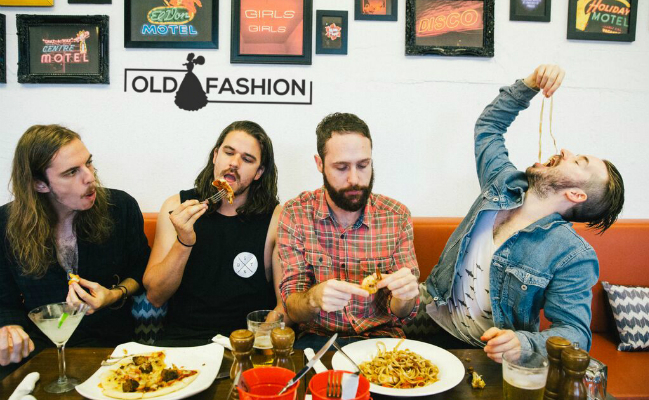 Old Fashion are turning plenty of heads with their latest single Romeo, a "lady killer" blend of Royal Blood and vintage Wolfmother that'll kick you right in the teeth (in a good way). We asked the band how they like to party and who'd they be over the moon to collaborate with.
Who's hosting the party? Where would it be?
Not us, would have to be at someone else's house so we dont have to clean up. The last time we hosted a party at our house we woke up to a bin floating in the pool, and every single glass we owned had been smashed. Anywhere but our house, in short.
Is it themed?
Yep, Naked from the Waist Down.
Which member of the band is most likely to be 'that guy' and whip out an acoustic guitar and start singing Wonderwall?
Funny story actually! We used to be a 5-piece, we had a third guitarist and wanted to follow in the steps of Iron Maiden. Our third guitarist actually did this at a party, so we killed him – he's dead now.
What's the contents of the Kings Cup?
Negroni.
Who's dominating at beer pong?
Usually the girls, they're are not at a bar, so no one is purchasing their drinks on their behalf, so at a house party they have to take a new angle on getting free booze – credit to them.
What's the party jam? What tunes have everyone dancing?
Gogol Bordello.
Who's most likely to get a little too sloppy?
Everyone except Dan (bass), his constitution is off the charts.
To the uninitiated, how do you describe Old Fashion's sound and live shows?
Competently played guitar driven songs played with a smile.
If you could collaborate with any musician who would you choose?
Alex Mitchell from The Moses Gunn Collective – he's amazing!!! 100 per cent would bang.
Lastly, what are you most looking forward to about the The Milk Factory show?
Seeing the other bands. We are fans of all of them so keen to see them live, and we get in for free so that's plus also!