PREMIERE: Butterfingers React To The Stresses Of Modern Life On 'Bullet To The Head'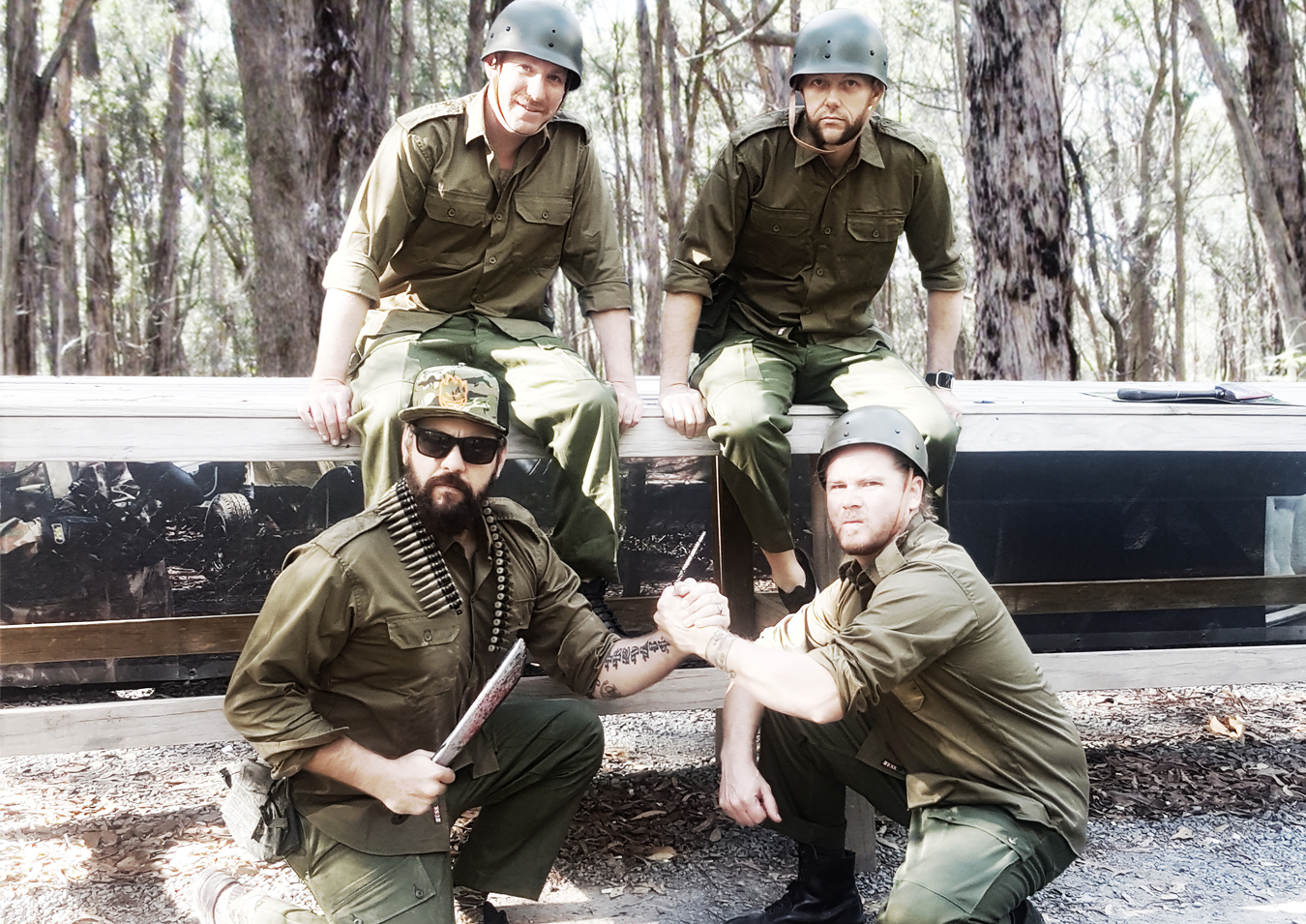 Public figures in the rock-hip-hop game since 2001, Butterfingers surprised the Australian public with their return a few years ago. Influential would be putting it lightly. This crossover collective spawned the Australian hip-hop acts we see today—eschewing in a tounge-in-cheek humour and breakneck production style. A ten-year hiatus has served the four-piece well as their new single, Bullet To The Head is an incredible return to form.
The track speaks of modern life and the stresses of its "always online" mentality. Hyper-connectivity has, in one way or another, been a downfall of the industry and Butterfingers are here to bring it back. It's accompanying video is a 2018 revival and homage of 'Falling Down' and emphasises Butterfingers' stylised and ironic humour.
Along with our exclusive first spin of Butterfinger's Bullet to the Head video, we spoke to the group about their return to the scene, their extensive tour and how social media and being always online has affected the music industry.
How's it feel to, once again, be releasing new music after so long?
It's awesome to be doing it all again. Since it's been a while between drinks and everyone's done so much other life stuff in in the break, we actually appreciate what we've got now whereas before we were just smart arse kids who took it all for granted. There's hardly anything better that better playing live IMO.
The track explores the way in which we're always on online now. Do you think that's changed how people consume your music, whether live or in the comfort of people's homes?
It hasn't changed a live show for us so much but on the consuming side, it's a whole new beast. I can't help but think that we've almost gone back to the '50s where singles matter much more than albums and though I've traditionally been all about the album, I'm stoked to take on one song at a time right now, make it as good as it can be and then make an awesome clip for it too as the visual side of things seem easier to share online that the audio by itself. I love making clips so it's a blessing in disguise really.
Have you ever done a social media cleanse? If so, was it for the better or worse?
No. Not a mass one. Just the odd ratbag every now and then. Have a large circle of friends/acquaintances has helped me do so many things that would otherwise be out of reach for me. Getting 100 henchmen dressed in black out in the middle of the bush at peak summer in QLD for this clip would have been impossible before. Thanks Facebook! Thanks Team!
What's the one piece of technology you couldn't live without?
Sundial.
Being back on tour, is there a demographic crossover at your shows?
So many young faces in the crowd which was surprising at first but it turns out a lot of our fans were underage when we were performing previously. Now the 18-25 year old bracket is more than 50% of our audience. Second win! Bring it!
You're playing some far reaching places on this tour. What's the decision to make it all the way out to some of these destinations?
We're not playing anywhere we haven't been before and honestly, some of our best shows were out there. Besides that, it was those intensive regional tours that we used to do that actually put us on the map. Pre-internet the regional areas were starved for music and they'd be the ones calling into the radio stations to request our stuff so, we owe it to those places to go back and give them something to chew on for a while.
Are you still playing to new audiences and, if so, are you using the same tactics as in the past to win them over?
We update our shows. I mean, we're always gonna play the tracks people wanna hear but we're also looking to trick out the set as much as we can. Besides the new tunes we're throwing in a few live mashups, medleys and remix versions of stuff. Good thing about playing this many shows is that we get to really hone it into it's most badass possible form. Can't wait.
Butterfingers will be on tour throughout March, April and May this year hitting both major capitals and regional areas. Stream Bullet To The Head below and catch their touring schedule, too.
Butterfingers Live Dates
THURS 29 MAR
Club 54, Launceston
FRI 20 MAR
Republic Bar, North Hobart
SAT 31 MAR
Ed Castle, Adelaide
SUN 1 APR
The Gasometer Hotel, Melbourne
THURS 5 APR
The Basement, Belconnen
FRI 6 APR
Gearing Hotel, Katoomba
SAT 7 APR
Factory Floor, Marrickville
FRI 13 APR
Spotted Cow, Toowoomba
SAT 14 APR
The Brightside, Brisbane
THURS 19 APR
Settlers Tavern, Margaret River
FRI 20 APR
The Sewing Room, Perth
SAT 21 APR
Prince of Wales Hotel, Bunbury
FRI 27 APR
Gum Ball Festical, Balcones
FRI 4 MAY
Hotel Brunswick, Brunswick Heads
SAT 5 MAY
Miami Tavern, Gold Coast