Album Review: The Presets 'HI VIZ'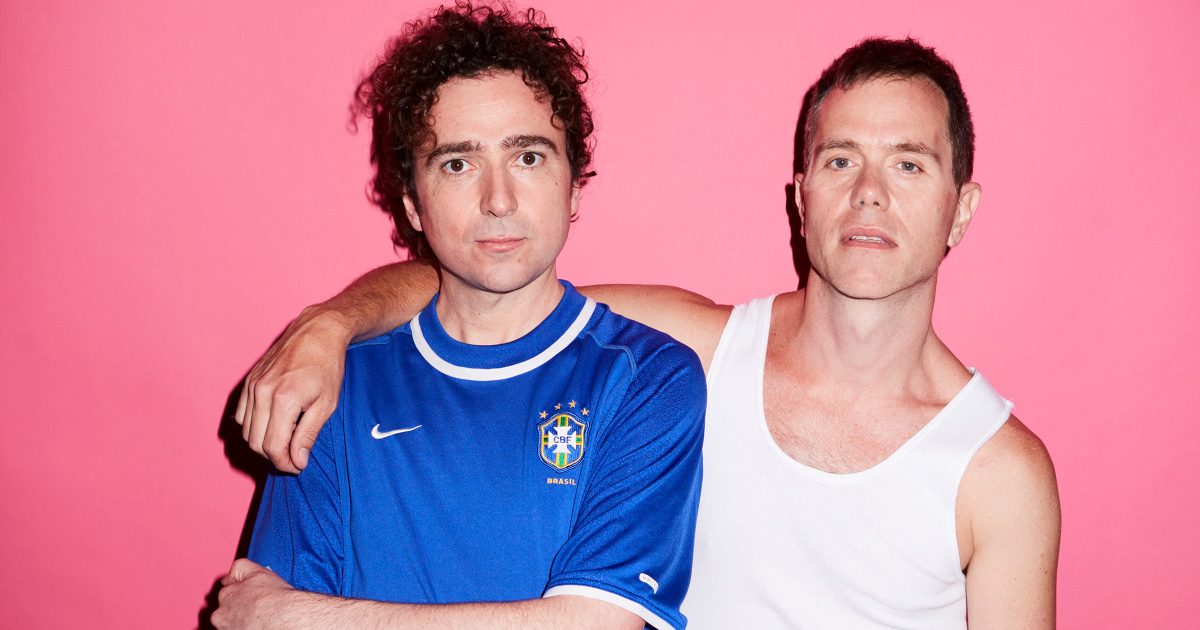 For their fourth, and most essential, album, The Presets appear joyously disjointed and discombobulated. After 15 years, the duo of Julian Hamilton and Kim Moyes have created their most resolute album in 'HI VIZ'. It's a transfixing and raw effort that oozes nowness. Their gauntlet of pop-injected electro-bump is demanding and cutthroat, but never has it appeared as forward than on 'HI VIZ'.
Since 2003, the duo have moonlighted a reinvention of techno. 'Beams' unleashed the group into a frenzy of underground fame before breaking out with the now 10-years old 'Apocalypso' in 2008 and following it up with the more collected record, 'Pacifica'. Spending 5 years on-and-off working on 'HI VIZ', it's The Presets' most direct piece of work.
Immediately, all preconceptions of nervousness after not releasing an album in 5 years erupted from the pustules of an adolescent humanoid alien. Slathered in razor-sharp samples and unusual, abbreviated synth clicks, Knuckles is a true-to-form Presets album opener—following the perfect predecessors of Steamworks, Youth In Trouble and Kicking and Screaming. Now in its true context, the brash "pub-techno" of Do What You Want is even louder than on its lonesome, single-form self.
The true winner of 'HI VIZ' is its shape-shifting segues into it each song. In an interview with Pilerats, Hamilton revealed they wanted to form flowing tracks, rather that complete tracks, "We wanted 'HI VIZ' to feel like a real party mix, rather than a traditional album that's a bunch of separate songs in a row," prefaced Hamilton. The seamless transition from Martini to Beethoven is perfect. The former track, Beethoven, on the other hand, is a trance-house moment that builds in a congruous, natural formation. Ushering in their self-proclaimed "fem-bots" for additional vocal assistance, Beethoven was spawned from the floor of the warehouse that the group have raved at many times.
Downtown Shutdown is a celebratory moment on 'HI VIZ'. As a single, it does well to perpetuate The Presets brand of longevity and, ultimately, is a fun, harmonious moment. In the context of the album, however, it doesn't place too well amongst the reactionary acts of noise on either side of it.
Though not its primary focus, 'HI VIZ' contains some insane and perfectly kept guest appearances. From the bass slashing of Touch Sensitive to Kirin J Callinan's tremulous guitar ability on Do What You Want, the album is lashed with remarkable, if often subtle, appearances. Jake Shears from the Scissor Sisters lends a hand, Rromain places her voice somewhere in the mix as does DZ Deathrays' Shane Parsons with his formulative guitar work. However, it's the more front facing guest spots who do the most magic—Alison Wonderland on Out Of Your Mind and Are You Here? featuring DMAs. The former could be taken directly from the Jet Set Radio Future soundtrack. For those unfamiliar, this video game relished in neo and J-pop in a cell-shaded, immersive world. The Presets, with the help of trap production queen, Alison Wonderland, deliver a warped approximation of '90s production. Alison Wonderland easily slides in on the madness, easily providing her best vocal performance of her career—including her own discography.
The back half of 'HI VIZ' is where The Presets firmly amp up their synthetic and processed aesthetic. Tools Down is a masturbatory energy spillage that's larger than life. A club track through-and-through, the group embed some sample-based trapdoors to construct a deceivingly fun kitsch. It's pilled with easter eggs that further delve the group into the uncanny valley of electronic music. Brains is the musical equivalent of whiplash. Lavish with grotesque vocal processing, arabesque ululation, plucky synth modules and intriguing percussion, Brains arrives just as fast as it exits. Almost geometic in delivery, the track, while the shortest on the album, goes into some hypnotic and phonetic strokes.
Until The Dark is uniformly dark and choatic—a perfect wrap to the interconnected fury of 'HI VIZ'. Devoid of emotion, Until The Dark piles on disorienting textures to give the impression of the walls closing in around you. Through its many drops and foreboding final moments, Until The Dark is gradually overcome by blasts of distortion and brain-scrambling oscillations.
'HI VIZ' is The Presets' incongruous, opus piece. Throughout the album, the duo's club textures stretch and spasm to strange dynamics. Artificial and dispersed in ungainly bursts, it is garish and gorgeous all at once.
The Presets will be on tour soon behind the new album. See those dates HERE.