A Christmas Miracle Q & A: Idiio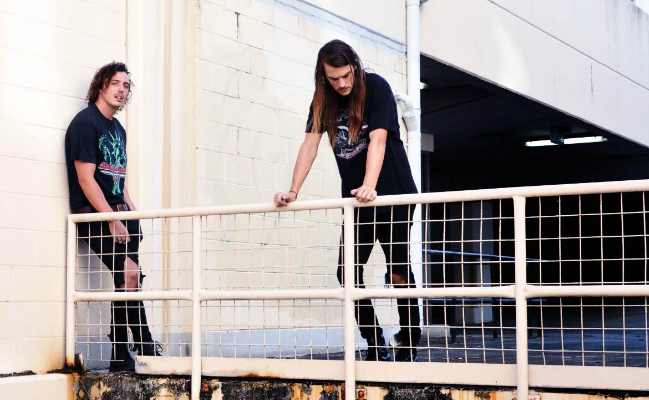 The legends behind the Gold Coast's thriving indie scene GD FRNDS are throwing the live music Christmas party to end all Christmas parties (well, until their 2017 xmas party), 'A Christmas Miracle'. The smorgasbord of music on the 10th of December will includes set from Borneo, Yes Sir Noceur, Idiio, Wren Klauf, and plenty of bangerz spun by local DJs. To get into the spirit of the silly season, we asked Idiio some festive questions to find out makes a truly jolly Christmas.
Firstly, what's the best Christmas present you've ever received?
To this day i don't think you can get a better feeling than opening Christmas wrapping to find some brand spankin' Dragon Ball Z cards/Pokemon cards, always triggers a 12-year-old girls scream for me…
Rolling with that question, what's the worst you've been given?
Fake Dragon Ball Z/Pokemon cards. "I know the idea was there mum but I can't battle with a level 6,000 Blastoise!" *cries"
As a band, what skills do you possess that could help Santa on Christmas Eve?
If he bribes us with enough eggnog we could do anything. For eggsample, we could groom his beard while he mans the sleigh so he stays looking fresh…there's a fine line between Santa and Hobo! This is all while constructing him an IV eggnog drip pumping straight into the bloodstream so he stays lit and hydrated.
Which Christmas carol could you theoretically make a banger?
I have secret plans to do a sneaky Silent Night cover for this Christmas, but don't tell anyone…
If Santa gave you coal, how would you get your revenge of the jolly fat red man?
We would use that coal to line the walls of the chimney so that next year when we "accidentally" light a nice warm fire on Christmas Eve he'll have a jolly red entrance into our house! Brutal but fair.
If you played Secret Santa with the GD FRNDS 'A Christmas Miracle' lineup, who would you like to be your Santa and vice versa?
We've seen some of the delightful outfits that Yes Sir Noceur have worn on stage, so we'll take them as our santa in hope to get our own outfits. Naturally we would return the favour.
All the band wants for Christmas is…
$100,000,000,000,000 so we can record our new songs to the quality they need.
If Rudolf fell ill and couldn't guide Santa's sleigh this Christmas, which band member would be the best replacement?
As glamorous as Rudolf's life seems with his nose oh so red and all, at the end of the day he's a slave and I'm pretty sure none of us want to be slaves.
The best Christmas day lunch is…
A big juicy roast with some Christmas ham and all of da beerz!
Lastly, GD FRNDS 'A Christmas Miracle' is the best Christmas party happening on the Gold Coast because?
Wouldn't want to give too much away! I guess you'll just have to come to find out…
GD FRNDS' 'A Christmas Miracle' Showcase
Borneo
Yes Sir Noceur
Idiio
Wren Klauf
Klubknight [Live]
DiskoDisco [DJ Set]
SAT 10 DEC
Miami Shark Bar, Gold Coast
Tickets At The Door