Interview: Dropkick Murphys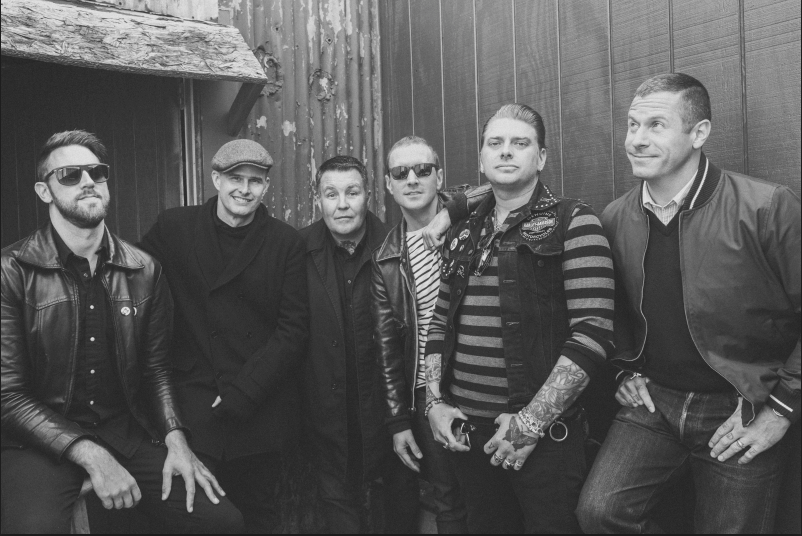 Celtic rock isn't a genre many are familiar with yet it's a niche market that Dropkick Murphys have strived in for 20 years. One of the main draw cards for the inaugural Good Things Festival, we thought it fitting to pick lead singer Al Barr's brain about the connection between band and married life, Connor McGregor's fallout and the apparent impossibility of a boring Australian show.
You're recently back home from a big coheadlining tour with Flogging Molly. How were the shows and how's the comedown been since being back home?
You know it's funny, we finished our last show in Mesa, Arizona on a Saturday. I left the show and flew home to be home Sunday morning, but by Friday we were in Vegas to do the Connor McGregor v Khabib pre-fight show. But the shows with Flogging Molly were incredible and that was the third part or chapter that we've done with them and I think it's safe to say that we'll probably do some more with them at some point because we have such a great time together.
Well I think it's safe to say that the fight got a bit out of hand! Were you backing McGregor or Khabib and what was your take on how it erupted?
I probably thought it was going to go exactly how it went honestly. My assessment, I mean I'm no expert, who the hell am I to comment but my gut feeling was that Connor, having not fought for two years, got this whole kind of 'titan' mentality where we don't see him for a while and he still think he's got it. But he was hitting the sauce during his pressers you know, doing shots of whiskey! I don't think he was doing it just for the presser either, I think he was hitting the whiskey way too hard for something preparing to fight a guy who is 26-0, the guys grappling ninja style, he's on another level.
So I thought Connor's got his hands full but if he uses his power and speed he might be able to knock Khabib out quickly but once it started I realised that this guy was serious. He wasn't impressed by McGregor's charm, usually they talk smack and that's the whole part of it but this guy had a hit list apparently and that's why he continued to attack! It was crazy, I thought Khabib was way too strong.
And of course it was celebrating 20 years of mayhem, when a band has been together as long as Dropkick Murphys has, how do you like to try and keep things fresh and maintain that passion and drive?
I guess all we can do is keep doing what we're doing you know. We fully believe in what we do and that doesn't die. My wife and I for example, have been married for 25 years and we have three children and I'm still in love with my wife so it's the same thought of thing as with the band. We continue to speak to each other and share our lives together, we have things in common, we enjoy each other's company so with the band we have the good fortune of having this chemistry with everyone involved with Dropkick Murphys.
We get the luxury of being able to go on tour pretty much anywhere anytime and our fans still come to see us and it's insane and it continues to grow. And we've been together for 20 years now and it's very humbling, we're very lucky and fortunate, we never think twice about that, we know how lucky we are, we don't take it for granted.
And for all those who are relatively new to the sound that is Dropkick Murphys, it's not a sound that is totally common in "mainstream rock" and it is unique. Jumping back 20 years, what was it about the Celtic sound that made it so appealing?
It's funny, when I started with the band all those years ago it was a new thing for me to sing ahead of the beat and that was the Irish nature of the music obviously. We were originally a four-piece band and then four became seven but there was always a very specific way to play the music. The vocals especially, the vocals were ahead of the beat and that's not blues, that's folk. There was a racing nature to it that took me a while to get, it wasn't natural, especially cause I'd been singing in bands for 15 years prior and everything I'd known was rock and roll based which involved singing in the pocket.
There was just something about us, we packed our lunch if you know what I mean, we wrote our songs and played them as fast as we could, we'd get through as many songs as we could and that was just us and we just got on a roll and here we are, still doing that!
Fast forwarding to present day, it's been a little while now since 11 Short Stories of Pain and Glory dropped. So besides playing shows, what has Dropkick Murphys been up to? Could fans expect to hear some sneaky new music anytime soon?
You mean besides playing sold out shows and popping champagne in tight tennis shorts? I'm kidding of course. Well I guess when we recorded 'Short Stories', we recorded enough to sort of do a double LP almost. We revisited a lot of that stuff and thought about where we could take it next. What I can say is that we have something else coming from up our sleeves!
And given how fast this year has gone by, it'll be no time at all before the band are in Australia playing the inaugural Good Things Festival. Punters are as new to the festival as you guys are, but what were the initial reactions given the calibre of the line up?
To be honest I haven't done my homework on it too much but I'm glad to be coming to Australia! They told us we were doing it and I was just too busy being stoked on that, I had complete ignorance, I don't know who else is on it but I'm just psyched to be there!
From your point of view, is there something that makes Australian shows significant in comparison to other places in the world?
I mean we've been coming to Australia since '99 and my experience has always been that Australian crowds are very passionate and don't shy away when they need to get into it. There's no such thing as a boring crowd in Australia, at least not in my experience so I'm really looking forward to that and sharing that connection and passion with the Aussie fans.  

Good Things Festival
FRI 7 DEC
Flemington Racecourse, VIC
SAT 8 DEC
Parramatta Park, NSW
SUN 9 DEC
Brisbane Showgrounds, QLD