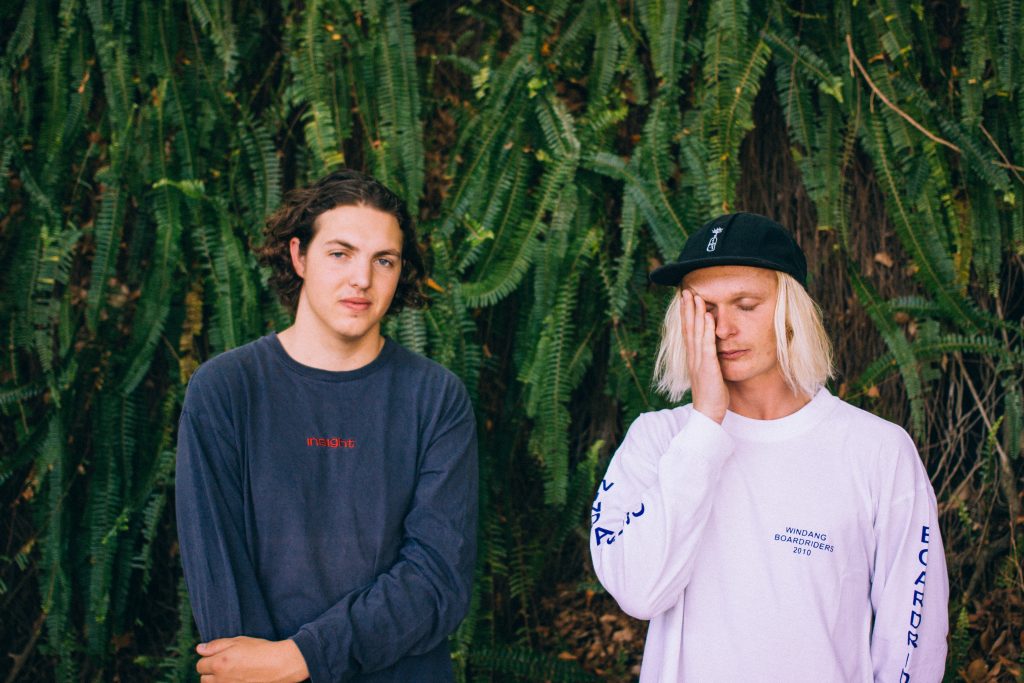 Having just smashed their second headline run of USA, surf-punk duo Hockey Dad are eagerly awaiting the release of their forthcoming sophomore album, 'Blend Inn'. Lead single Homely Feeling gained high-rotation on triple j, and a lot of Hottest 100 votes as well. Just two weeks out from the release of the album, we had a chat to drummer Billy Fleming about the process behind the album and their mammoth 2017.
Congratulations on the new album 'Blend Inn'! After touring and playing 'Boronia' relentlessly since 2016, how does it feel to have some fresh content out?
It's pretty good! We were playing for so long, not that we get sick of playing the same stuff but we've been playing 'Boronia' for a pretty long time. It became like muscle memory, all the old songs, we've played it that many times that it became like another day at work or something. Now we've got the new songs, it's sick, we're super keen to play again now.
How do you feel about the response to Homely Feeling?
Homely Feeling went pretty apesh*t hey! We didn't really have high expectations for what it was gonna do. But it was pretty solid, definitely went better than we ever thought. Sick to hear that a lot of people are keen on it!
You've achieved and seen so much since 'Boronia', and there seems to be a change in the lyrical content in 'Blend Inn'. Was there a difference in your approach to writing it?
Because we have so much time on the road, Zach was just writing a couple of things at home and then i would write some stuff and think of some drum beats. It was kind of a bit more separate, we were still together for a lot of it, but just wrote little bits on our own. Then once we actually sat and had time to jam we just had all the ideas together, rather than 'Boronia' was all just sitting there at once in the shed together.
Now Zach will write some lyrics and riffs, I'll think of some lyrics and a beat,  get on the guitar for a bit, I wrote a few riffs on this one which is pretty funny. We just had separate bits, and then once we sat down and had a second to breathe, it just comes together.
There's a lot of diversity on the album in terms of the music and genres, after listening to it there's hints of blues, psych, punk and jazz throughout 'Blend Inn'. Did you mean to put these in there or did it come naturally?
Between Zach and I, we listen to so much different stuff, we've never been like, "I'm a punk kid, that's all I'm gonna listen to." We'll listen to punk, but then we'll out on some Patsy Cline after that, we've never set to a scene. We just listen to that much different stuff, you semi-heard it on 'Boronia', there was hints of it but more so now, we wanna start playing the stuff we listen to.
Listening through the album, I got to Whatever and it was a really nice track, it was so different for you guys to write.
Yeah that was pretty sick, it was fun. That was pretty much all Zach that one, he had the riff there, he didn't have lyrics he was just shredding and i was like, "we are so doing that!" I was just happy to chill on the cymbals, finally a song without a drum beat which has good!
Well if you play it live, you can just chill out in the middle of the set.
Nahhh, I mean… nah. We try to keep it energetic, the quiet ones are sick and all, but i reckon it's fun just doing a full set of punchy sh*t and keep everyone on they're toes!
You also get to sing on the song Sweet Release, how did the idea of you jumping on the vocals come along?
I fully just got roped into it hey! We didn't even write that before going to the studio. We were recording a song, and I went upstairs to get food and came back and Zach had written this f*cken stupid song. When it came time to record the vocals, Zach was trying to talk-sing, and what he was trying to do just sounded bad. I was giving him sh*t and telling him he sucked, so he teased me to have a go, and i went in there and sung and just got roped into it!
I had heard you guys play it live a few times last year, and was confused about what the song was. So when I came across it on the album I was pretty stoked!
Yeah that's heaps funny! It's fully one of those ones that's just meant to happen, it was written in like five minutes. By the time I went upstairs, got food and came back down he'd written it, it was the most random thing ever.
The studio you recorded in, some huge artists have recorded there, the likes of Nirvana, Foo Fighters and Soundgarden. How was it to be in that atmosphere?
It was pretty wacky, we didn't even know that to begin with we just rolled in, the only thing we knew was that it was haunted, so we were tripping on that at the start. We got there met the dude, and got a tour and he was pointing out all this old gear that was used by all these people. Then we realised it was on the Foo Fighters doco, their debut was recorded there, the last Nirvana songs before Kurt passed were recorded there as well. So we went and set up all the gear, we just home after that and went holy sh*t this place is legit!
You've just gotten home after your second US headline tour, which is a huge deal, how do you reflect on your time there now you're back in Aus?
It was pretty nuts hey, coming back and looking back on all the shit we did like, "f*ck, how did we survive." It was constant driving, all in all it was a smooth trip, but looking back on all the photos we have for a tour video, you forget a lot of stuff that happens. some of the stuff was ridiculous.
Is there anything over there you guys prefer over there? Like food, beer or surf?
There's a couple states that have, y'know, something legal that's pretty fun (laughs). We were skating heaps, skate parks are crazy over there compared to here, and you can skate places that are on Tony Hawk games. The food's good, it's funny y'know, we eat so much over there.
You'll be back on the road for your album tour, which has been a while for you guys to headline a tour, with your tours with Grinspoon and Dune Rats last year, so are you looking forward to that?
It'll be awesome hey, the last tour we did would've been the regional last year, which was hell fun! So keen just to actually just do our own thing, haven't done that for a while!
You're bringing along some killer supports with Dear Seattle and Boat Show.
Yeah they're f*cking awesome hey, Dear Seattle I've been frothing for ages, saw them for the first time up at BIGSOUND and it was hell fun!
With the Grinspoon tour, they had yourselves and Good Boy as supports. How was the crowd's response to both bands' music?
It was pretty funny, it was such a bogan crowd, some of the places we played were so insane. They would try an take the piss out of us, but we were just throwing back at them! You could've picked any other bands and it would've been the same situation. All they wanted to do was drink beer, that was their life. But there were heaps of people that enjoyed it as well. It's different playing to a crowd of older people, but it was heaps fun, so good!
Zach and yourself grew up together, and you've been doing Hockey Dad for a while, and you've toured and explored the world. Do you find friendship is tested at times?
Not really hey, we've always been mates since I can remember, he's pretty much just like a brother. Even if we do argue, I'll just tell him to get f*cked, and then talk to him the next day. There's never been any massive blowups, or anything like that. It's just been forever, it's kind of nice!
Did you guys butt heads at anytime with 'Blend Inn'?
Nah, not really. There were a couple of songs where I thought, "oh, maybe they shouldn't be on the album." Once we started playing them, they felt better. It was just your average shit!
What's the best thing on your rider?
Hmm, well we put a pack of ciggies on there but we still haven't got them yet! Seems pretty hard these days, that's Zach's treat. I get a choccy milk, and that comes every time! It's the best thing ever.
'Blend Inn' is out February 9 on Farmer & the Owl via Inertia Music. Pre-order HERE.
Hockey Dad Live Dates
THURS 1 MAR
Badlands, Perth
FRI 2 MAR
Badlands, Perth – SOLD OUT
SAT 3 MAR
The Gov, Adelaide – SOLD OUT
SUN 4 MAR
The Gov, Adelaide
THURS 8 MAR
The Corner, Hotel – SOLD OUT
FRI 9 MAR
The Corner Hotel, Melbourne – SOLD OUT
SAT 10 MAR
The Corner Hotel, Melbourne
FRI 16 MAR
Metro Theatre, Sydney – SOLD OUT
SAT 17 MAR
Woolly Mammoth, Brisbane
SUN 18 MAR
Woolly Mammoth, Brisbane
SUN 18 MAR
Woolly Mammoth, Brisbane – SOLD OUT
THURS 22 MAR
The Corner Hotel, Melbourne
SUN 25 MAR
The Metro Theatre, Sydney
TICKETS