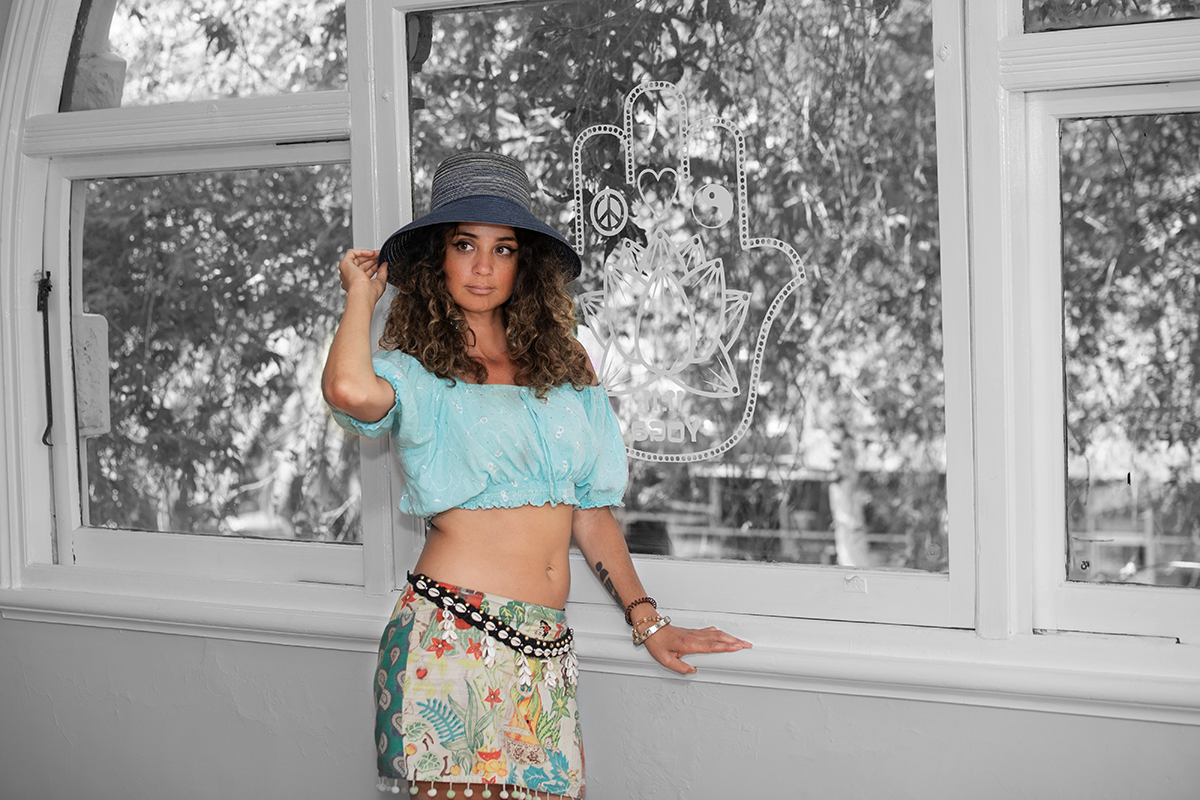 The album sprawls for almost an hour. Was it a tough process piecing all the songs together in its track listing?
Yes, it was a really difficult process to choose the order of the tracks. I actually recorded about 26 songs and had to choose 14 songs out of them. It was so difficult choosing the ones that perfectly fit this album because I had a soft spot for all of them. I just had to be brutal with the choice and ask other people's opinions of what they liked and finally, with much thought given, I came up with these 14 songs and this tracklist order.
Given its time length, what emotions are you hoping the listener will go through between the 14 tracks?
This album is like my personal diary I have vulnerably released out into the world. As the name of it is 'Darkness to Light' I wanted the album order to reflect that. The first song that is upbeat and liberating song called 'Not Normal', the next few songs are more about heartbreak, lost love, loneliness, dark moments and the shadow side of life, then the album starts building up into a more positive vibe with tracks like 'So Beautiful' talking about leaving the hustle and bustle of the city 9 to 5 lifestyle and taking off in my car on a road trip to Byron Bay and beyond and how life can be so simple and so beautiful when you free yourself. In 'Jamaica', I sing about my travels to Jamaica and a special man I met there who taught me how to dance and let go. Gypsy is about my nomadic spirit and Goddam Beautiful is about me believing in love again. There are so many more songs with a plethora of emotions just like life itself.
It's a singles market in the music world now. Do you still believe in the power of a full album and what it stands for?
Yes, the music world has changed a lot and everything is fast and snappy these days. Many people are only releasing singles but I had an album brewing inside me for a long time that needed to be born and all these songs belong together. So I really do believe in the power of a full album. When I do live shows I still sell many hard copies of my albums.
What were some bucket list items you had to tick off when making this album?
Write, perform, engineer, mix and produce a whole album
Mix up genres.
Write inspirational songs.
Play every instrument on the album. (I did get a horn player on one song 'So Beautiful', but I still wrote his horn line)
Album launch at Byron Bay Bluesfest.
Successful crowdfund for the album.
I'm With A God was the strongest track on the album to me, especially because of the production. Could you speak about that track's creation?
I studied electronic music production at SAE Byron Bay for a year and I became really inspired to make something powerful with what I had learned. I really love trip-hop, Glitchy sounds and also strange time signatures so I started off by creating the beats then built the other sounds around it using keyboards, guitar, bass, and some trippy samples. Then I wrote the lyrics and sang over the music that I had created. It all came together very easily – somehow it channelled through me from another realm. It always feels very magical when I hear this song and it takes me back to an intensely passionate time in my life with someone special. I spent many restless days and nights working on the mix to make it sound like it does now. I am very proud of it so thank you for showing it some love!
I was lucky enough to catch you at Bluesfest earlier this month. How was the reception to that show?
I am so happy you got a chance to see me at Bluesfest. I had a dream gig on the Mojo Stage for my album launch and another wonderful gig on the Juke Joint. The crowd was shining, so supportive and I could feel them listening intently to every note I played and lyric I sang. I felt we all went on a beautiful journey together as I performed, and many people told me afterwards that my music had inspired and touched them.  A few said that in some songs they could not hold back the tears as it really struck a chord with them. Feedback like this is always so lovely to hear after working so hard for my musical dream to come true – it makes it all worth it. I am still buzzing from the Bluesfest and pinching myself that It actually happened. I had my album launch on the Main Stage at the Byron Bay Bluesfest to a full house!! WHAT!!! I am extremely grateful to Peter Noble for inviting me back this year and for the amazing Bluesfest audiences who really truly are music lovers and that's why they go to listen to dance and enjoy!!