Interview: The Belligerents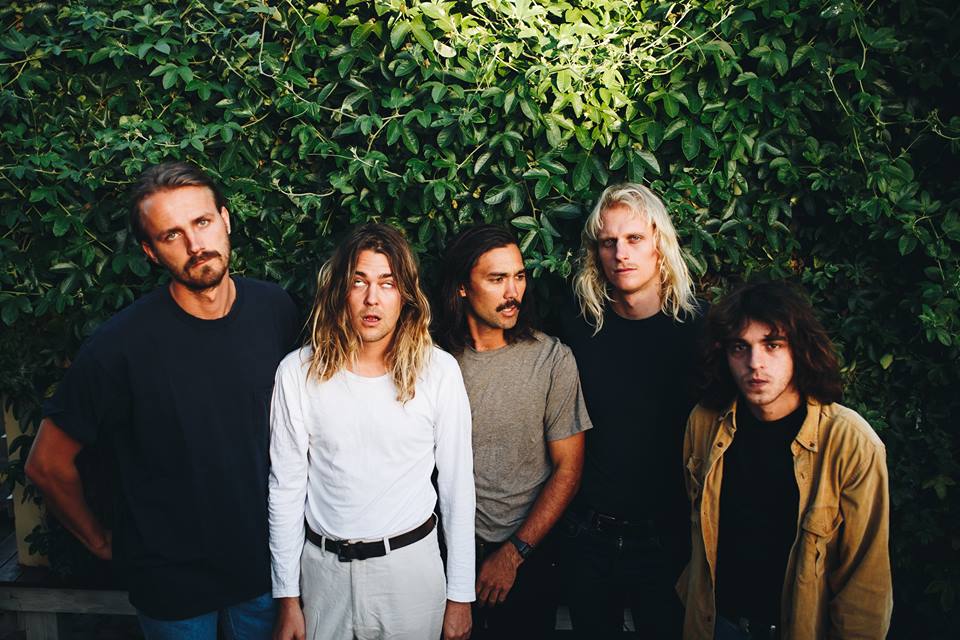 Brisbane based five-piece have captured the attention of many since landing a slot at Park Life in 2012 to the release of their Outside:Inside EP in 2015. The Belligerents have given us a taste of their refined psych-pop sounds with singles off their upcoming album Science Fiction such as 'Before I am' and more recently 'Flash' that radiates bliss through its Madchester influence. Konstantin Kersting spoke with us about all things Science Fiction in anticipation of its release on the 8th of September.
Can you tell me a bit about the recording process for Science Fiction?
I can, so essentially we had previously recorded in some studios and we wanted to do something a little different, we hired a farmhouse on Stradbroke island which is about a two-hour drive plus a ferry from Brisbane to this little island. We had to borrow a tone of gear, we borrowed a desk and a bunch of microphones and set it up in the farm house.
The control room was in the kitchen, the drums were set up in the living room, our guitar amps were in the cupboards and two were in the bedrooms, that's kind of how we set it up and we spent two weeks there and recorded our debut album.
Do you think being in this different type of environment effected the sound of the album at all?
Totally yeah, I mean first of all it wasn't a professional recording studio, so just from the technical side of things the actual sounds we were recording were slightly different and also just being there made us be really creative, we didn't have time limits, we didn't have to do anything, it was like a holiday as well as making an album.
You know, we would go from about ten in the morning until two at night, it was just tonnes of fun and I think the way the record sounds defiantly shaped by it, I mean in some songs you can hear cows in the background, it's very quiet but you can hear cicadas and at one point there's someone washing the dishes and stuff like that which was all unintentional. It kind of takes you to that place where we recorded it and makes it more human I don't know.
What have been some of the influencers for the album? 
Its super varied I don't think you can pinpoint anything, we all listen to different stuff and have different influencers, so we kind of make our own sound out of that and to be honest I can't even remember what we were listening to at the time of making the record, but it's always varied, anything that sounds cool we veer towards. 
I read that you guys haven't been in a real rush to put together the album, is there any reason for this?
Well we've been a band for six years and we were kind of like let's just make a record, at the time we didn't have management, so we kind of had no one telling us what to do or how we should go about making the record or what we should make it sound like. So we had creative freedom with it and after we made the record suddenly all these people were like "hey this is a cool record, we want to work with you guys" and more and more people started becoming involved. You know sitting on stuff for a while always makes you change things, so one of the songs on the record was recorded and then three months later
It wasn't that we were lazy things just started adding up and that why it took so long to get the record out plus, the six years prior I don't think we were ready to put an album out. That was kind of our time finding our sound and figuring out what this band was and what it should be.
Just touching on the film clip for Flash, at the end it says 'To be continued…' does this mean we can expect some more on their way?
Absolutely! Very soon actually I don't know if I can say too much though. Let's just say the narrative is to be continued…
So there's going to be a consistent theme between film clips?
There is, it's different from what you might expect it to be but yeah its defiantly continued, you'll find out what happens.
The Belligerents Live Dates:
FRI 20 OCT
Jack Rabbit Slim's, Perth
SAT 21 OCT
Jive Bar, Adelaide
SAT 28 OCT
Sol Bar,Coolum
THU 2 NOV
Uni Bar, Wollongong
SAT 4 NOV
Oxford Arts Factory, Sydney
THU 9 NOV
Transit Bar, Canberra
FRI 10 NOV
Howler, Melbourne
SAT 11 NOV
The Zoo, Brisbane