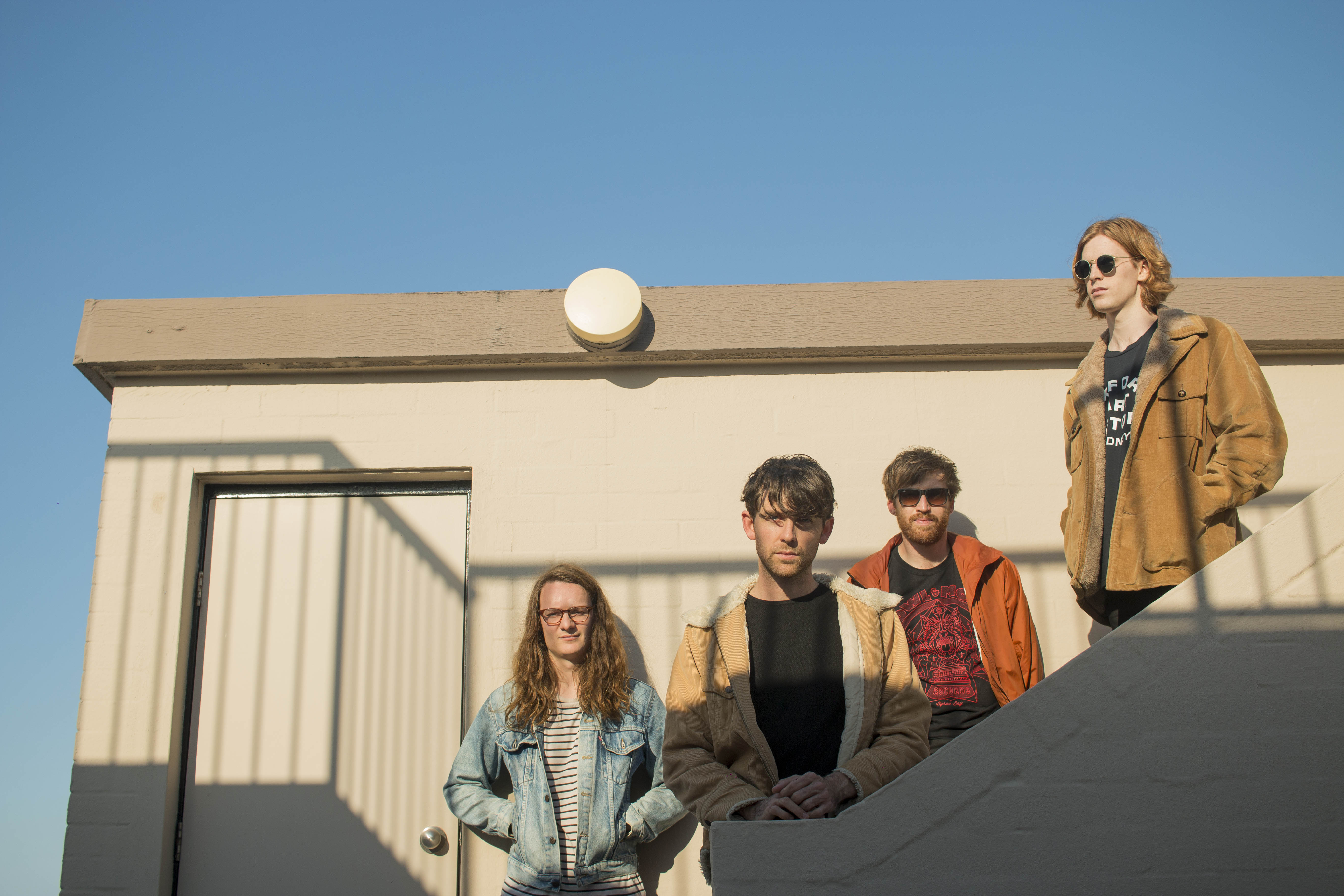 Fresh off the back of a stellar run of shows and a BIGSOUND appearance, WHARVES are taking over the airwaves with their track, Love Decide. This Lennox Head four-piece have recently been travelling around Australia and I was lucky enough to grab Fraser Perrott for a quick chat about Splendour in the Grass, the internet and of course, their latest single, Love Decide.
So I heard that Wharves met at University up in Byron and Lismore. How did your band come about and at what point did you decide to start making music?
Well the other three boys—Scott, Matt and Mike—were in a band before and then it kind of disbanded when the drummer moved down to Sydney. They were keen to keep on making music, so they started jamming again but they needed a drummer. I knew Scott because I lived on college with him up in Lismore and one day he invited me over for a jam with the boys. It must've gone pretty well because I got asked back the next week and then after two or three more jams, Matt asked if I'd be keen to start a new project with them. We officially launched as Wharves in April 2015 and started playing our first gigs around then
Now you've just released your single Love Decide, and it's been getting a fair bit of love from triple j and the likes. How did the song come about? What was your inspiration?
Well, it was actually a demo that we'd been working on for a little while and initially we wanted it to be a chilled out, slow burning song. When we took it into the studio with Stephen Schram—our producer—he kind of flipped it on its head and gave it this huge build up that seems to crescendo until the end. The song is about control, and how sometimes you just have to accept the things that are out of your hands; you have to just let them play out and go with the flow, rather than trying to fight it.
The band are all from around Lennox Head area and this year you actually got to open up for Splendour in the Grass for triple j Unearthed. How did that go down?
Oh man, it was the best thing ever. That whole weekend, well that whole experience, really, was just so amazing. Words really can't describe how good it was. It wasn't just the performance, it was being able to hang out backstage and meet all of these really cool people. We didn't find out until about a month or so before and then everything just became about Splendour. It was the longest wait in the world, and we were so excited. We were so lucky that triple j Unearthed gave us that opportunity and I think we really achieved what we set out to do. It left us hungry for more; for more festivals and more live performances.
You've also recently played BIGSOUND up in Brisbane. How did that differ from your Splendour in the Grass experience?
We found that at BIGSOUND we met a lot more industry people and went in there with a plan of what we'd like to achieve and who we'd like to meet. What we were pleasantly surprised about withBIGSOUND was our spots and performances, but also the turnouts and the reaction from the crowd. We were really happy about that, and got some really good feedback from some pretty important people whose opinions we respect quite a bit. The whole experience, like Splendour, was just a really fun weekend. The preparation for BIGSOUND was pretty similar to Splendour in that we spent ages refining the set and making it work. We only got half an hour for Splendour and for BIGSOUND so we just tried to make it the best thirty-minute performance of the day because there's so many amazing bands up at BIGSOUND that you really have to try and stand out a little bit. We just wanted to make it unforgettable which I hope we did. You'll have to ask someone.
Were you playing at The Brightside for one of your shows?
Yeah, at the Brightside outdoor which is just a cool little venue in itself. I don't know how they pick who plays on what stage, but whoever picked that, thank you because it couldn't have gone better for us. We were so thankful for that spot.
Now stepping away from the festival questions, things like the Internet and social media have become a pretty big part of society today How do you think that's affected or changed the music industry and the way we interact with music and artists?
I think that it's a two-way street because on the one hand, your music becomes accessible to so many people all around the world; they can easily just download it or share it with their friends. On the other hand, they also have a direct access to you. We haven't had any bad experiences yet but I'm sure that there's bands that would cop abuse from some people on Facebook, which I think would have an effect on them mentally. If they released a song that people didn't like, people would have a direct line to get to them with their opinion. I think it's great that people can express themselves, but we're just people trying to make music that you like so if you don't like it, you don't need to tear us apart.
I think this is super relevant, especially with the Liam from triple j coming out and saying, 'We get all of your texts, we see all of your posts'; I think it must be hard being a musician and copping all of that directly and people just thinking there's no consequence for it.
Yeah definitely, I could imagine that it would be very unpleasant. We've been very lucky that we're quite new and we haven't really had to deal with that yet. I can really empathise with people though, because they've put in their heart and souls into their craft or their art and then to have it rejected and have all of these negative comments, I think that would be quite tough.
Sorry to throw some heavy questions at you.
That's alright, this is my first interview so I hope I'm doing okay.
Have you guys got any new music coming up or are you just sitting on Love Decide at the moment?
I'm not sure, we have another track ready but we're not sure whether to release it this year or early next year; we're just going to see how things play out. We've been feverishly writing new songs since BIGSOUND so it's really about picking the best out of those and releasing them.
Now I know you guys are good friends with the boys from Bad Pony, is there any chance we could see a collaboration in the future?
They were one of the first bands that we became really good friends with and we still keep in contact with them today. They're a great bunch of lads and we really love Bad Pony and the stuff that they do. I think that we'd be heaps open for collaboration; We can't say no to those boys because they're just so damn beautiful.
Wharves Live Dates
FRI 29 SEPT
Waywards, Sydney
SUN 1 OCT
Cambridge Hotel, Newcastle
SAT 7 OCT
Leche Cafe, Yamba