Live Review & Gallery: Yours & Owls Festival 2018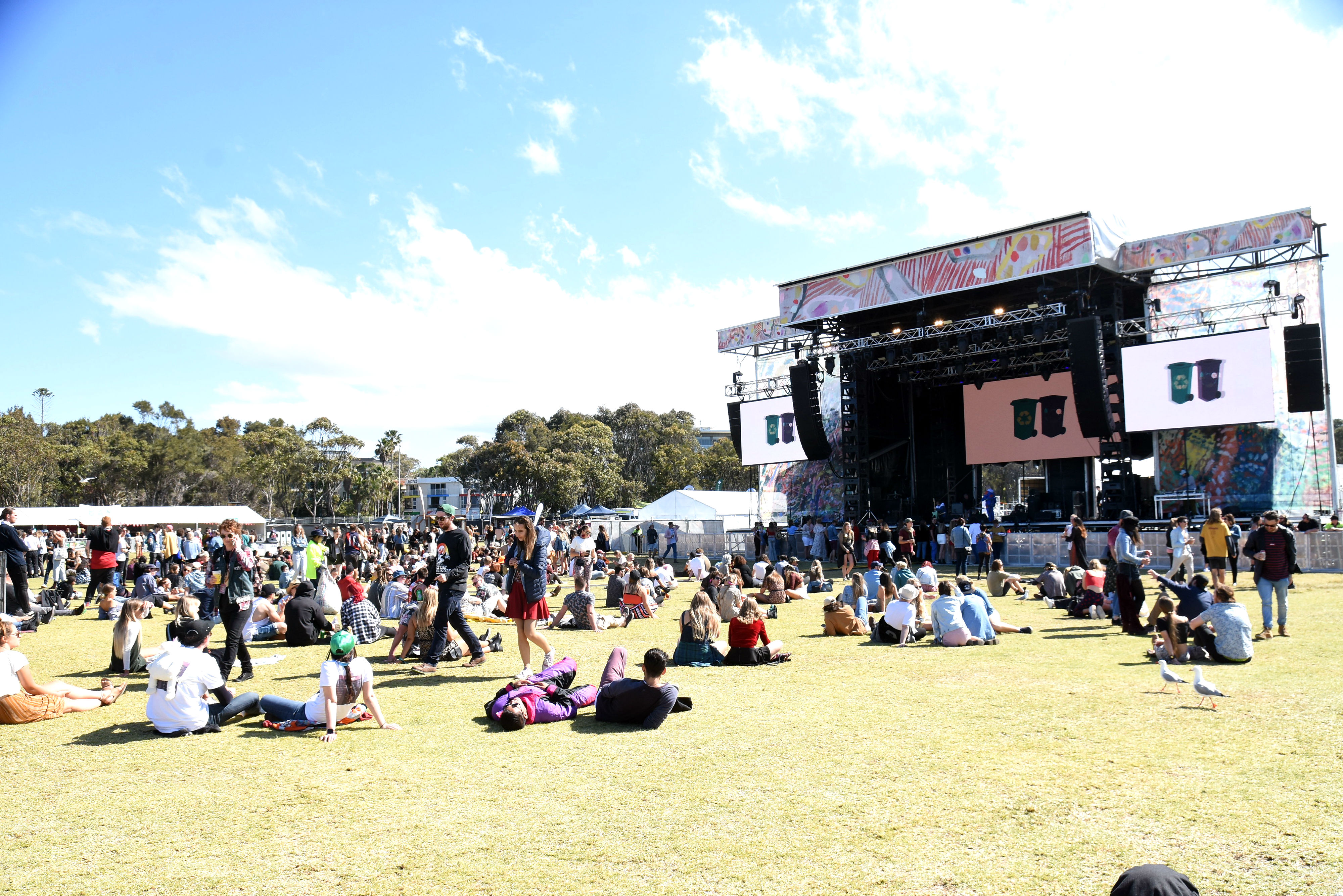 Having become one of the most talked about and anticipated Australian festivals, Yours & Owls was back, bigger and better over the October long weekend. Boasting a largely Australian lineup, the Wollongong festival proved its worth, and showed just why it is forever expanding.
Day one kicked off on the slightly chillier side, but that wasn't a deterrent for punters at all. Sister duo Clews, New York powerhouse outfit Boy Toy and Wollongong locals Space Boys drew in the crowds and set the standard unbelievably high for the following acts.
Back over on the main stage, Alice Ivy and Mallrat bounced their way around the stage for their entirety of their sets—both with such infectious and sunny vibes radiating over the park. Meanwhile, Jack R Reily and his five-piece band took over the RAD Stage with a collection of stunning and raw tunes.
Psychedelic Porn Crumpets were one of the highlights of the day, bringing their unique blend of garage psych and rock to the stage, which very obviously resonated so well with the crowd. Every person in the crowd was dancing and singing along with every song, making it such a fun and energetic atmosphere.
On the same stage right after, Tiny Little Houses smashed out a bunch of tunes from their debut album, 'Idiot Proverbs'—playing a super tight and polished set as the sun set behind the mountains.
Another highlight of the day was Luca Brasi, who put on an absolutely huge set, smashing out songs from a variety of their albums, which included a crowd sing-a-long to Clothes I Slept In. The Tasmanian outfit proved they know how to put on one hell of a fast-paced, heavy hitting show.
Ocean Alley pulled one of the biggest crowds of the day with their soothing, laid back melodies that seemed to hypnotise the crowd, while The Jungle Giants followed on with one of the most fun, danceable sets of the day.
Peking Duk closed out the main stage with an enormous amount of production, guest vocalists and fireworks. Although they seem to pop up at almost every festival, they still manage to outdo themselves every time, proving they were a perfect way to finish day one.
Day two started off a hell of a lot sunnier, which seemed to entice even more people to head down to Stuart Park early.
Didirri melted hearts early on the main stage with his stunning melodies, with Yahtzel heating things up straight after. Jack River and Alex The Astronaut kept the girl power alive, with both women absolutely belting out amazing sets.
Rolling Blackouts Coastal Fever were ramped up the energy for their set, pulling an absolutely huge crowd in the warm afternoon sun. Following on the same stage was Cub Sport, who were a highlight of day two. Tim's vocals are flawless and stunning, and reverberated throughout the entire crowd. Teamed with his effortless dance moves and the band's near perfect sound, this is one band I would definitely recommend you go and see.
Wollongong locals Hockey Dad seemed to be the most anticipated set of the day, and I was quite surprised to see them on the lineup so early, but nonetheless, they smashed through their set with the crowd screaming nearly every song back to them.
Methyl Ethel and Scabz both delivered huge amounts of fun, while Tropical Fuck Storm completely surprised me. Not having heard of them before, I was blown away by their funky fusion of psychedelic punk rock, as I think everyone else around me was.
Angus and Julia Stone took the main stage next, and as expected they delivered a stunning performance teamed with vivid backdrops. They mesmerised the entire crowd with their angelic vocals. Closing out the festival was Alison Wonderland, who put on a set that can't fully be described with words. The set was laden with fast and heavy beats, with Alison not standing still for more than five seconds at a time, constantly climbing up onto her decks and bopping across the stage.
The whole weekend was pretty close to being perfect, and once again proved why Yours & Owls Festival is one of the most loved festivals on offer at the moment