Live Review: Pendulum w/ Earthlings @ The Tivoli – 26.06.2018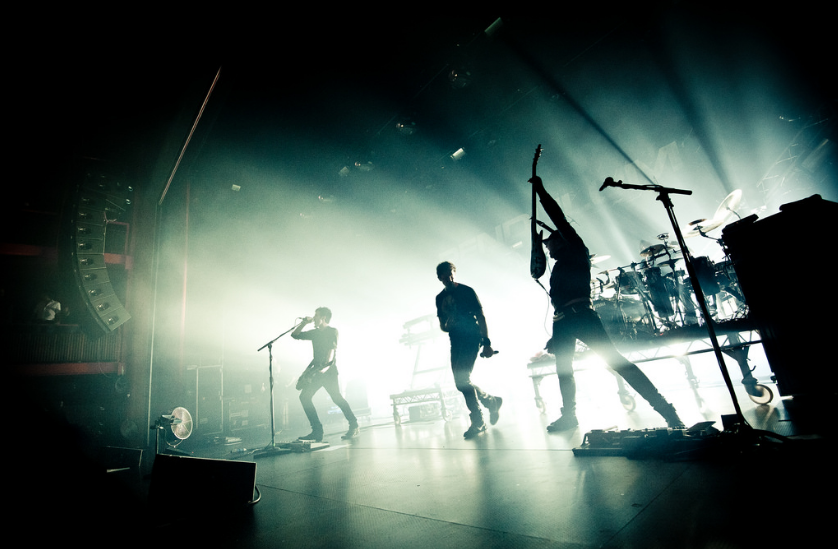 Embarking on their very first headlining live Australian tour in eight years, one of electronic music's most important and pioneering acts faced the stage once again. Pendulum—the electronic heavyweights—kicked off their tour in Brisbane last Tuesday night, at the Tivoli, Brisbane. Touring in celebration and support of their upcoming remix album 'The Reworks', it will feature refreshing interpretations of their biggest hits, personal favourites and remixes from Skrillex, Knife Party, Noisia and more.
Since initially forming in the city of Perth in 2002 by band members Rob Swire, Paul Harding and Gareth McGrillen, Pendulum have progressed and altered their sound since their first album release in 2005 to now. Due to the upcoming release of their fourth studio album, the drum-and-bass band performed all tracks from the album, excluding three we'll have to patiently wait to hear when the remastered versions are released this month. The release of this album is exciting news for Pendulum fans all around the world as we have waited many years for a new album to be released. It was safe to say it was no surprise that tickets quickly sold out for this highly anticipated show.
Supporting act for Pendulum last Tuesday evening was Earthlings. Earthlings is a multi-instrumental electronic grunge duo who have been writing, recording, and performing music together for over a decade. The pair, Ry and Wil, are energy-addicts who seem to put the performance back into live music. Formed in Brisbane, Earthlings brought to the stage an energetic atmosphere that radiated from the duo amongst their hometown crowd.
Opening track for the night was Forever Alive, released earlier this year. Effortlessly fading into track after track, it seemed as though each song they incorporated and mixed was previously mastered to every inch of perfection. When really, they were creating every detail of sound before our very eyes. Combining songs such as Break Stuff by the one and only Fred Durst of Limp Bizkit, and Jump Around by House of Pain, indeed demonstrated their musical ability to merge and seamlessly fade into, and blend two completely different styles and genres as one. Further on in the set, Earthlings transitioned into Humble by Kendrick Lamar to Somebody Told Me by The Killers. Earthlings showed Brisbane what they are made of when it comes to not only producing their sounds but smoothly transitioning songs from one genre to another to form a complimenting drum and bass beat.
As the lights faded and Pendulum appeared on the stage, the anticipation in the room was unreal. Opening up with Salt In The Wounds followed by Witchcraft, both from their 2010 album 'Immersion', was the perfect way to open for the night as these tracks are undoubtedly well-loved by all supporters. With video effects and flashing lights surrounding the stage, Pendulum created an atmosphere like no other. Every creative energy flowed through the music vibrations, with the support of the visual effects displayed as the backdrop, it added to the feeling and rhythm of every track performed. Third track for the evening was Blood Sugar from their debut studio album 'Hold Your Colour', with playing original tracks from their debut album, this certainly pleased the older Pendulum fans amongst the crowd. Continuing to create seamless transitions between one track to another, Pendulum then performed their fourth song for the night, Granite from their second studio album 'In Silico'.
As the crowd continued to swell at what seemed like full capacity, it felt as though Pendulum had never really left. To see the biggest pioneers in the drum-and-bass music community as well as the overall electric dance music scene live was an unreal experience. Pendulum inspires some of today's biggest and well-known musicians. It is always so notable when music giants re-emerge the way Pendulum have.
Music set-up like no other, Pendulum frontman, Rob Swire, remained impassive as ever on stage commanding his custom-made Ztar and keyboards with precision and a refined sound. Transitioning into two more tracks from their 2010 album 'Immersion'  The Island: Pt I (Dawn) and The Island: Pt II (Dusk) was an explosion of sound, with flares of colour projected onto the visual effect screens. It was a surreal evening. Continuing to perform Showdown and 9000 Miles kept the crowd hype and energy high in preparation of their set for the night. My favourite track for the evening was Slam—being one of the first ever songs Pendulum ever released,. They flawlessly performed this fast-paced manic track with composure, yet didn't lose the true intensity of the song.
Towards the end of Pendulum's set, they continued to have the crowd constantly jumping on their feet, singing along to every sound and lyric. Propane Nightmares and The Tempest were then performed with such intense energy but still highlighted Rob Swires' vocal ability and style. Transitioning into a cover of a Knife Party track Begin Again from 'Abandon Ship', really had the crowd excited to dance and move as much as they possibly could. Knife Party, an electronic house duo consisting of Pendulum band members Rob Swire and Gareth McGrillen, only created more and more of the feeling that we may have one of the greatest drum-and-bass musicians of all time before our very eyes, inclusive with one of the greatest drum-and-bass bands in existence. Tarantula began to radiate through the speakers, as the essence of reggae in this track came to life through the vibrations, it felt as though it was a whole new genre of music for Pendulum when in reality the song is 13 years old. It was clear Pendulum's music has not aged at all. The evening continued with the album titled song, Hold Your Colour, with what felt like the final track for the evening, all of us held on to every last sound wave they produced.
As the performance came to a close, the crowd demanded an encore of the ABC News Theme Remix, loud chants of "ABC" echoed throughout the Tivoli. Pendulum then re-emerged onto the stage with the one and only ABC News Theme, but of course, remixed to perfection. The closing track for the evening was one of their most notable and well-loved songs Watercolour. The love and support for Pendulum was evident through the excitement and anticipation that was in the room on Tuesday night. Fans will certainly be holding their breath for Pendulums next return to Australia.