Live Review: Vance Joy w/ Gretta Ray @ The Forum – 22.11.2017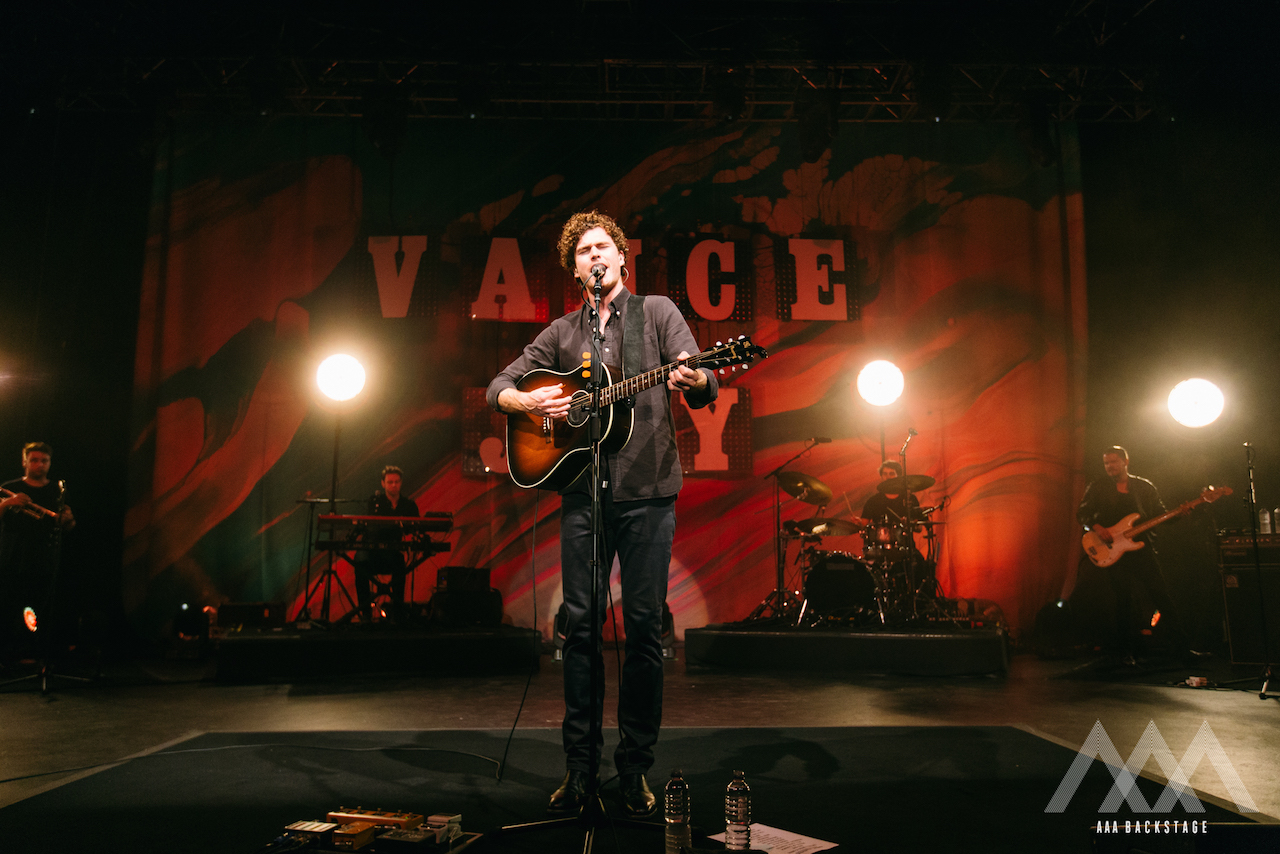 There's an odd familiarity with Melbourne's golden boy, Vance Joy. Whether it's his floppy grin, curly hair or propensity for catapulting folk tales into number one hits, Joy's charming relatability is a must-see on stage. This week, die-hard fans packed into The Forum to watch their old friend play some new tunes from his upcoming album, 'Nation of Two.'
Wearing a loose, white t-shirt Joy opened his set with the crowd favourite, Fire in the Flood and was instantly greeted with a roaring cheer. The Forum is known for holding large audiences, but after watching patrons sardine themselves along the entry-way wall just to catch a closer glimpse of the main stage, it seems Joy may have taken it to a new level.
Backed by a drummer, keyboardist, two guitarists and a saxophone player, Joy somehow managed to keep the stage intimate as he played his second song, From Afar. Describing it as, "loving someone you just can't get your hands on… and accepting that you'll be loving them from afar," this was the first of many sweet little descriptions that Joy would continue throughout his set.
Georgia was up next and managed to elevate the energy of the crowd, while Red Eye kicked the set's emotional octave up or notch or two. Followed by newer songs Call If You Need Me, Lay It on Me and Like Gold, Joy's trade-mark vocal tremble was in full-swing and gave heed to what would be a very successful third album. Keeping the audience more than entertained, Joy also laughed off his clumsy mistake during a guitar riff in Lay It on Me.
Tapering off his set, a high-energy cover of Lionel Richie's All Night Long catapulted the audience into dance-euphoria, which was only elevated by Joy's slow transition into Sorry by Justin Bieber. A surprising choice for his folky self, Joy's cover was a highlight of the set and managed to shake out some of the emotional tension from previous songs.
Closing up with crowd-favourite, Riptide it was clear that by the end of the show even the most passive of audience members had been won over. Still, seemingly surprised by his own stardom, Joy capped off his goodbyes by exclaiming, "Don't you guys just love Melbourne? I just love being here." And I think it's safe to say, we just love having you, Vance Joy.