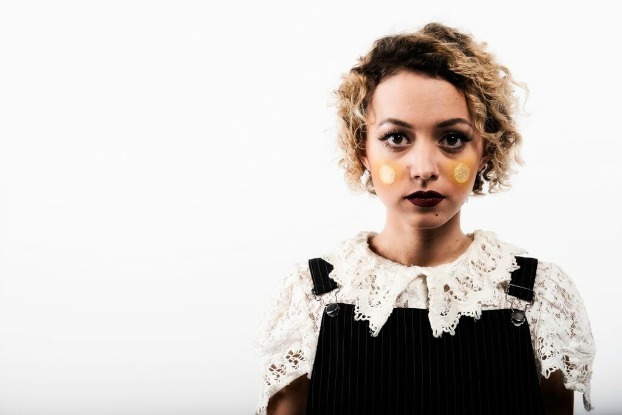 You're only 21 but have been recording and releasing music since you were 14 years old. How would you say has your sound has developed over the past 7 years?
I think it's gained more of a direction over time. I didn't really know as much what I wanted, back then, I just knew I wanted to play music. Like with anything, when you do it more and more you learn more. But I've also been able to meet a lot of amazing people, who I can call my friends now, who have great creative energy and I think that has changed the way that I see music.
Last year was a big one for you. You released and toured your most recent album, 'PANACEA', as well as took to the stage at Bluesfest, Jungle Love and Falls Festival. How did you find these live experiences?
They were unreal. Bluesfest was one of the highlights for me, as well as playing at the Enmore in Sydney was amazing. Last year was a great year for live music and got to be apart of it.
You're about to take to the stage again, as part of QLD Music Festival and then as a support act for Brisbane-born Bernard Fanning's National Tour. What has your experience as an emerging, young artist in QLD been like?
I think It's just as hard anywhere you are doing this sort of creative stuff, but there have been a lot of really supportive people in Brisbane. I think a lot of the more established artists in Brisbane, they'll see someone who is trying to do a similar thing and they'll reach out to help you out, which is really nice. I don't know what it's like anywhere else in Australia, but I like that about Brisbane.
Is that how you got in contact with Bernard Fanning, did he reach out to you?
I don't exactly remember how that happened, haha! I think he had a show that he was putting together and he asked me to be apart of it. That was really exciting, getting a call from him. I was like, "Oh okay, it's Bernard Fanning, on my phone, cool".

One of QLD Music Festival's events that you'll be performing at- the Currie Street Music Crawl- will transform Nambour's main street into a free music festival showcasing 20 musicians and bands from QLD. Have you had any experiences with any of the other artists performing at the event?
I pretty much know most of the people who will be there, except a few. I'll be excited to hear some new people and to meet them. That's pretty much all that I do, see people perform and then tell them, "that's amazing, let's be friends."
Will you be performing any new music for us at QLD Music Festival?
I'll be doing a solo set at the Currie Street performance, which is something I haven't done in a while. I'll be performing some old song and also some new songs, which should be interesting. I've been playing a lot of electric guitar and keys lately, so the set will probably be a mix between acoustic and electric.
Before you go, let's talk about your style. It's fun and quirky, yet feminine and seductive, all of which only adds to the theatrical element of your musical. But you've said previously that it's important not to try and be something you're not. How do you make sure what you're doing stylistically is true to yourself?
Oh, that's a good compliment. I usually go for something over-the-top. I like watching performances where you get snapped out of the headspace that you're in and you're like "oh wow what's happening?". So in the outfits and makeup that I choose to wear, I want it to add to that almost not-real aspect of the performance and make it feel slightly over-the-top. I really love those flamboyant, extreme versions of reality.
Sahara Beck will be performing live at Queensland Music Festival events on Friday 14 July and Saturday 15 July. For more details on the event, see HERE.