Album Review: The Jezabels 'Synthia'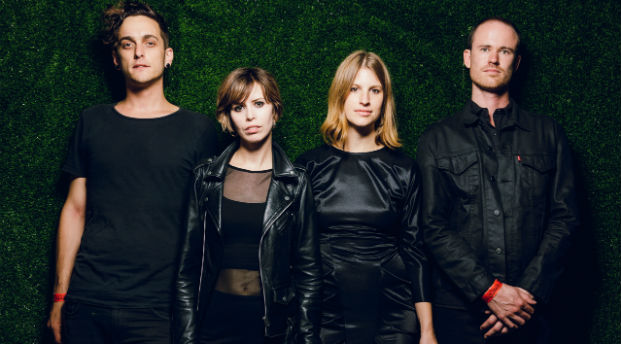 Time to get jezzed up and get your jez on, because their new album has arrived! Since 2007 the band has seen great success on the indie-rock scene. They've now returned, darker and better than ever with 'Synthia.'
The album was written and recorded with long-time producer Lachlan Mitchell in the 18 month break The Jezabels enjoyed after concluding their tour of second album 'The Brink.' Whilst their second album received global acclaim, the band has taken it up a notch with 'Synthia.' Heather Shannon, the keyboardist, has incorporated a new arsenal of vintage keyboards which has enriched The Jezabel's already accomplished sound. Mitchell says "the sound keeps growing."
"In 'Synthia' the band shuffles through messages of sex, feminism and identity in a more earnest monologue than ever before."
"Sam's guitar has transformed into this big, cinematic thing enveloped by effects and washes… Nik is the guy that gives the power and the intricacy to all of that. He's always time-shifting, thinking up new parts to suit the big picture," Mitchell said.
This album has a spectacular spectrum, ranging from sex to sorrow. Tracks veer from the electronic pelting, and Wombat's-esque sound of My Love Is My Disease, through to the symphonic swells and soaring vocals of the ballad Flowers In The Attic. Sonically, the album is fresh and diverse as it explores a range of genres and new instruments, particularly synthesizers. However, what is also striking in the way the band has chosen to relay their message.
In the past The Jezabels have been somewhat of an enigma. It has always been up to their listeners to decode their hidden messages that were disguised in mystery and theatrics. But, this time the band made a conscious effort to be more upfront. Now, rather than second guessing your interpretation, the intentions of the band are clear, and insightful. In 'Synthia' the band shuffles through messages of sex, feminism and identity in a more earnest monologue than ever before.
Lead single Pleasure Drive is soaked in sex appeal and yearning. Frontwoman Hayley Mary's sultry vocals are accompanied by an unsettling keyboard hook and bassline, as she utters "all I need is one more number and I'll make you mine". It's eerie and arousing all at once, which is reminiscent of the bizarre emotional combinations on this album that strangely compliment each other perfectly. Another star on the album is the song Smile. It showcases Mary's phenomenal lower register and an infectious riff that'll be stuck in your head for days. The track is a commentary on the male-dominated rock scene in Australia and acts as a catalyst to bring a female voice to the fore.
'Synthia' will rock listeners to the core with its honest, yet thematic presentation. It's catchy, confronting, and demonstrates the diverse capabilities of the band.
Unfortunately it may be a while before the next Jezabels showcase their new album. Weeks before 'Synthia's' release the band cancelled their world tour, while Shannon undergoes treatment for ovarian cancer. Our thoughts are with her, and we hope she makes a rapid recovery.
Read our interview with drummer Nik Kaloper HERE