Client Liaison Announce Debut Album, Get Wild In New Video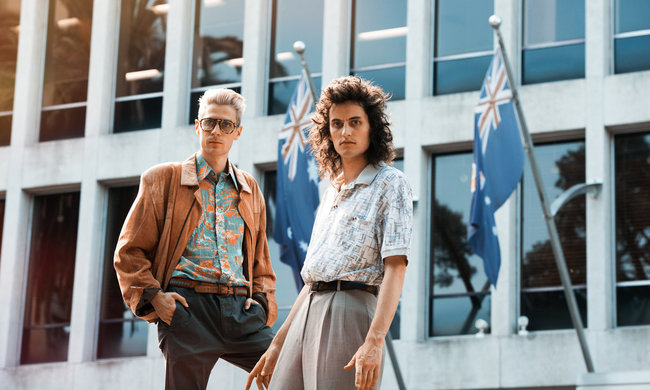 Everyone's favourite pastel-wearing business dudes Client Liaison have announced the release of their debut album 'Diplomatic Immunity', and to celebrate the announcement they've shared the music video for their latest single Wild Life!
The duo began gaining attention with the release of their 2014 eponymous EP, and charming crowds with their nostalgia-vibed chilled-out tunes. This year the band released World Of Our Love, which has received almost a million plays on Spotify since April.
The video for Wild Life begins with a very 80s news station, before showing a story with the duo being interviewed by reporters about taxation. The music video then transforms into a variety of different strange situations, with an investigator shown trying to catch the boys, a weird tropical casino (complete with exotic birds), the duo chilling in an office surrounded by outdated technology, girls in glittery ATO jackets, and of course lots of matching outfits and dance routines!
Director of the video Tim White says he was thrilled to make the video to commemorate the Australian Tax Office.
"As a director, tax avoidance is an important topic I've wanted to weave into music videos for quite some time. Unfortunately, there aren't a lot of artists that like to draw attention to their accounting practices. Luckily, Client Liaison were excited by the concept," says White.
The band's debut album 'Diplomatic Immunity' (which will feature singles Wild Life and World Of Our Love) is set for release on the 4th of November, check out the video below to see for yourself just how weird things get!