GUEST PLAYLIST: Hollow Coves – "Along The Coast Playlist"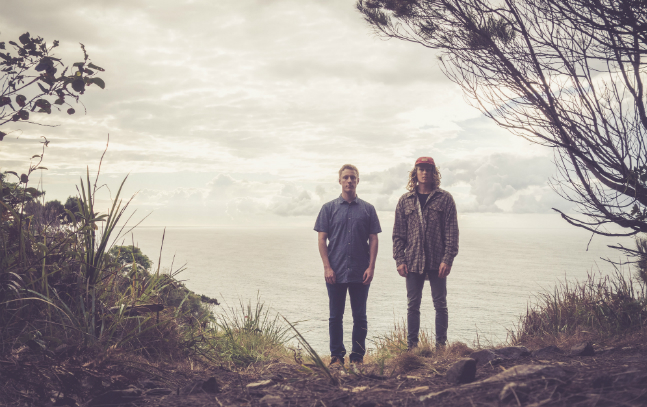 Wanderlust musicians Ryan Henderson and Matt Cairns have been crafting beautiful folk tunes since 2013 when they met through mutual friends and a shared love for acoustic music and travelling. With their debut EP set for release in just a couple of weeks, we asked the duo better known by Hollow Coves to curate us a dreamy playlist perfect to crank while driving along a coastline.
Check out the sublime playlist below along with their latest music video and tour dates supporting Woodlock!
words by Ryan Henderson
Asgeir – Summer Guest
Asgeir, from my heart I thank you friend for this precious melody and for these sweet and pure tones.
Ben Howard – The Fear
This song is just such a great tune. Matt and I have been fans of Ben Howard for a long time. His music is always a go-to on road trips.
The Paper Kites – Kiss the Grass
These guys are another favourite of ours. They always manage to find the right balance of simplicity. It's just so easy to sit in the space that they create.
Lord Huron – She Lit a Fire
We only recently discovered Lord Huron and have been really digging his stuff lately. Really good vibes!
Angus and Julia Stone – Mango Tree
I had to add these guys to this list. They actually played quite a large roll in my musical life. That's a story for another time though. This song is an all time favourite!
Bombay Bicycle Club – Always Like This
We like just about everything Bombay Bicycle Club has ever done. From the stripped back raw indie folk, to indie rock, to alternative electronic… they don't seem to be able to make a bad song. The bass line and duelling guitars in this track make for one hell of a jam.
Day Wave – Drag
Matt (Cairns) introduced me to these guys. It's not something I would usually listen to but it is great music for cruising on the road.
Benjamin Francis Leftwich – Atlas Hands
This track has great melodies and beautiful acoustic guitar. This one has been a favourite for a while.
Bon Iver – Towers
Justin Vernon is undeniably a genius. We are big fans of what he does (even though we may not always entirely understand it).
Fleet Foxes – Ragged Wood
I could not be more excited by the news that there is a new Fleet Foxes album on the way! This song has so much energy. Can't help but feel that "the world is alive now" when listening to it.
Dustin Tebbutt – The Breach
Another fellow Australian, Dustin's music is something we have been following ever since this song first met our ears. His falsetto tones and beautiful melodies are captivating. This song is just constructed so well.
Ezra Vine – Celeste
This one is a bit of a fun one. Always a good one to help pick up the spirits after a few too many hours on the road…
Fleet Foxes – Quiet Houses
I just love Fleet Foxes. Did I mention they are releasing a new album soon?
Fleet Foxes – Grown Ocean 
Fleet Foxes for days!
Kaleo – All the Pretty Girls
This song was one of those songs that got put on repeat for a long time when I first found it. It has such a great feel and such beautiful falsetto.
Ben Howard – The Wolves
Ben Howard is another man who doesn't seem to be able to create a bad song. Plus he is a wizard on the guitar!
Bon Iver – Holocene 
The guitar tones and atmosphere he creates in this song are next level. It's so easy to find yourself completely entranced by it.
Dope Lemon – Uptown Folks
This song is groovy!
Henry Jamison – Real Peach
This guy is another one that I have only just discovered recently but I will be definitely following what he does. Really cool sound
Bombay Bicycle Club – Whenever, Wherever
This song takes you on such a wonderful journey of sounds. You just need to sit back and enjoy the ride.
Hollow Coves
(supporting Woodlock)
FRI 27 JAN 27
Beach Hotel, Byron Bay
SAT 28 JAN
The Woolly Mammoth, Brisbane
THURS 2 FEB
Brass Monkey, Cronulla
FRI 3 FEB
Newtown Social Club, Sydney
SAT 4 FEB
Small Ballroom, Newcastle
SUN 5 FEB
Rad Bar, Woollongong (Under 18)
SUN 5 FEB
Rad Bar, Woollongong
Get Tickets HERE