Yours And Owls Boasts One Of This Year's Best Festivals Lineups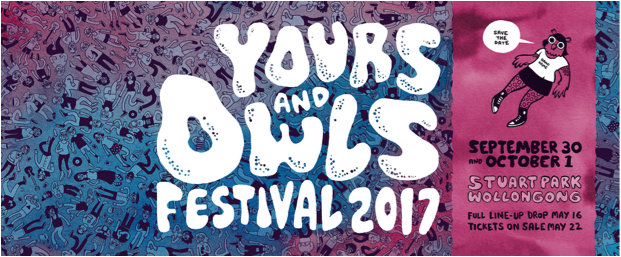 Wollongong, you lucky dogs! Yours and Owls Festival has launched its 2017 lineup and, boy, is it mammoth. Topping the bill is Texas' post-hardcore greats, At the Drive In along with national treasures the Presets, Illy and Dune Rats.
The beach side town has a lot to look forward over its two day stint at Stuart Park with its class of 2017 being its best yet. Over September 30 and October 1, other acts joining the Wollongong festival bill is All Day, Northlane, Safia, the Preatures, Bad//Dreems, A.B. Original, Alex Lahey and so many more!
Other international stars hitting the stage is North American favourites AJJ, Le Butcherettes, Sorority Noise, The Orwells and Electric Wire Hustle who are crossing the ditch from New Zealand.
Showing extreme genre diversity and its lineup, Yours and Owls has always appeared as one of Australia's most recognised and eclectic festival gracing the scene.
Tickets hit digital stores 22 May so place that reminder on your phone because Yours and Owls 2017 will be this year's hottest ticket! Scope the full lineup below.
Yours and Owls 2017 Lineup
At The Drive In (US)
The Presets
Illy
Dune Rats
All Day
Northlane
SAFIA
The Preatures
Bad//Dreems
A.B. Original
Alex Lahey
Ali Barter
AJJ (US)
City Calm Down
Confidence Man
Cosmo's Midnight
Crooked Colours
HOLY HOLY
Le Butcherettes (US)
Montaigne
Northeast Party House
Sorority Noise (US)
The Orwells (US)
Trophy Eyes
Bec Sandridge
Cash Savage And The Last Drinks
Donny Benet Showband
Electric Wire Hustle (NZ)
Ghost Wave
Gold Class
Ivan Ooze
Major Leagues
Moonbase
The Pinheads
Horror My Friend
Ruby Fields
Slum Sociable
TEES
Totally Unicorn