Skegss Chill Us Out With Spring-Time Jam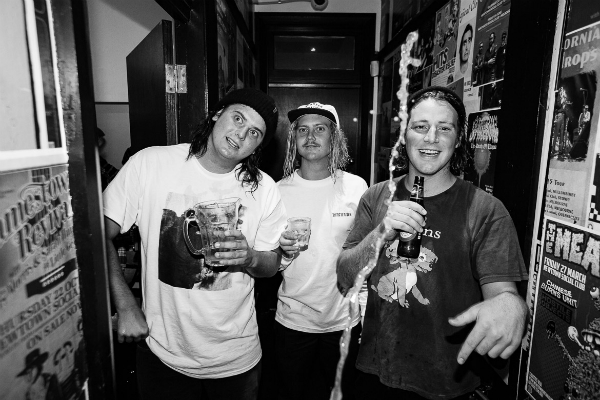 Good-time rockers Skegss just dropped a late addition to the sweetest tracks of the year with Spring Has Sprung. Coming from their forthcoming 'Holiday Food' EP set for release in February 2017, Spring Has Sprung has all the chill vibes SKEGSS always deliver.
Opening with only a few bars of guitar before kicking into full-blown chillax, Spring Has Sprung doesn't have any need to change from maximum relaxation. Despite being all about the Spring-time joy, listening to Spring Has Sprung can't help but garner images of sipping on a cold frothie during the summer under the Jacaranda with cricket on the telly.
The chorus is a classic sing-along of "oooh's" that are sure to get a stir during the coming months at any Skegss live shows. Before one final addictive shot of the chorus, Spring Has Sprung breaks down to a tender spotlight on the vocals building up to a colourful explosion of choon.
Skegss will be heading out to support the new tune with a sizeable tour (including debut appearances in New Zealand) alongside festival appearances. Dates kick off in January, giving you plenty of time to master your sing-along!
Check out the dates below!
SKEGSS Summer Tour 2017
SAT 3 DEC
Wonderland Festival, Perth
THU 5 JAN
The Tavern, Forster
FRI 13 JAN
Transit Bar, Canberra
SAT 14 JAN
Uni Bar, Wollongong
SUN 15 JAN
Captain's, Bateman's Bay
THU 19 JAN
Miami Shark Bar, Gold Coast
FRI 20 JAN
Flinders Social, Townsville
SAT 21 JAN
The Grand, Cairns
WED 25 JAN
Prince of Wales, Bunbury
THU 26 JAN
Studio 146, Albany
FRI 27 JAN
Hooch @ Players, Mandurah
THU 2 FEB
Valhalla, Wellington
FRI 3 FEB
Whammy, Auckland
SAT 4 FEB
Yot Club, Raglan
SUN 5 FEB
Totara Street, Mt Maunganui
FRI 10 FEB
Party in the Paddock, NSW
SAT 18 FEB
Mountain Sounds Festival, NSW
Get Tickets HERE