"I wanted it to be absolutely nothing" Squaring Circles Embrace Experimentation & Anonymity On Debut Album 'Motion'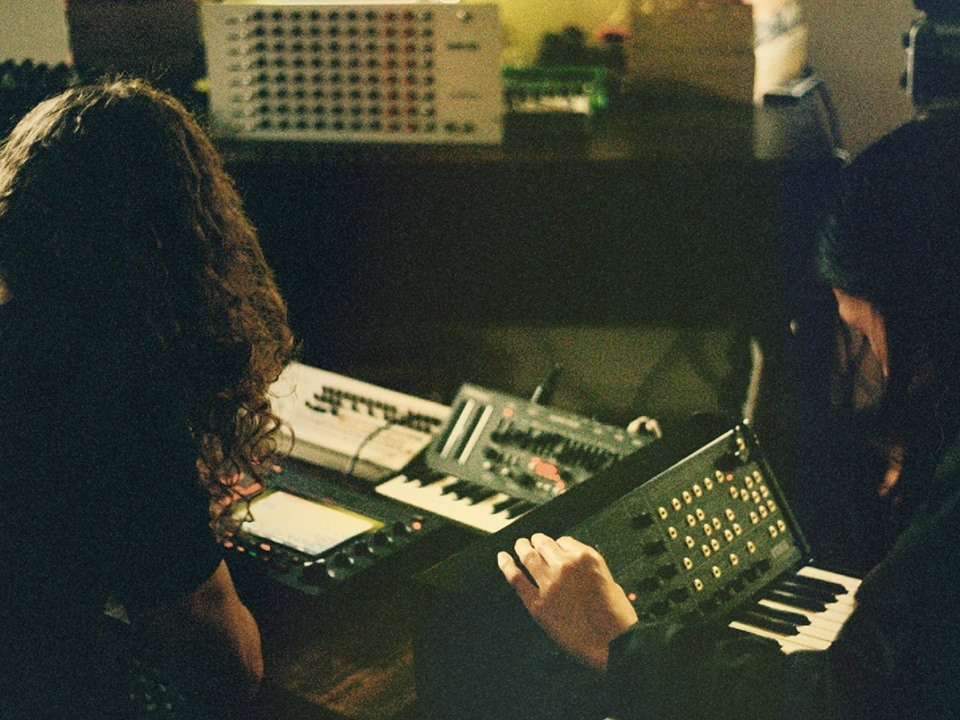 It's been almost a full year since Squaring Circles arose from the shadows. The Melbourne group, veiled in mystery and anonymity, were resolutely experimental. Information about the band was scarce, therefore it was up to the music to do all the talking. What Squaring Circles delivered was Anima—a resounding punch of warped yet immediate psychedelia that perplexed and entranced. It's this genre-agnostic music and complete unknowing of the band that has made them all the more intriguing.
A handful of more singles were released, though exact members of the band and their modus operandi continued to scratch music journalists' heads. Skip forward to April 2019, Squaring Circles' debut album has arrived. 'Motion' imbues years and years of hard work and sacrifice, captured into one forward-thinking and creatively dense piece of musical art. As mentioned in the album's title, the album springs forth a massive variety of musical ideologies and theories at a rapid rate, though it's hyper-condensed into eight equally mind-bending tracks.
Not only were the band's deep compositions, infectious grooves and delightful soundscapes pleasing to me, but it was the aforementioned inconspicuous nature of the group which lead me further down the rabbit hole. That wall was somewhat broken when I got on the phone to one of the members, Brendan Anderson. After our almost 30-minute chat, however, I still came away not precisely knowing who was in the band or how it all operates. That's what Brendan wanted me to believe—Squaring Circles is less about personality and all about the music.
"I wanted [Squaring Circles] to be absolutely nothing," said Brendan. "People don't know if we're a band or if it's one person, two people, if there's more people."
RELATED: Charlie Collins walks us through her forthcoming debut album HERE.
Brendan Anderson is formally of Lurch & Chief—a Melbourne alt-psych outfit who rose to fame with their 'Breathe' EP, which seemingly was their last. Brendan found the itch to create more expansive and experimental music. In the beginning, Squaring Circles was built off spontaneity, with a lot of the songs being completed in record time.
"We worked on this record for like a year, between early 2016 to early 2017, and then it was finished in March 2017," mentioned Brendan. "It was fully mixed in March so we've actually been sitting on this record for like two years."
With 'Motion' sounding so futureproof, it's hard to believe the music on the record is already two years old. However, against Brendan's better judgement, he thought it was necessary to release this brand of altruistic and flashy psych-jazz through a label—to ensure it's heard by the right audiences and not dismissed as quickly as it was put together. Squaring Circles ended up finding a good home at Best & Fairest records, who released the album late March.
For those new to Squaring Circles' music, it won't be for everyone. 'Motion' is intended to be a singular listen—a proper album that journeys through shifting moods. This long-form kind of psych-rock might seem intimidating, but there are moments of pure ecstasy and euphoria on the album. The band's tonality has been there from the beginning, it was just about condensing all the ideas into a purposeful collection.
"It was pretty natural so it wasn't too hard striving to get the aesthetics, it came pretty quickly in that," confirmed Brendan. "It's just about finding the personality boundary of the music in the place of the music and then once that initial pocket was captured, it was quite easy and natural from there."
REALATED: We break down the trend of the new Tame Impala music HERE.
There are moments of, what seems like, intense improvisation. That's just what Squaring Circles want you to believe. Even at their most jam-like—for example in the elongated Dissolve—there's still a method to the madness, with Brendan explaining their processes of turning experimental, off-the-cuff moments into something systematic and calculated.
"Even trying to get into that spontaneous moment was super methodical," detailed Brendan.
"When our songs formed, we had to adhere to the song from there on in and you refine the song by zooming in closer. And that's somewhat difficult, to tap into that spontaneous place."
Another one of the more impenetrable moments on the album is Trials—the most frantic track amongst the eight. It's positioning on the album is crucial as well, centred between Movement and Threshold. Trials plays around with open space and messes with how audiences are meant to digest it.
"It's meant to be so layered, so ungraspable, in a way that you're trying to figure out what's happening but you can't really understand so you just let go," expounds Brendan.
"You let the music hit you more emotionally opposed to, a lot of people when they listen to music they just try to dissect it and try to figure out what's there and all that sort of stuff. So it's trying to stop people from doing that."
RELATED: Why Flume's deep experimentation is a good thing. Read HERE.
Brendan's overtones of sequencing reinforce the album's solid-state journey. Though it was unintended, the album's narrative became apparent over its many years of production. His lose of perception to a song's individuality and rather the process of making it a body of work was formed.
"Going into a space and coming out of it, and there's a certain confrontation needs to take place before you can fully integrate into the space," described Brendan.
"This album is meant to mimic that cycle, and a lot of this spontaneous head space can be evoked but following a similar method. It was overtones and undertones of the story, of the album coming together, it was a big parallel to a lot of other things that were involved in making the album. Also, involved in approaching head spaces is where the music came from."
Drilling in deeper on the song's meanings, the album focussed quite heavily on introversion and dissonance. Giving an album walkthrough to LNWY, Brendan explained the album to be that of juxtapositions against human cycles. Confirming during our interview that Brendan was a massive introvert himself, it gave levity to 'Motion'. The music lends itself to a "headphone listen" thanks to its obtusely dense textures, layers of instrumentation and insane attention to detail. In a matter of speaking, this is introverted music made by introverts.
What was his process of ending introversion? Performing live, of course. Squaring Circles made their live debut at Melbourne's Boney on Saturday 2 March with a live AV set—the group promised a "a sensory overload, this performance will see the group branch out of their normal music sphere and delve into the electronic world alongside their specially curated visuals." For Brendan, this process was both calming and nerve-wracking.
"We wanted to mix things up a little bit where we wanted to do a live techno set which was totally not in our genre at all. But we went to interpret the songs in that way and we tried to do it all live," clarified Brendan.
"To do that sort of show it was the first step in to extroversion. It's kind of hard, you can't control this project too much."
'Motion' by Squaring Circles is out now via Best & Fairest.