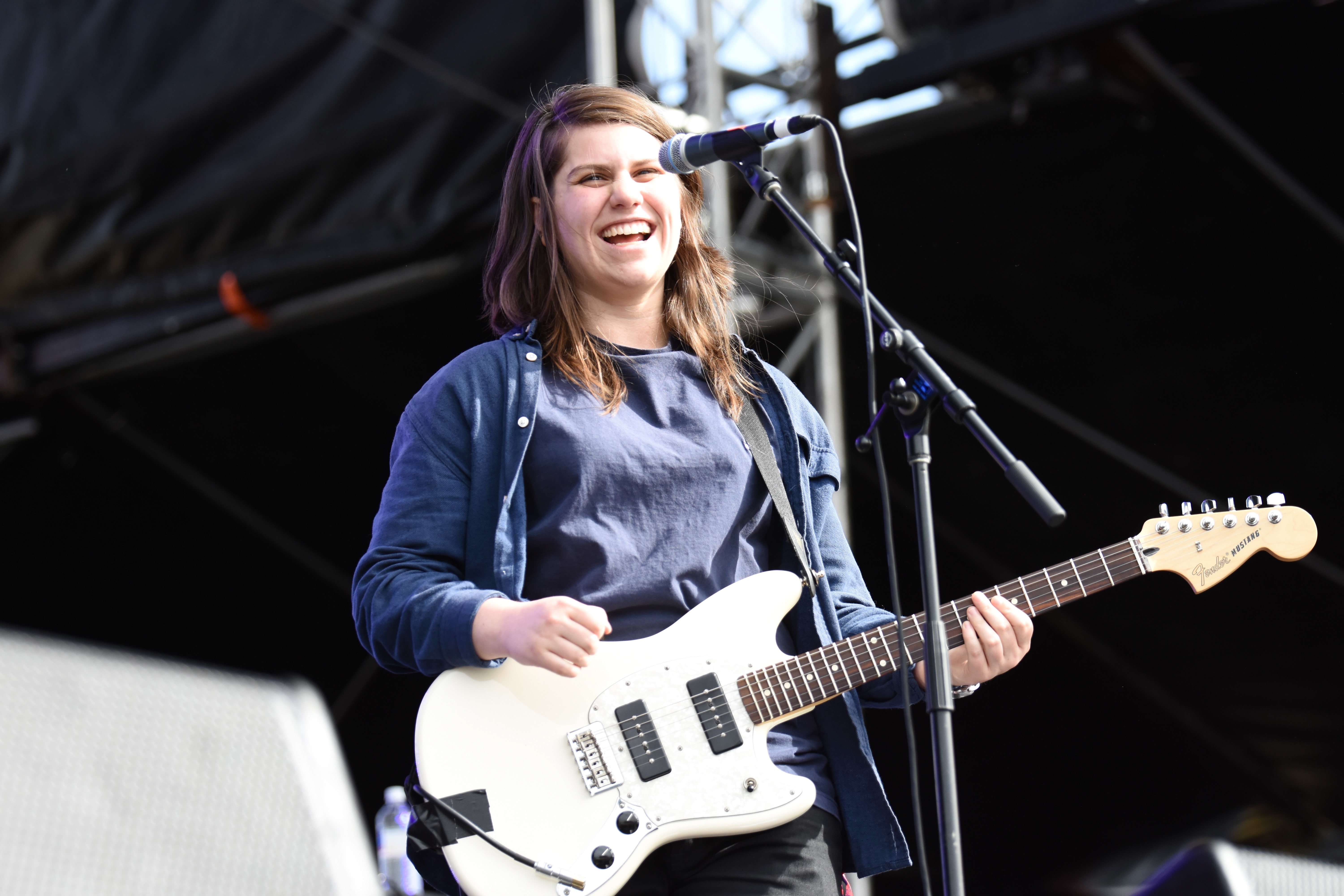 After making waves with her 2016 debut EP, 'B-Grade University', Melbourne artist Alex Lahey has been on the up and up ever since. With her debut album, 'I Love You Like A Brother' set for release in just days, and a huge end of year tour looming ahead of her, Alex Lahey took some time out of her seemingly non-stop schedule to have a chat with us at Wollongong's Yours & Owls Festival.
Firstly, congratulations on the album, it's going to be released pretty soon. How long has it been in the works for?
It's hard to say when I first started for it, because being a first album, I was never like, "I'm going to write an album," it was more that I had so many songs so it's hard to exactly pinpoint when that process started. But in terms of the recording process, I went into the studio in February and was sort of going in-and-out and we delivered the album on the 1st of June. So it was fairly quick, and we were touring in between too, so it was actually quite a spread out process. In the periods we were recording it was very immersive, but as a whole it wasn't an immersive period of time.
Is there much of a difference sonically with your new music compared to what we heard on your last EP?
Yeah, at least I'd hope so. I would just hope that there is some growth, and I feel like I'm a better guitar player now than when we did the EP and I think I'm more mindful of my voice in the studio. I was definitely far more involved in the recording and pre-production process, so I think I've learned a lot between recording the EP and recording the album, so I would hope that it shows some sign of development.
Did you take guitar lessons or did your playing just naturally progress from playing more?
I just taught myself originally. I mean, I learned music formally, but I only ever taught myself guitar. But it's all transferable, it's like languages; like once you know a language other than your own it's pretty easy and the skills are there.
You've got a massive tour coming up, are you looking forward to being back on the road?
Yeah I'm really excited. It feels like today is the first day of it all, but it feels really good.
Have you played any of the new songs live yet?
Yeah, a lot of the songs on the album we've been playing at shows for a little while now, and we've been doing heaps of rehearsals over the past week to get the rest of the songs up to scratch, just to make sure our backline is sorted so everything will run as smoothly as possible. So the tour kicks off officially on Wednesday, so this like a bit of a farewell to the old music.
You're pretty much on tour until mid-December, does it get hard being on tour for so long?
I guess I'll find out soon; I think I'll be right. I'm feeling super prepared and I think having toured in Australia and doing a few short trips overseas earlier in the year, I think it's a really good introduction to see what works and doesn't work for you. I don't feel like I'm being thrust in the deep end, I do largely know what to expect and I'm prepared for that.
Do you have anything planned for after the tour or are you going to take a bit of a break?
I get home and I'm going to see my cats and Mum, and I think then I'll just hibernate until Christmas and Falls Festival, then January is largely off as well. It's kind of like one of those things though, where you think, "I've got time off, I should go away and do something," but I will have just been away for months; so I think I'll just need to stay away from everything for a little while.
I wanted to ask you as well, what's the go with the Smashmouth tweets?
I have no idea! I'm down with it, it's so sweet of them. They've had a very, very successful career and it's so nice for anyone to tweet about your stuff, so it must have come from a pretty genuine place, so I'm very honoured and grateful for that. I don't really know what they were trying to say in the tweet anyway, but it's still there so I'll happily take it.
Alex Lahey kicked off her national tour last night with Sloan Peterson. Scope the full list of dates below.
Alex Lahey Live Dates
WED 4 OCT
48 Watt St, Newcastle
FRI 6 OCT
Oxford Art Factory, Sydney
SAT 7 OCT
The Zoo, Brisbane
WED 11 OCT
Karova Lounge, Ballarat
THURS 12 OCT
Workers Club, Geelong
FRI 13 OCT
Fat Controller, Adelaide
SAT 14 OCT
Republic Bar, Hobart
WED 18 OCT
The Corner, Melbourne
THURS 19 OCT
The Rosemount, Perth
FRI 20 OCT
Mojos, Fremantle
TICKETS