AAA Backstage's Guide To Splendour In The Grass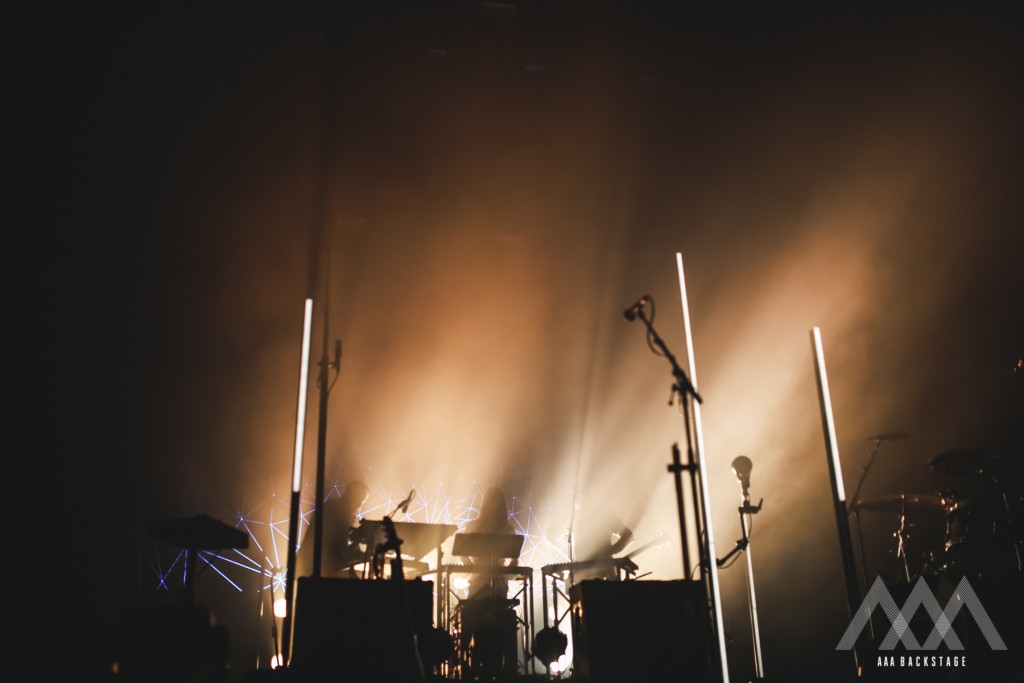 It's just over a week until Splendour in the Grass open its gates and we get to stroll through that lush amphitheatre yet again. For some, Wednesday is the first day where some travelling campers get to pick their spots early and crack the first drinks of Splendour 2018
With not long to wait, and the set times officially in our hot little hands, it's time to start mulling over who to see. Which acts are gonna be making your Splendour experience this year? Will you be sticking to the Amphitheatre Stage to catch some of the hottest internationals? Or laying low in the dim corners of the G.W. tent? Either way, with a lineup a solid as this year's, you're guaranteed to have a good time. AAA Backstage is here to dissect some of the better acts that are well worth your time at the festival.
Alta
Only playing a handful of live shows this year, ALTA are a hot ticket item. We instantly fell in love with Now You Want Me—their glossy and textured electro-pop affirmation. The duo are incredibly tight and mastered in their electronic skills. Keeping a 4/4 beat, it's so easy to dance to. Teetering somewhere between house and left-field pop music, ALTA are sure to get you moving in those early afternoon hours of the Mix Up tent.
Two People
Splendour in the Grass will be vey first time Two People will hit the stage. Consisting of Phoebe Lou and Joseph Clough of Snakadaktal, the duo have been carving glistening pop moments for a couple of years now. I'm Tied, To You, however, is their opus piece. The ebb-and-flow of their pulsing synths and arpeggiated and pitched saxophone chords is pure magic. It conjures moments of airy, starry nights and is sure to be a perfect backdrop for the North Byron Parklands.
No Mono
Easily one of 2018's finest new acts, the No Mono duo create emotion-driven, bass-heavy subtleties that bend and move with their even better vocal harmonies. They drip feed some near-perfect singles—including Tidal Fight, Butterflies, Frostbitten and Violence Broken—leading into their highly acclaimed debut album, 'Islands – Part 1'. Just this week, they even surprised us with the poxlarisingly heavy, Fever Highs. No Mono's first festival appearance will be at Splendour at the Grass—let's make it one to remember.
Eves Karydas
Taking what it means to be a pop star in 2018 and twisting, shaking and bending it into something new and austere entirely, Eves Karydas is on the mend of something amazing. Three perfect singles to her name—There For You, Further Than The Planes Fly and, more recently, Couch—this young starlet injects an unbridled sense of realism and honesty into the plastic pop of recent. Her melodies are catchy and inventive and she's only played a handful of shows under her solo moniker in Australia.
The Presets
A late addition to the festival—filling in for the recently dropped Chromeo—The Presets are a Splendour tradition. The festival grounds have felt their rumbling electro-bass more than a few times and now, with 'HI VIZ', their best album, under their belts, Splendour is about to get torn a new one. Having recently caught them in Brisbane and on the Gold Coast, the electronic veterans still have something loud, booming and dynamic to share. In fact, after more than 15 years in the game, the duo are in the prime of their career. Splendour, get ready to jump and bounce to the best techno bangers you'll ever hear.
Girl Talk
Playing his one and only show while in Australia at Splendour, the master of mashup, Girl Talk, is absolute must see at this years festival. An unfortunate clash with Kendrick Lamar might reduce his numbers, but this dance music icon will undoubtedly put one a show to remember forever. 2010's 'All Day' was his last studio album and he's rarely on the live circuit anymore. So, come on, make the right choice and see Girl Talk turn your feet and mind into mush this winter.
DZ Deathrays
As if it's not Splendour without DZ Deathrays? They're still riding high off 'Bloody Lovely' which included a sold out national tour and rave reviews. It also spawned some of the group's best tracks and the next songs you'll be losing your phone, wallet and keys to while crowd surfing. These include Like People, Total Meltdown and Bad Influence. A festival staple, the duo are coming up on their tenth year as a band. So now's the best time to sink some beers and get in that mosh.
Splendour in the Grass 2018 Lineup
The Presets
joining…
Kendrick Lamar
Lorde (only AUS show)
Vampire Weekend (only AUS show)
Khalid (only AUS show)
The Wombats
Hilltop Hoods
Chvrches
Miguel
Girl Talk (only AUS show)
Angus & Julia Stone
Gang of Youths
Franz Ferdinand
MGMT
Ben Howard
Dune Rats & Friends
James Bay
PNAU
Ben Harper & Charlie Musselwhite
The Avalanches DJ set
Chromeo
DMA'S
Ball Park Music
Henry Rollins (only AUS show)
SAFIA
The Jungle Giants
Lil Xan
Methyl Ethel
Amy Shark
The Bronx
Ocean Alley
Carmada (L D R U & Yahtzel)
DZ Deathrays
Lord Huron
Middle Kids
Hockey Dad
Towkio
Cub Sport
Touch Sensitive
Sampa The Great
Dean Lewis
Skegss
Albert Hammond Jr
Mallrat
Marmozets
Alex Lahey
Riton & Kah-Lo
Jack River
Superorganism
Anna Lunoe
Lewis
Capaldi
All Our Exes Live In Texas
Alex The Astronaut
Yungblud
Crooked Colours
Nina Las Vegas
Soccer Mommy (only AUS show)
Elderbrook
Rolling Blackouts Coastal Fever
Tim Sweeney
Stella Donnelly
Bully
Baker Boy
Wafia
No Mono
Waax
Angie McMahon
West Thebarton
Eves Karydas
G Flip
The Babe Rainbow
Haiku Hands
Didirri
Alice Ivy
Amyl & The Sniffers
Ziggy Ramo
Fantastic Man
Lo'99
Human Movement
Manu Crook$
Kasbo
Madam X
Andras
Alta
Ara Koufax
Two People
B Wise
Made In Paris
Jensen Interceptor
Woodes
Teischa
Antony & Cleopatra
Muto
Elk Road
triple j Unearthed winners (TBA)
Plus…
Mike Gurrieri
Love Deluxe
Lauren Hansom
Poolclvb
Godlands
Nyxen
Emma Stevenson
Ebony Boadu