AAA Backstage's Guide To BIGSOUND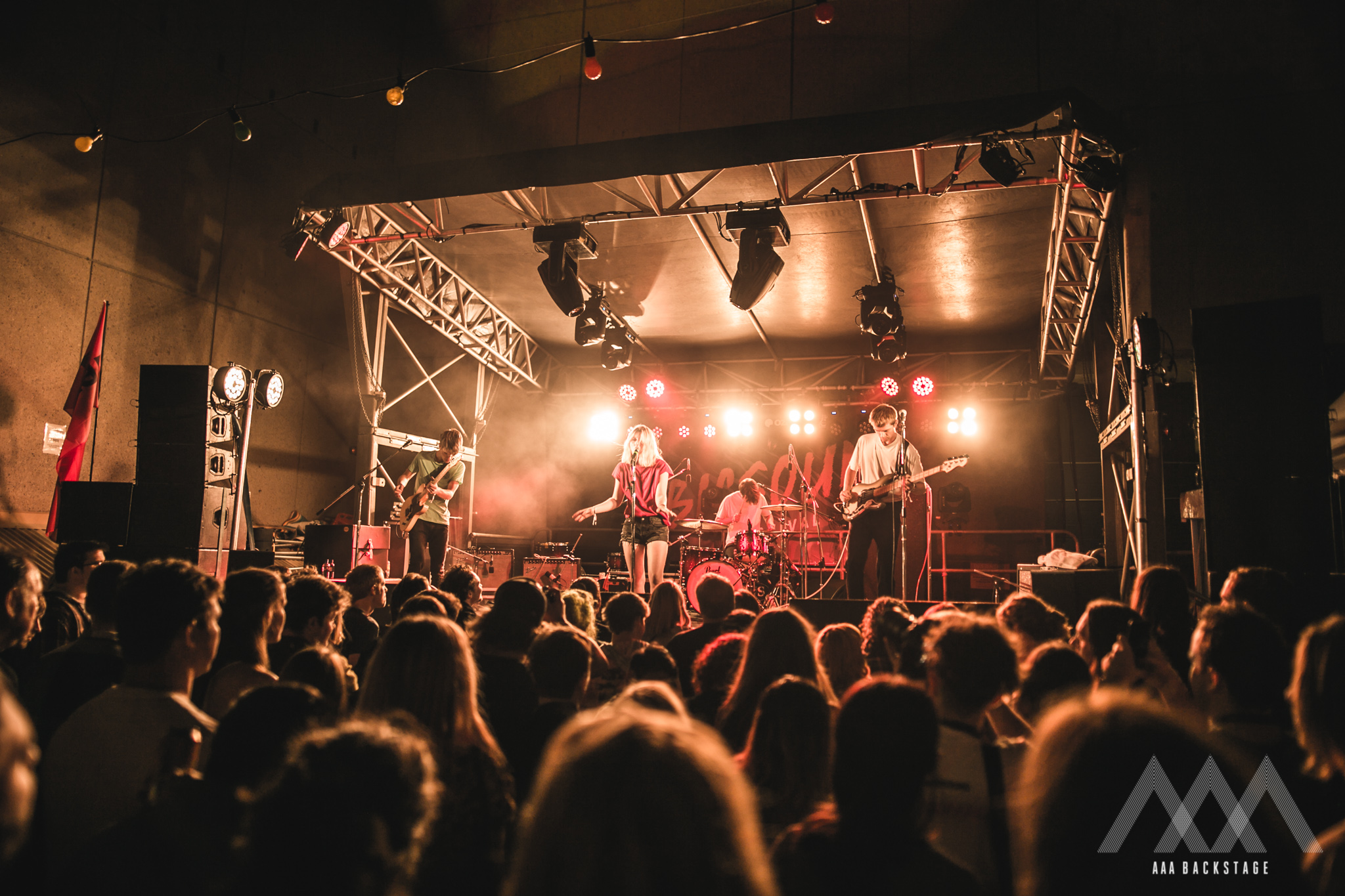 Bigger and more daunting than ever—for both punters and musicians alike—BIGSOUND is the biggest musical gathering on the Australian festival calendar. Kicking off tomorrow, industry big dogs, music fans and new buzz acts will filter through Brisbane's Fortitude Valley for three, maybe even four days, of nonstop music.
There's a lot to digest at BIGSOUND. Not matter how many times your favourite act may be showcasing, there's always something else happening. It's a tough balance to achieve—do you catch the buzzed about act of the week down the road, or see your highlight of the year for the second time at your local? Regardless, BIGSOUND is place of discovery and musical camaraderie.
With all that being said, you still need to plan out some sort of schedule. AAA Backstage is here to breakdown just a little bit clearer for you and suggest some acts that are absolutely worth your time over BIGSOUND.
Eilish Gilligan
Stretching her dramatic pop to the absolute limits, Eilish Gilligan bares her heart and soul. With a string incredibly solid singles under her belt—including the elastic and spherical Patterns—Gilligan is the voice of futuristic pop in Australia. Her calmly orchestrated compositions has earned her support slots with Mallrat and Ninajirachi. BIGSOUND is the perfect place to showcase her velvety, experimental pop.
Eliott
Earning her just under 1.5 million streams on Spotify, Eliott's opus track, Over & Over, also earned her AAA Backstage's best track of 2018 so far. Putting an immense weight on cathartic and mediative pop music against a stark production backdrop, Eliott is a force to be reckoned with. Co-writing with Jack Grace and having LUCIANBLOMKAMP assist on production—and her jumping on one of his tracks, Doing This For You—she can flip both sides of the coin, as represented in her sombre rendition of Calling.
Genesis Owusu
awoman, amen was named 2018's most important hip-hop track of 2018. Genesis Owusu has positioned himself as defining voice of the genre with his punctual and forward-thinking approach to songwriting, not to mention a clever production and delivery. The track is a powerful look in the mirror—making clear awareness of toxic masculinity. He supported Cosmo's Midnight on their completely sold out national tour.
Kult Kyss
Another group with a steady pattern of progressively incredibly singles, Melbourne's Kult Kyss—comprising of Haxx and Rromarin—blend witchcraft production with imaginary art-pop aesthetics. Chi Cup is their latest and makes for a completely spellbinding experience. Their production is vivid and otherworldly—it totally transforms the song, from one chorus to the next. Kult Kyuss recently supported The Presets on their national 'HI VIZ' national tour.
Kwame
Kwame is history in the making. The 20-year-old rapper has stunned fans and critics alike with his effortless flow and impeccable delivery. WOW is dangerously close to two million streams on Spotify and 'Endless Conversations', his most recent mixtape, has earned him a spot on the world stage. Kwame is the name on everyone's lips. More recently, he opened the entire Splendour in the Grass and recently joined Tkay Maidza on stage at last weekend's triple j One Night Stand.
Mookhi
One EP and one absolute standout single to her name, Mookhi is one of the country's leading producers rising from the underground. Foul Play, featuring Sydney singer-songwriter and producer, Billy Fox, is a delicate, shifting piece that holds many moving parts. How Mookhi collates this collage of perpetual sounds is incredible, mixed with Fox's stunning vocal delivery. She's one to watch.
Pink Matter
Giving Hiatus Kaiyote a run for their money, Pink Matter are not messing around. Their aural, shifting sounds create a space not yet touched by music. Forming into a kaleidoscopic and complex algorithm of musical composition, their lead single, Cleo, from debut EP 'Human Error', is a testament to the group's overwhelmingly amazing instrumental talent. It's part musical exploration and unnerving jazz-soul in equal measure.
No Mono
A band forever talked about on AAA Backstage, No Mono have changed music forever. The duo found the small crevice of battled electronic music with delicate soul overtones. The broken production paired with Tom Snowdon's heart-strung vocals results in the group's immaculate debut album, 'Islands Pt 1'. The album spawned such incredible singles as Tidal Fight, Butterflies, Frostbitten, Violence Broken and, more recently, the oddity of Fever Highs.
RAAVE TAPES
Bringing justice to genre, as well as the industry, RAAVE TAPES are a brash and bold three-piece from Newcastle. They're taking DZ Deathrays on head first with a bigger blast of RATATAT and Death From Above 1979. Singles such as k bye and, more recently, SUDS, portray an upheaval and heavy shake up of dance-punk that we didn't know we truly needed. They sing about ketamine and will have you moshing like crazy… what's not to love?
Ro
With only one song to her name—the stunning and poignant Diary—Ro is the poster girl for on-point songwriting. On Diary, she sets a new standard. It's a tale from within, but executed so masterfully. Laidback with a hint of classic Australiana thrown in for good measure, Ro represents an exciting new shift in the signer-songwriter category for this country.
San Mei
San Mei is an adoring and needed voice in alt-rock. Perfect singles such as Rewind and her latest Wonder, spur a shift in the sound with a heavier shoegaze focus. There's no bullshit under the sonic, however. San Mei is the embodiment of musical contrast and she does it so very well. She's had a few big successes in her music career recently and BIGSOUND might just tip her over the edge.
Two People
Performing for the first time at Splendour in the Grass—and subsequently only one Melbourne headline show since then—Two People are the confident and brash new duo on the scene. They've been plugging away since 2016, but this year they've come out of studio hiding to show the world what they've been toiling away at. I'm Tied, To You and the recent Something To Talk About are integral shifts in contemporary music—not quite electronica, not quite pop. It's new, austere and visionary music that breathes new life in a live format.
Austen
It's all coming up Austen. This young producer and singer-songwriter from Brisbane is seeing taking the world by storm. Supporting the likes of The Kite String Tangle and Nicole Millar on recent tours, as well as featuring on a breakout hit from Kuren, Austen offers a fresh approach to electro-pop that's breathable and danceable at the same time. Too High To Cry, the artist's latest, is a vulnerable and personal look into the young pop star's new life in music.
Merpire
On Invitation, Merpire wrestles with her own virtuosity. The coexistence of indie-pop lyricism with rock aesthetics is a study in musical synthesis. Simply put, it sounds like nothing else in pop right now. The Melbourne songstress brings her bedroom pop to the bigger BIGSOUND stage—envisioning a bigger, brighter future.
BIGSOUND 2018 Lineup
Austen
DOBBY
G Flip
I Know Leopard
Keelan Mak
KIRARA
LudiSTELO
RIVAH
Total Pace
Wedance
joining…
Arno Faraji
Atlas Franklin Alexander
Bad Juju
Bare Bones
Beatrice
Bell City Square
Between You & Me
Candy
Carla Geneve
Charlie Collins
Charlie Lim
CLEWS
Demon Days
Didirri
DIET
Divide and Dissolve
East Brunswick All Girls Choir
Edward R.
Eliza And The Delusionals 
Emerson Snowe 
Emilee South
Erthlings
EWAH & The Vision of Paradise
FLUIR
Fortune Shumba
Future Jr.
Geryon
Grim Rhythm
HANDSOME
Hollow Coves
imbi the girl
Intriguant
IV League
Jade Imagine
Linying
Loose Tooth
Mosquito Coast
Nardean
Nice Biscuit 
No Mono
Nooky
Not A Boys Name
Pinkish Blu
Pirra
PLANET
Psychedelic Porn Crumpets
RAAVE TAPES
Rachael Fahim
RO
Robbie Miller
Sahara Beck
San Mei
STATESIDE
thando 
The Beautiful Monument
The Beths
The Comfort 
The Little Lord Street Band 
The Moving Stills
Thornhill
Turquoise Prince
WALKEN
Wildheart
Windwaker
joining…
A. Swayze & The Ghosts
Adrian Eagle
Alice Skye
ARSE
Arteries
Asha Jefferies
Bin Juice
Blank Realm
Bugs
Butterfingers
Cable Ties
Cast Down
CLYPSO
Cry Club
CXLOE
DEAN FOREVER
Dreller
Eat Your Heart Out
Eilish Gilligan
Eliott
Elizabeth
Ella Hooper
Emma Anglesey
Estere
Gabriella Cohen
Genesis Owusu
Georgia Mulligan
Good Doogs
GRAACE
Gravemind
Greta Stanley
Hachiku
Hazlett
Hobsons Bay Coast Guard
Imogen Clark
James Wright Trio
JEFFE
KAIIT
Kaitlin Keegan
KIAN
Kota Banks
Kult Kyss
Kwame
MANE
Miss June
Moaning Lisa
MOOKHI
Oh Pep!
Olympia
Paces
Pink Matter
Pool Shop
Rachel Maria Cox
RAT!hammock
Riley Pearce
Ruby Gilbert
Samsaruh
Sleep Talk
Slowly Slowly
Stevie Jean
Sumner
Sunscreen
sweater curse
SŸDE
T$oko
Tape/Off
The Chats
The Merindas
TOTTY
Triple One
Two People
Tyne-James Organ
Voiid
Wax Chattels
yú yī